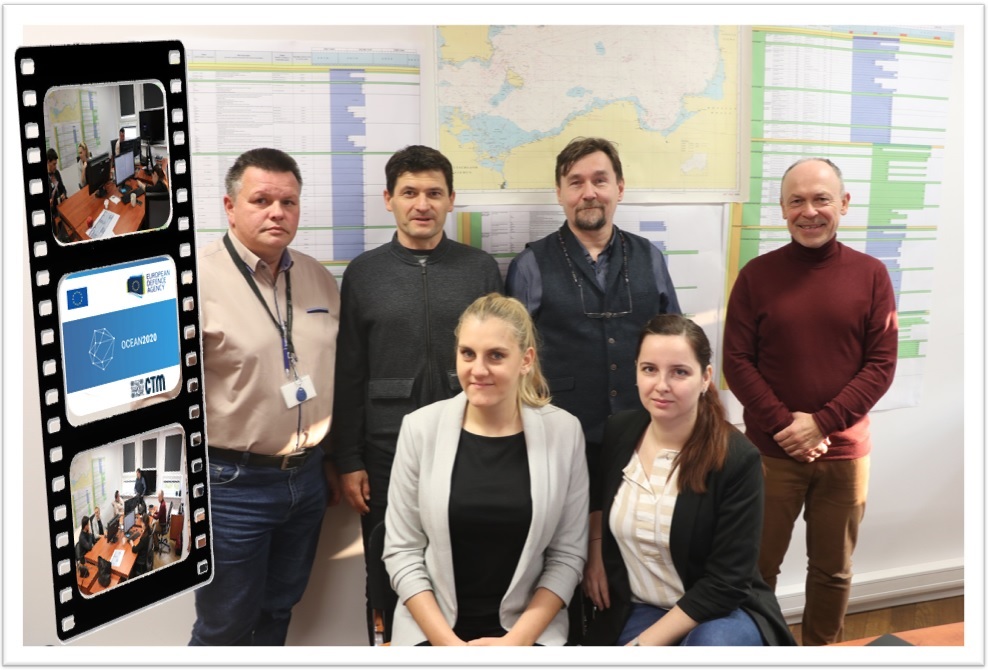 Date of publication: 06.12.2019
Let`s try to imagine 42 Partners from 15 countries gathered around the table to demonstrate and discuss about collaboration on the international defence programme.
Moreover, let`s suppose that They were able to provide a coherent outcome and together decided to present one common vision regarding the certain, required solution.
And finally, let`s just assume that Their proposition about expected solutions was rewarded by a formal approval from higher authorities.
Actually, such a story is happening right now. Well, we are talking about the OCEAN2020 project, which full name is : Open Cooperation for European mAritime awarNess. Quite catchy acronym, isn`t it ?
Let`s start to be serious for a while and try to answer for the vital questions regarding this very operation.
What is the aim ?
Despite such a very clear question, the answer is really complicated. The easiest is: the aim is to increase defence capabilities of Europe. In a slightly broader perspective, we can present the above goal, which is to provide comprehensive and dedicated solutions for building and maintaining situational awareness in the maritime domain by utilising a wide range of assets and resources, including an innovative approach to the use of unmanned systems.
Who is the founder ?
Allow us to quote from the official project papers: "The European Commission has launched the Preparatory Action on Defence Research (PADR). The main objective of the PADR is to prepare and test mechanisms that can organise and deliver a variety of EU-funded cooperative defence research and technology development (R&T) activities to improve the competitiveness and innovation in the European defence industry and to stimulate cooperation amongst R&T actors in all Member States. The European Commission has decided to entrust implementation OCEAN 2020 tasks to European Defence Agency (EDA), in line with the Commission Decision C(2017) 2262."

Who is the contractor ?
Bearing in mind the principles in force in the implementation of European Commission projects and the substantive area and complexity of the objectives of the OCEAN2020 project, the identification of partners for the implementation of the project was undoubtedly a great challenge. Therefore the project was entrusted to an International Consortium which consist of 42 partners from all over Europe led by Leonardo S.p.A. , as the main Project Coordinator.
What are the main project activities ?
Another quite interesting issue. To provide a right answer, we should look at the project from a very wide perspective.

First of all, the technical aspects:
• implementation of unmanned systems – due to the presence of variety of unmanned systems, the special acronyms – UxS and UxV – were created for the purposes of this project:
◦ U – unmanned
◦ X – air "A" or surface "S" or underwater "U"
◦ S - system
◦ V – vehicle
• Increased interoperability – including system interchangeability and multinational squad operations
• Modelling and simulation - to test the resilience against environmental, operational, technical and functional obstacles
• Building up a common architecture for EU system – including communication, data definition, processing of information and integration issues, assuming possible compatibility with similar purpose systems, functioning in European dimension of defense, e.g. MARSUR system or allied systems (e.g. NATO)
Then, the economic aspects:
• Development of the industrial capabilities – regarding defence areas developing the industry's ability to build innovative solutions in the use of military technologies and adapt non-military solutions to increase defense abilities
• Improved efficiency and cost-effectiveness - an indication of possible unified solutions for design and production processes
•

Then, the research aspects:
• Improving innovation capacity – open cooperation between the Participants is based on "shared innovation" that matches with the value chain of "research & industrial"
• Gain knowledge - the exploitation of research and its dissemination in the industry and to academic institutes in R&D domains of maritime surveillance, data fusion, defence applications, aeronautics, etc.
Then, the others aspects:
• Testing the international cooperation between a large group of participants - The intention is to switch from a status of competitors, addressing single national markets, to a status of strong industrial partners focused on European developments for defence.
• Distribution of information – identification of using appropriate and useful tools, methods and communication channels ensuring the adoption and exploitation of project results regarding the specific stakeholder
• Dissemination and exploitation of project results - last bullet point provides the important message. Our work should be distributed and used for further development. The project is a solid base for future tasks, therefore the consciousness of our actions should be permanently sustained by all partners.
Hopefully, we went through the initial information and now we can focus at OBR CTM S.A. activities, who acts as a representative of Polish Armament Group - Polska Grupa Zbrojeniowa S.A. (PGZ SA), in aspect of R&T project realisation.


The complexity of the design is shown in aspect of involved participants. It clearly indicates that, it would be very hard to be involved in all project activities, however the gained level of knowledge cannot be overestimated.
Despite the presented involvement of OBR CTM S.A. in all work packages except one, this part of the article is oriented mainly to Work Package 5 (WP5) Human Factor, which focuses the main effort of the company.
How we understand a definition: Human Factor is the application of psychological and physiological principles to the (engineering and) design of products, processes, and systems. The goal of human factors is to reduce human error, increase productivity, enhance safety and comfort with a specific focus on the interaction between the human and the machine/system/technology.
Thus we can detect some key words, which determine our actions during designing operator interface and identification of needs and equipment of training processes. This applies to both the lowest command level, i.e. an unmanned vehicle operator, as well as tactical and operational level of command of naval forces.

What was done ? We had to attach certain specialists to the teams responsible for appropriate tasks. Moreover, in some cases, we had to create the complete team to manage the wider work. In addition, we carry out activities in all subjects of the WP5 with varying degrees of advancement.

What is the most important ? Direct international cooperation at each level makes no possibility to work alone and to provide the final outcome only by yourself. Each part of work is discussed and approved by the group of partners, therefore we build up the common view. Each of partner is able to provide the right information and what is the most important – we can support each other at any stage of process.
What is OCEAN2020 characterized by? OCEAN2020 is a research and technology development project that will result implementation of innovative solutions within the area of future dedicates Maritime Situation Awareness (MSA) systems. The environment created by universal access to technologies facilitates functioning of each area of ​​modern life. Moreover, it is characterized by a high pace of technological progress. This pace does not slow down, on the contrary, innovative solutions are becoming widely available due to the cost-effect relationship. While, Human Factor includes multi-level analysis of human-technology interactions taking place between end users of current and future maritime systems.

In order to avoid an academic dispute about whether it is possible or not, we would like to point at only a few significant factors which definitely have a impact for R&T project realisation.
What are the main tasks for the team within research project ?
1. Define the idea
2. Show or provide the solution
The starting point for the analysis is the assessment of currently used solutions and technical possibilities in order to clearly define the starting point for further considerations.
The next step is referred to the analysis and discussions on forthcoming challenges and prospect technological capabilities.
The research results thus obtained will be included in the written document and will be used for further work under the Ocean 2020 project as well as for future EU initiatives as the Lessons Identified knowledge package. At the same time, they will be an immeasurable experience that can be used in the areas of PGZ SA's interest.
Unfortunately, we will not always have ready required solutions within reach. Therefore, the effort during this stage will be oriented for indication of direction to gain available or perspective solutions. The solutions must have capacity of development in according with currently identified trends.
As an effect , we deliver specific directions or requirements pointing how to achieve OCEAN2020 objectives, exploiting current technologies, software applications, scientific research etc.
And finally, what factors determine team formation for the effective implementation of project tasks?. What is important about specialists assigning ?
The multi-faceted nature of the OCEAN2020 project require careful selection of team members. In the case of the OBR CTM S.A. team, we tried to combine experience with open minded approach regarding innovation and even solutions that go further than beyond the current state of art.
• Competences – no question about it
• Background – to be specific, it`s important to have specialists with different background: military, IT, management, certain subject domain, other supporters with collateral topics
• Age – from 20 till 60 years old - it is not a secret that students are more open minded for new technology than old teachers. So from one hand we can possess agility and creativity but simultaneously from another experience and knowledge.
OCEAN2020 is a very good example of project characterized by complexity and diversity of issues and tasks for the realisation. We cannot limit our perception only to some technical subjects, actually all the time, we should keep the wider perspective to meet all the expectations of the potential user.