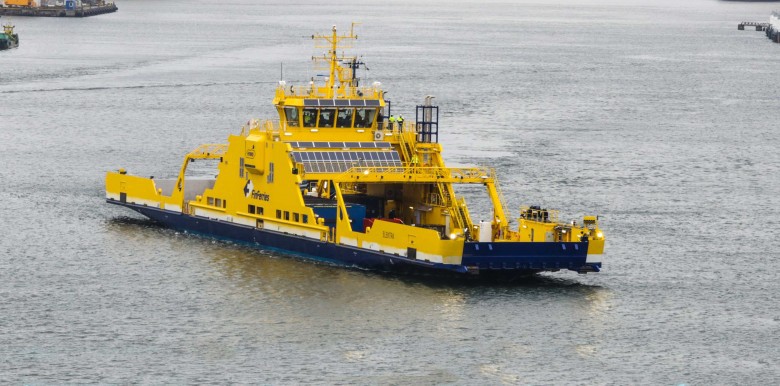 Date of publication: 28.06.2019
CRIST shipyard and StoGda Ship Design & Engineering design office won the CEMT 2018 award for outstanding contribution to the success of European marine industries. The award was given for the design and implementation of the first fully equipped passenger-car ferry in the European Union with the electric drive called ELEKTRA. The prize was presented on Tuesday in the second day of the Development Vision Forum.

- For CRIST, this award means confirmation of our competences and the fact that we are a definite leader on the market for the construction of innovative, prototype and unique ships. Thanks to the partnership that was created during this project, both with the StoGda construction office and with our final Finferries client, we have definitely achieved success - says Bartłomiej Kopczewski, Managing Director of CRIST.

CEMT 2018 was awarded jointly for three companies: StoGda Ship Design & Engineering - ferry designer, CRIST - shipbuilding yard and Finferries - ferry operator. Trevor Blakeley, chairman of the CEMT Council, presented the Development Vision Forum.

- CEMT is an association of European scientific and technical associations from 10 countries. The prize can be awarded to an individual, organization, association, at the request of a member of CEMT - an organization representing a given country. In this case, the application was submitted by the Society of Polish Ship Ships (KORAB) at the Main Board of the Association of Polish Engineers and Technicians SIMP - says Trevor Blakeley, chairman of the CEMT Council.

This is not the first prize for the ELEKTRA ferry. Earlier she was already awarded, among others as "Ship of the Year" by the Marine Propulsion Award 2018 and as "Significant Small Ship of 2017" by The Royal Institution of Naval Architects.


The ELEKTRA ferry is sailing between Nauvo and Parainen in Finland. It is 96 m long and 15 m wide. It takes 372 passengers and 90 cars on board. The modern unit is served by only a 3-person crew.


The novelty is the use of a hybrid diesel-electric drive. ELEKTRA has been equipped with three main diesel engines, two azimuth propulsors and a set of batteries. They are adapted to adverse climatic conditions - a system based on Siemens components with a longevity, it has to cope with northern low temperatures and heavy snowfall.


The ferry batteries are loaded during unloading and loading. All it takes is just 7 minutes. Ultimately, the unit is powered by battery power and, if necessary, by a diesel engine.