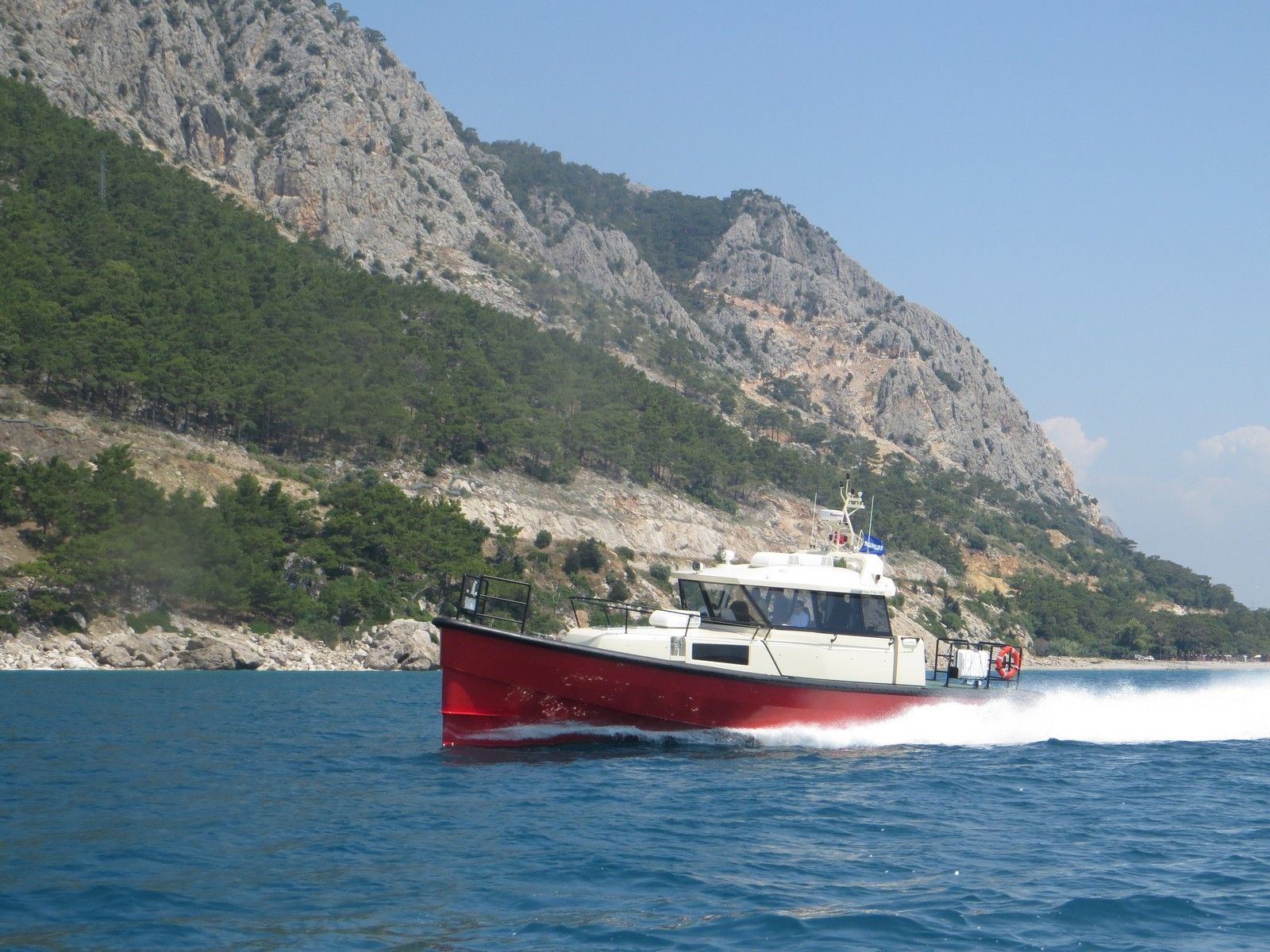 Date of publication: 03.11.2015
The Damen Shipyards Group recently unveiled a series of new vessel designs based on its popular 16 metre long, 5 metre wide, semi Axe Bow design. The first of the vessels is owned and operated by Van Oord for crew transfer in the Caspian Sea.

The concept originated when Damen Marine Services commissioned the construction of a Fast Crew Supplier (FCS) 1605 in fibre reinforced epoxy. The idea was to demonstrate the efficiency of the vessel design in composite form.

Damen Product Director High Speed Craft Jaap Gelling explains: "As well as the increased strength and significantly reduced maintenance requirements, the composite structure offers lower weight and an attractive increased speed and reduced fuel cost combination."

This, Mr Gelling states, makes the composite version of the 1605 hull well suited to a wide range of vessel types. "The low maintenance and increased strength are perfect for a workboat, for example a pilot vessel, whilst the combination of speed and low fuel consumption is appealing for both patrol and transfer vessels."

To that end, Damen is building in series 1605 hulls, at the same time constructing compatible superstructures for Stan Pilot, Stan Patrol and Fast Crew Supplier versions of the composite vessel. To facilitate rapid delivery times, the stock-built hull and superstructure combination of choice can be applied in 'plug-and-play' fashion.

The concept proved immediately successful, with Van Oord purchasing the DMS-commissioned vessel prior to the completion of construction at Damen Shipyards Antalya – Damen's dedicated composites yard in Turkey.

Peter Bunschoten, Van Oord Project Director: "The vessel is deployed on our offshore project in a remote region of the Caspian Sea. Besides her regular duties as crew tender on the site itself, the FCS 1605 is being used as backup for offshore medevac. The vessel is able to quickly sail the 180 nm from the offshore site to the work harbour, which was a strict requirement for compliance with the strict offshore regulations."

Following the first vessel, a second has been delivered by Damen to the Sharjah Ports Authority in the United Arab Emirates. Damen Sales Manager Middle East Pascal Slingerland says there is a lot of interest in these vessels in the region.

"Composite vessels are popular in the Middle East, as our clients there are used to the material and familiar with the benefits they offer. Our designs are proving particularly popular and represent the next generation of composite vessels, with outstanding seakeeping behaviour – the combined effect of the lightweight hull and Axe Bow design."

Damen Shipyards Group

Damen Shipyards Group operates 32 shipbuilding and repair yards, employing 9,000 people worldwide. Damen has delivered more than 5,000 vessels in more than 100 countries and delivers some 160 vessels annually to customers worldwide. Based on its unique, standardised ship-design concept Damen is able to guarantee consistent quality.

Damen's focus on standardisation, modular construction and keeping vessels in stock leads to short delivery times, low 'total cost of ownership', high resale values and reliable performance. Furthermore, Damen vessels are based on thorough R&D and proven technology.

Damen offers a wide range of products, including tugs, workboats, naval and patrol vessels, high speed craft, cargo vessels, dredgers, vessels for the offshore industry, ferries, pontoons and superyachts.

For nearly all vessel types Damen offers a broad range of services, including maintenance, spare parts delivery, training and the transfer of (shipbuilding) know-how. Damen also offers a variety of marine components, such as nozzles, rudders, anchors, anchor chains and steel works.

In addition to ship design and shipbuilding, Damen Shiprepair & Conversion has a worldwide network of 15 repair and conversion yards with dry docks ranging up to 420 x 80 metres. Conversion projects range from adapting vessels to today's requirements and regulations to the complete conversion of large offshore structures. DSC completes around 1,500 repair and maintenance jobs annually.