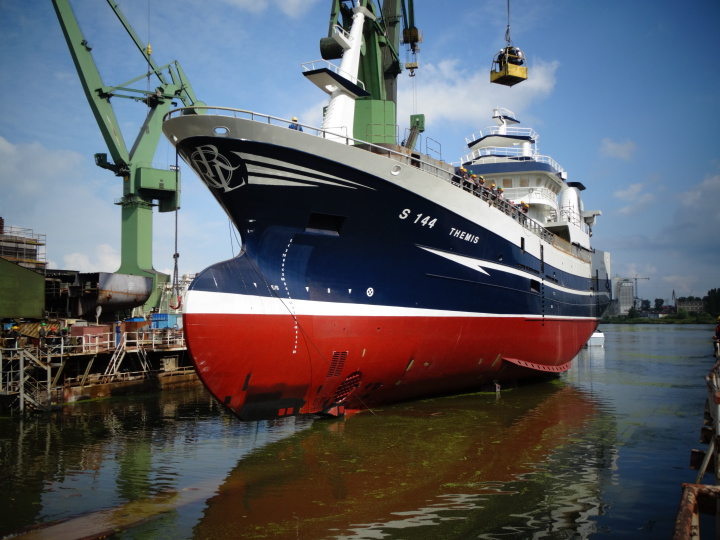 Date of publication: 20.08.2017
July the 28th saw the second double launch in the history of Nauta Shiprepair Yard and the entire of Polish shipbuilding industry. Newbuilding Division of Nauta launched two fishing vessels.
The first to go on the water was the Trawler Themis (B-437) which has been built for Danish client – Karstensens Skibsvaerft AS. Fishing company - Themis Fiskeri from Denmark will be the final owner of the ship. Themis is 63 m long and almost 13 m wide.

Just a couple of hours later the same B1 slipway in Nauta's Gdańsk newbuilding facility witnessed the second ceremony. At 2.00 P.M. the command was sounded to launch the Ocean Star, commissioned by Scottish shipowner – Mewestead.  

Ocean Star (B-698) is definitely a bigger unit. The vessel is 87 m long and 18 m wide.  Ocean Star will stay in Nauta Shipyard premises until the autumn for final equipment.

The vessel will be equipped with the most modern fishing equipment such as fish finding, catching and storage system suitable for catching different type of school pelagic species. The complete propulsion plant, including the main engine about 7 000 kW, together with two bow thrusters, will provide very good maneuverability during the catching operation and purse seining operation. The vessel is being built according to Wartsila design.

First double launching ceremony in the history of Nauta Yard held on B1 slipway in July 2015. Then two partly outfitted fishing vessels – Don Ole (for Fitjar Mekaniske Verksted) and Ruth (for Karstensens Skibsvaerft AS) were launched in Gdańsk.

Nauta has already signed contracts for building 22 fishing vessel since the opening of Newbuilding Division in Gdańsk in September 2013. In addition to building fishing vessels, an important area of the activity of Nautas' Newbuilding Division is a construction of research units as well as service offshore vessels. What is more, Nauta has recently signed an important contract for building a ship platform for the special purpose Signal Intelligence vessel for the Swedish Navy.