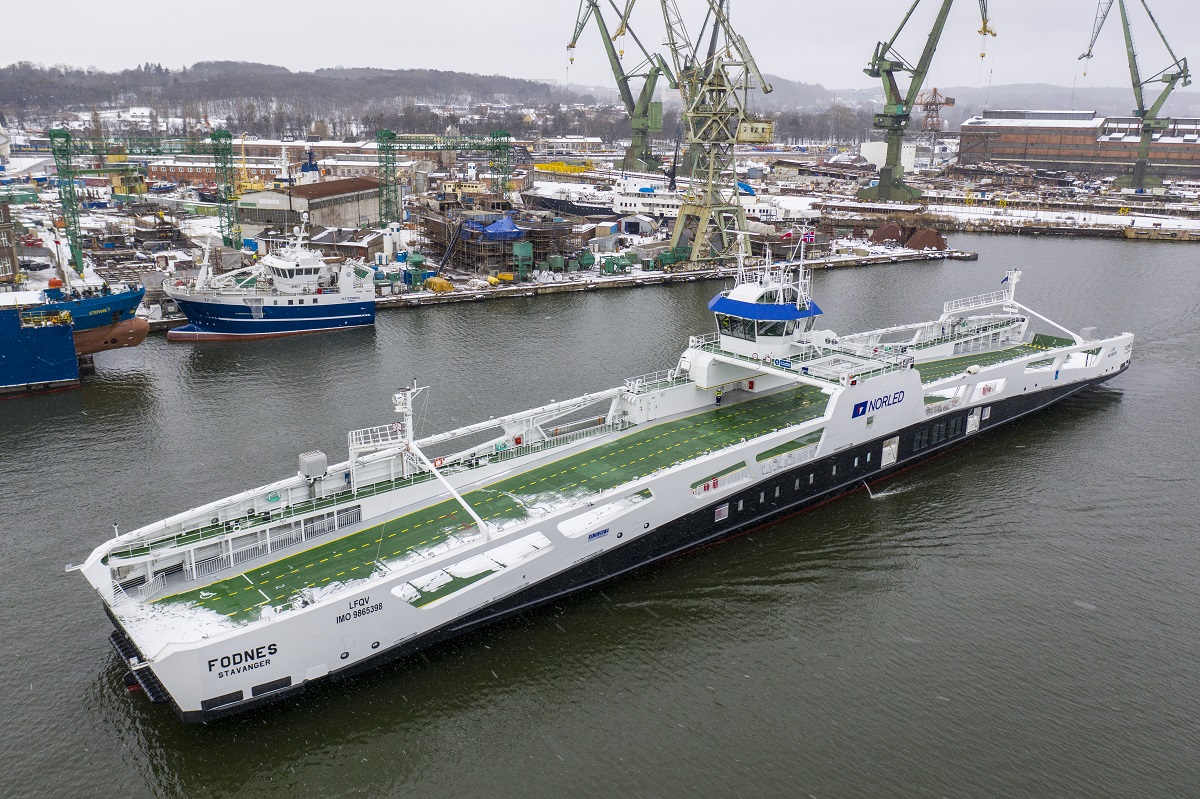 Date of publication: 04.02.2021
On Thursday, 4 February, Fodnes (B619/4) – the fourth in the series of hybrid electric powered ferries, sailed out of Remontowa Shipbuilding in Gdansk. The day before, the ferry was handed over to Norled via videoconference and the Norwegian flag was hoisted.

Festøya, Solavågen, Mannheller and Fodnes are the state-of-the-art modern battery-powered double-ended hybrid ferries designed to minimise energy consumption and built at Remontowa Shipbuilding.

Three of them delivered in 2020 are already sailing in the Norwegian fjords, serving the Festøya – Solavågen and Mannheller – Fodnes connections. The fourth one will arrive in Norway in the next few days.

Their construction took place during an exceptionally difficult time of the COVID-19 pandemic and the associated restrictions placed on the world. One of them was the closure of borders and, once they were opened, the obligation for travellers to undergo quarantine, which in practice made visits to the shipyard by service technicians and shipowner's representatives impossible. From March to May last year, all ship inspections were carried out online via videoconferencing and thus approved by the shipowner.

-Despite the difficulties, we did not stop the construction process of these ferries for a moment. However, for reasons beyond our control, we have had to slow down some work – says Piotr Alboszta, project manager.

Norled is one of Norway's largest ferry operators. The company was formerly known as Tide Sjø, and has been operating under its current name since 2012. The fleet of the ferry operator Norled consists of about 80 ferries, six of which were built in Remontowa Shipbuilding, so after the delivery of the last above-mentioned ferry, this number will increase to ten.