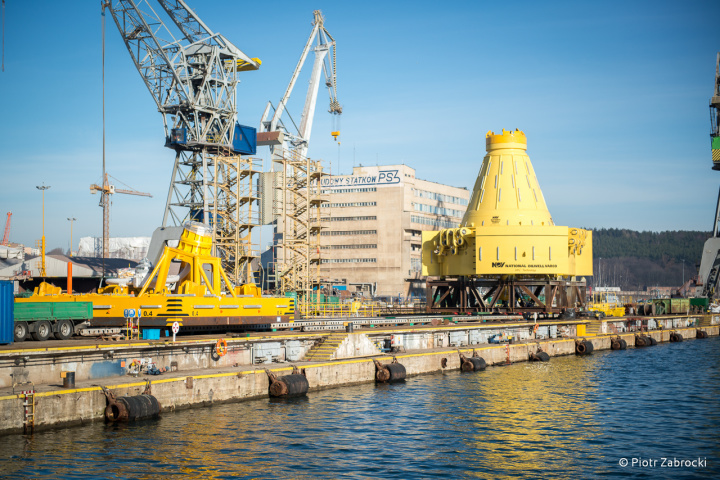 Date of publication: 11.02.2016
Submerged Turret Loading and Riser Base made by EPG weight 500 tones. Riser base will be installed on the seabed and will be used to provide oil to the surface, while the turret will deliver oil directly to the Floating Starage and Offshore Unit.

The contract is an example of continuation of good cooperation between EPG and NOV APL. One year ago EPG accomplished fabrication of the Single Anchor Loading System (SAL) for Greater Stella mining field and in last months the company performs two turrets for Hebron oil field. This time EPG has done a much larger and more complicated structure.  The diameter of element in 11,2 m and the height is 13 m. The structure required advanced machining in order to meet strict dimensional tolerances.

The Submerged Turret Loading (STL) system represents the state-of-art technology within offshore loading. The STL technology offers a flexible, safe and cost-effective solutins for oil loading tankers and Floating Storage and Offloading.

The Gina Krog oil & gas field is located in Norwegian part of the North Sea (30 km away from the Sleipner platform) approximately 116 m water depth. The field is currently development and first production is scheduled for early 2017. The gross recoverable reserves are estimated at 225 million barrels of oil equivalent.

The contractual partner – NOV APL is a specialist Norwegian engineering company supplying loading and transfer systems for offshore platforms and vessels. The first STL system was installed in the Fulmar field in the North Sea in 1993.

Energomontaż-Północ Gdynia, member of MARS Shipyards & Offshore, is a leading Polish manufacturer of specialized, fully equipped steel structures for: offshore sector, energy (conventional, renewable and nuclear), chemical and petrochemical industry, shipbuilding industry. Their recent projects make them a valuable and trusted partner for key players in the offshore industry. A major asset of the company is a modern production equipment. Also location of EPG is big advantage. It allows company to production and assembly of large structures/modules without worrying about the problems associated with the transport and loading.

EPG Plate Rolling and Machining Workshop is located on their facility in Port of Gdynia, 40m to the wharf. It\'s allow to fabricate and machine large size elements and further sea shipment all over the world.