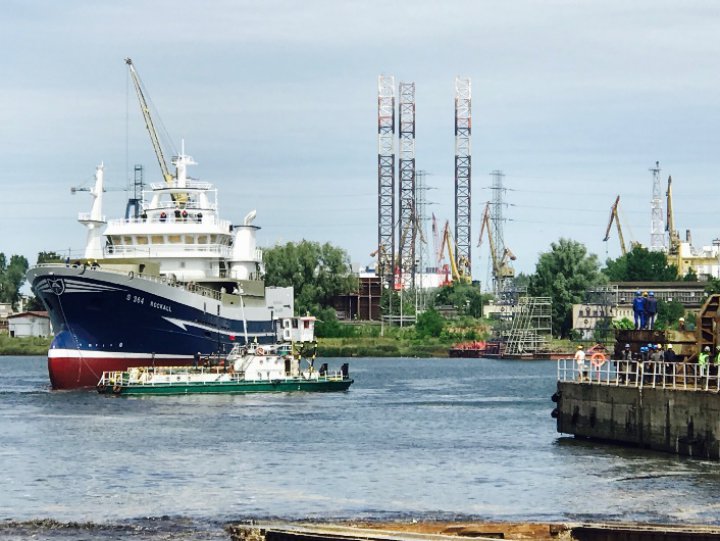 Date of publication: 07.06.2017
On June 2nd, Nauta Shiprepair Yard succesfully launched a newly built partly outfitted fishing trawler Rockall. It was third launching ceremony in Nauta Shipyard this year. Rockall is also the tenth unit which was built by Nauta for Karstensens Skibsvaerft AS.

Rockall (B-436) is 69.9 m long and 14.2 m wide. Depth of the unit is 7.5 m. Astrid Fiskeri AS from Denmark will be the final owner of the ship. In terms of technical parameters, the vessel is similar to the Grateful, which was launched in September 2016.

We've built ten fishing vessels for Karstensens Skibsvaerft AS so far. Currently seven another units for this client are under construction – said Reza Sohrabian, Head of Marketing in Newbuilding Division. Long-term cooperation and subsequent orders are proof of our customer's confidence and satisfaction with the quality of our work – added Mr. Sohrabian.

Nauta specializes in building modern fishing vessells and has already signed contracts for building 22 fishing vessel since the opening of Newbuilding Division in Gdańsk in September 2013. In addition to building fishing vessels, an important area of the activity of Nautas' Newbuilding Division is construction of research units as well as service offshore vessels. What is more, Nauta has recently signed an important contract for building a ship platform for the special purpose Signal Intelligence vessel for the Swedish Navy.