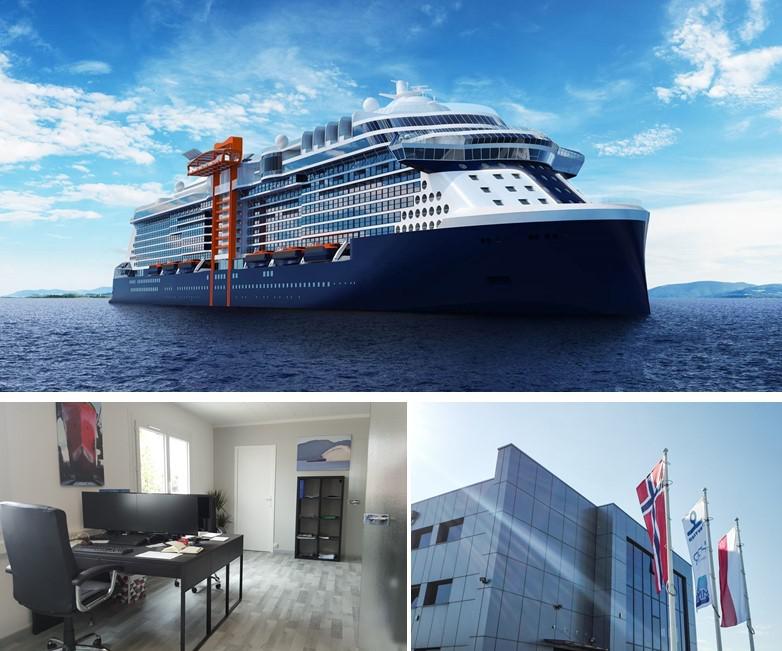 Date of publication: 05.07.2017
The Havyard company HPR announces a contract of around NOK 80 million that has been agreed with STX France.

Havyard Production (HPR) is going to carry out electrical work in two out of seven zones in a series of cruise ships to be operated by Celebrity Cruises, a subsidiary to Royal Caribbean Cruises. The contract relates to four cruise ships in the EDGE-series.

Work on the first newbuild starts as early as in April and secures work until 2022. The ships are going to be constructed at the STX France shipyard in Saint Nazaire. Each of the ships in the EDGE-series has a capacity of 2.900 passengers, with length of 306 meters and 129.500 gross tonnage.

Important breakthrough and vote of confidence

Managing Director Nedim Jakupovic of HPR says that the contract is important for HPR. As with other companies that have had their biggest market within offshore shipbuilding, we currently see that there are challenging times. HPR has therefore had an increased focus on other markets, and we have now received our first contract within the cruise ship segment. This is an important breakthrough for us. The contract is also pleasing because we are able to secure employment for a large number of our employees for several years ahead.
HPR has broad experience with many types of vessels, and has since 2011 been involved in over 20 different vessels, newbuilds and conversions. These are ships such as icebreakers, OCVs, PSVs, anchor handlers, workboats and fishing boats. This experience will now be used at work for STX.

HPR Havyard Production (HPR) was founded in 2011 as a subsidiary to the Leirvik shipyard, Havyard Ship Technology, but is now a separate business area of Havyard Group ASA. The company has been an integral part of Havyard as a supplier of both complete packages and support functions within contract management, engineering and project management, electrical-, ventilation-, piping-, painting-, and scaffolding work. At the same time, the company has increasingly delivered services for other companies outside of Havyard Group.

Complete solutions

HPR has 300 employees within most fields and disciplines. In 2016 turnover was NOK 150 million with financial results of NOK 3.5 million. Main offices are in Poland, the company has branches in Norway and Denmark, while a new office is about to be established in France.
Nedim Jakupovic says further that HPR works intently towards becoming an important supplier for several shipyards.
Our target is to work for other companies outside of Havyard to an even greater degree. HPR has through an expansive external development, acquired competence within several new disciplines. We are now able to deliver complete solutions in electrical jobs, HVAC, piping and more. We work on many newbuild projects at other shipyards on a daily basis, currently and specifically within fishing vessels. This has provided for an increased level of orders in a wide variety of markets, such as the building industry, tunnel projects, industry- and now cruise ships.

Havyard as a leading maritime technology company

CEO Geir Johan Bakke says that the contract with STX is in accordance with the Havyard strategy to become a leading maritime technology company.
With this contract, HPR is able to secure profitable growth through increased external activity, an advantage for all our main partners, such as customers, employees, owners and suppliers. STX is an impressive company and France an exciting country, so this contract is going to be important for the future and for HPR to reach its targets.
FACTS Havyard Group
Havyard Group ASA is a maritime technology company delivering products and services within seafood, energy and transport.
Havyard Group is listed on the Oslo Stock Exchange, Ticker HYARD. Main offices are in Fosnavaag and there are 700 employees in the group.
Havyard Group has five main business areas:Havyard Ship Technology in Leirvik in Sogn (shipyard), with branches in Fosnavaag and Turkey Havyard Design & Solutions with main offices in Fosnavaag, and additional branches in Poland, Brazil, Shanghai and Croatia Power and Systems with offices in Aalesund and Bergen HPR located in Gdansk, Poland with further branches in Norway and Denmark MMC First Process with main offices in Fosnavaag, and additional branches at Vigra, Tromsø and Haugesund.

We invite You to cooperation in our new office :
HPR – Havyard Production
21 rue de Normandie, 44-600 Saint Nazaire
www.havprod.com / hpr.fr@havprod.com
https://www.facebook.com/havyard.electro/