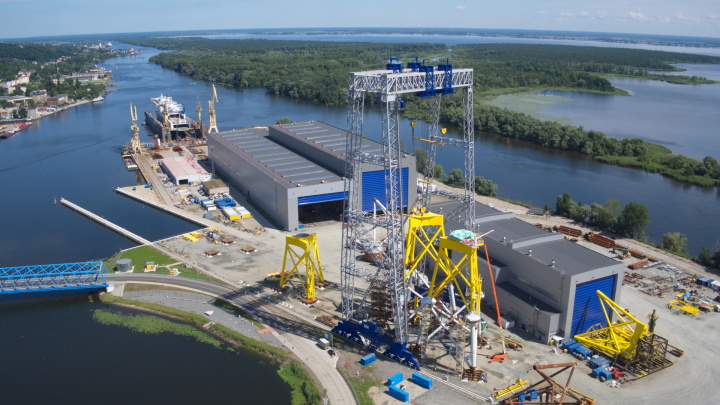 Date of publication: 16.02.2018
ST3 Offshore is successfully finalizing a contract for the construction of jacket foundations for Ørsted (ex Dong Energy). The load-out of jacket foundations for Borkum Riffgrund 2 OWF is going on. The operation is proceeding successfully – two from three jackets are already on the barge. If the weather will be favorable, all three constructions should be ready for transport at the end of the week.
Production of jacket foundations is the second contract realized by ST³ Offshore for the Danish energy concern. The scope of works includes fabrication of 20 constructions and the complete jacket assembly with outfitting (e.g. electrical equipment). Foundations from Szczecin will be installed on the Borkum Riffgrund 2 Offshore Wind Farm on the North Sea.

The load-out proceeding is a difficult venture, both as an operational and as a logistic process – said Adam Kowalski, the Vice-president of the Management Board of ST3 Offshore – The huge 120 m gantry crane, which is used by the operations, is our great advantage, but at the same time it forces us to be extremely careful and to adjust works to weather requirements. Strong winds, fog, bad visibility make some works impossible.

The load-out started on the 14th of February. Placing of one jacket on the barge takes about two days. The final operations are planning for the second half of the week – it will be a very good result, even more, because it is the first load out of such constructions.

In October 2017 MARS Fund acquired majority stakes of ST3, thus gained full operational control over the company. Thanks to this it was possible to start the restructuring proceedings. Thereby the board has immediately withdrawn the bankruptcy petition filed by the previous management board. Thanks to the involvement of managers appointed by MARS Fund, the situation of the factory has been stabilized and the plant in Szczecin has good prospects for further growth in the future

ST3 Offshore is a leading European manufacturer of steel foundations for offshore wind farms. The company, located in Szczecin ( Poland), close to the Baltic Sea, runs a state-of-the-art facility designed specifically for the automated production of transition pieces as well as jackets, foundation components and monopile foundations for offshore wind farms. With the highest gantry crane in Europe (120 meters height and 1'400 tons of lifting capacity) ST³ Offshore can carry out the final assembly and loading of structures of a maximum height of 90 meters. This can be done directly onto a barge, through the facility's perfect island-location on the Odra river, which enables an easy access to the Baltic and the North Sea.