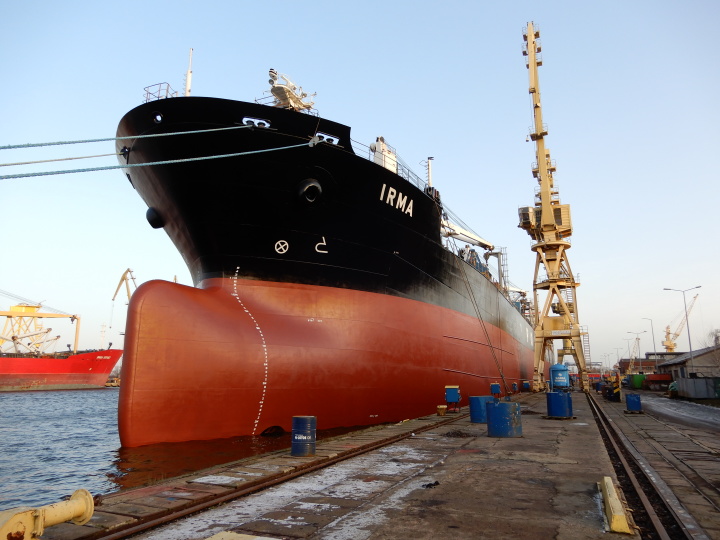 Date of publication: 12.01.2018
Beginning of the year is exceptionally busy time for MSR Gryfia Shipyard. In both locations – in Szczecin and Świnoujście – intensive works are conducted onboard different vessels. What is more, the order book for repairs if full for few next weeks.

MSR Gryfia is renovating the first unit of the Russian market. "Yamal Krechet" is a container ship with a length of 153 m and width of 23 m. The unit is undergoing a dock refurbishment – the planned date of renovation is 25 days. Renovation of the second unit will start next week, around 19th January. The second unit "Noviy Svet" is a refrigerated tank with a length of 124 m and a width of 19 m. The planned renovation will take about 20 days. In both cases, technical supervision over ships and marine equipment is carried out by the Russian Marine Register of Shipping.

January and February is also the time for repairs passenger ferries. In the largest dock of shipyard no. 5, Baltivia (belonging to the Polferries) is undergoing a yearly dock renovation. Another unit that will enter the shipyard this month is Polonia from Unity Line fleet. Polonia ferry runs every day on the route Świnoujście - Ystad. It is one of the most modern ferries on the Baltic Sea. In the shipyard, the ferry is expected next week. A month later, the Skania ferry also belonging to the Unity Line will enter the shipyard. The ferry is alternating with the Polonia ferry. Both units will undergo an intermediate dock repair.

Repairs of passenger ferries constitute an important area of the shipyard's activity. In 2017 the Shipyard completed repairs onboard of 12 vessels of this type.

In the shipyard, the renovation of the bulk carrier Irma owned by Polsteam also comes to an end. The unit has undergone a dock repair in the field of hull maintenance, machine equipment and overhaul of cargo lifts.