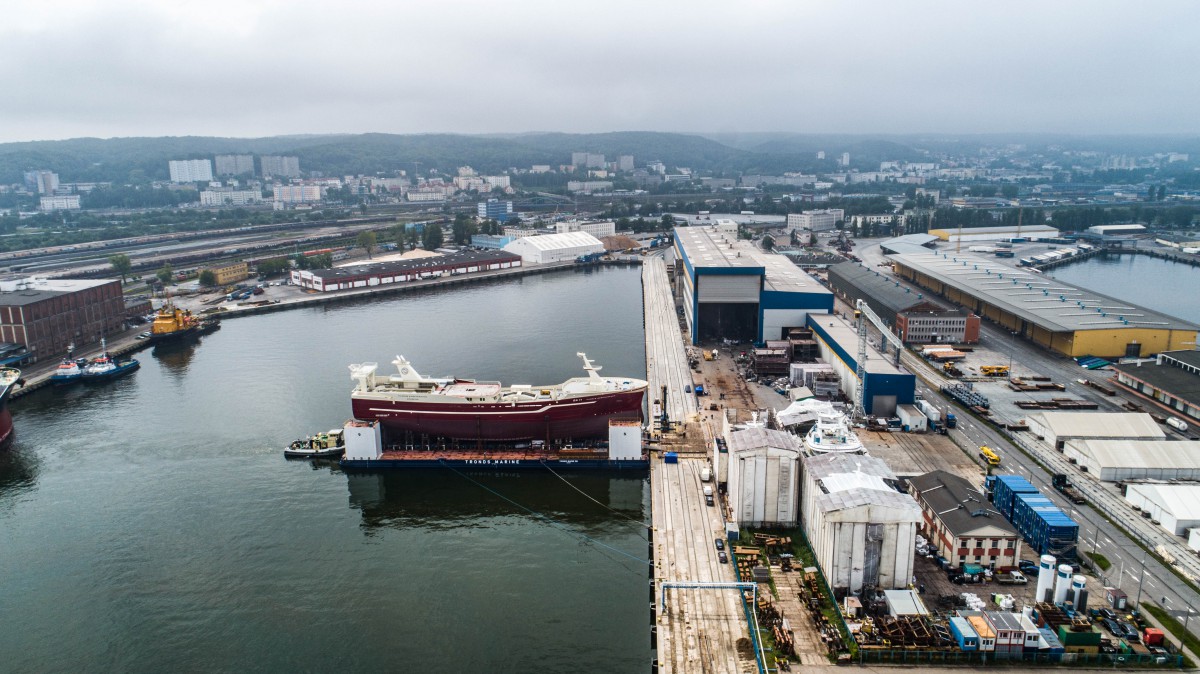 Date of publication: 16.06.2020
Karstensen Shipyard Poland in Gdynia launched another hull for the fishing vessel. It was biggest vessel ever launched at this yard.

The VILHELM THORSTEINSSON trawler/seiner is 88.2 meters long, 16.6 meters wide and has a maximum draft of 9.6 meters. The ship will be powered by two Rolls-Royce engines with a capacity of 3400 kW each. The vessel was designed by the Karstensens Skibsværft A / S office and Samherji Island will become its owner.

The hull was launched in two stages. On Thursday, June 11, the hull was transported from the quay to a pontoon-dock, where it was towed to the Dutch Quay, the depth of which allowed the vessel to be immersed and launched. The operation ended in the afternoon of June 12. The ship's deckhouse, 2 main engines, a gear and generators will still be installed on the ship in the Karstensen shipyard in Gdynia.

Measurements of the deformation of the foundation were carried out by the Laboratory of Ocean Engineering Structures of the Faculty of Ocean Engineering and Ship Technology of the Gdańsk University of Technology. The purpose of the research was to verify the form of operation of the foundation elements designed to strengthen the Indian quay through which the ship was transported. The measurements were made using the method of electrofusion strain gauges. Preliminary results confirm that the foundation works in accordance with the assumptions adopted by the Shipyard.

Currently, Karstensen Shipyard Poland is working on seven projects numbered 452, 453, 456, 457, 458, 459, 463. Developing so many projects in a short period of time is a big production and logistics challenge. This week, two more hulls 459 and 456 are to be launched.

Karstensen Shipyard Poland is a subsidiary of the Danish shipyard Karstensens Skibsværft A / S. The shipyard builds ships at the Port of Gdynia in a modern production yard acquired from Vistal Offshore. It is located at the Indian Quay and was put into operation in 2013. It is adapted to the production of hulls, consists of two well-equipped, modern halls with dimensions: 200x30x30m and 150x30x20 m, as well as adjacent offices and facilities for staff. Karstensen officially took over the plant on July 1, 2018, under a three-year lease agreement.

Overview of transhipments at Polish terminals 2019 - SPEED sp.z.o.o.