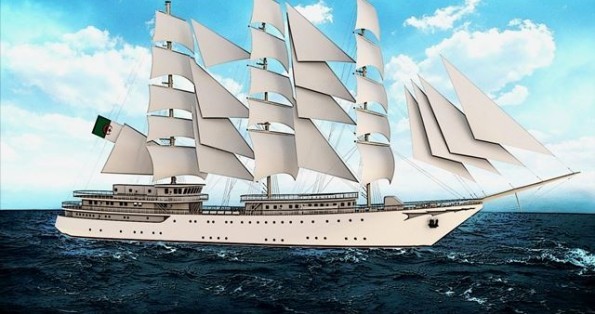 Date of publication: 05.11.2015
This will be an unprecedented event! The thousandth launch will take place next Saturday, 7 November 2015. At noon, a modern training ship will leave the slipway. The ceremony will be held at the Remontowa Shipbuilding, which is a member of Remontowa Holding. The vessel has been built for the Algerian Navy.

A dynamic side launch typical of the shipyard will as always be a great and spectacular show for all participants. The vessel is a modern three-masted frigate.

Remontowa Shipbuilding has often proved that it can successfully construct modern ships for Shipowners around the world. The construction of the first sailing ship in the history of Remontowa Shipbuilding introduces the shipyard into the elite group of companies that build not only innovative, but also prestigious vessels.

The launched sailing ship will be named "El-Mellah", which means "Sailor" in Arabic. As the name suggests, it will be used by the Maritime Academy cadets to improve their maritime and navigation skills. In addition, similarly to most sailing ships it will be presented as a showpiece abroad and participate in international competitions and regattas.

The sailing ship will be used globally on all available sailing waters.

The parameters of the ship place it among the largest and fastest training sailing ships in the world.

Besides the construction of the ship, the contract also includes training of the crew and cadets, carried out in collaboration with the Gdynia Maritime University. The vessel is scheduled to be delivered by the end of 2016.

The author of the concept and technical design of the ship is engineer Zygmunt Choreń, who is considered one of the greatest designers of sailing ships in the world.

Remontowa Shipbuilding invites you to participate in this unique event. In addition to the launching ceremony, special attractions and surprises have been prepared for the guests.
Entrance to the Shipyard through the gate at Swojska St. from 11.00 a.m.