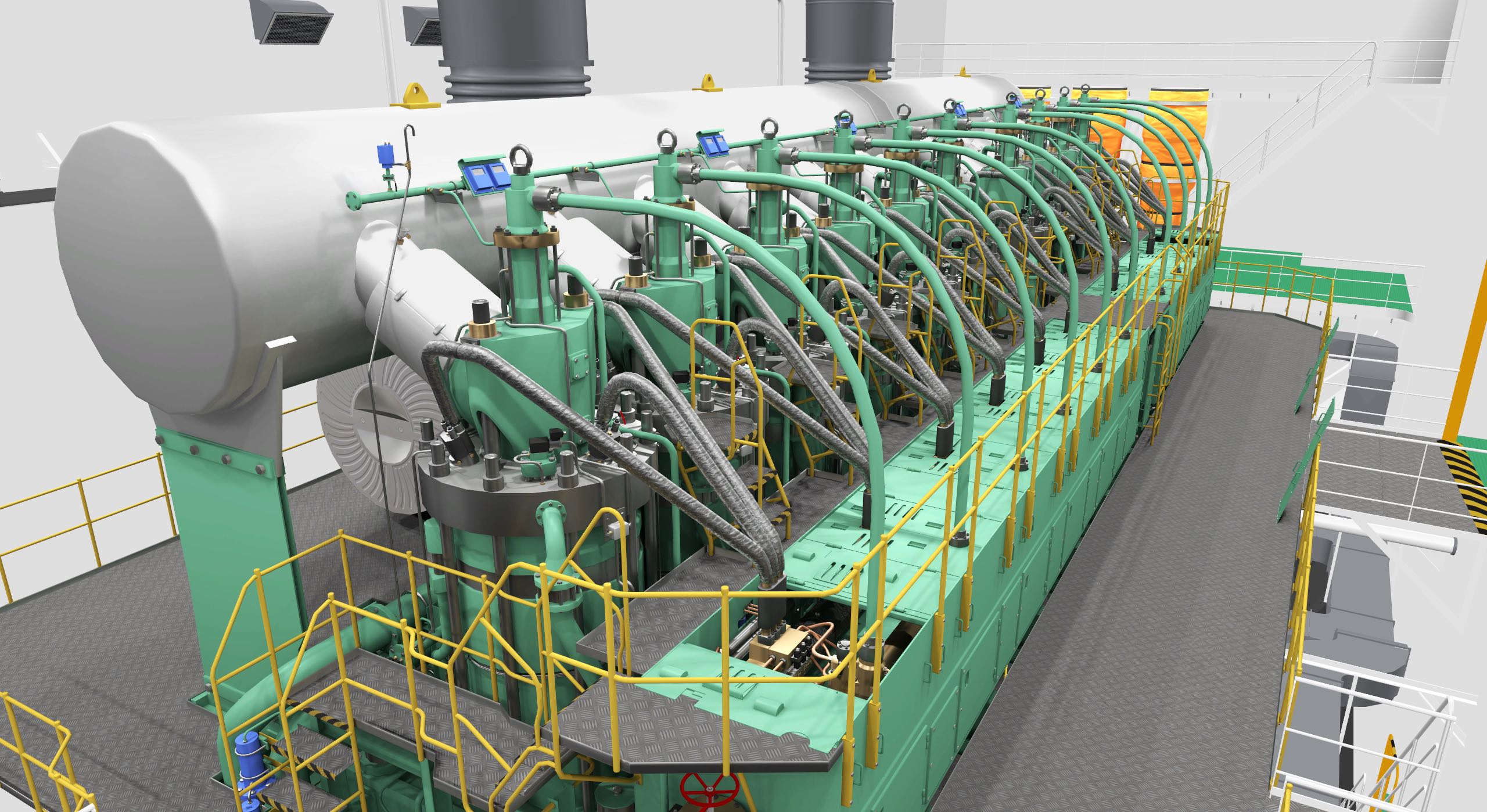 Date of publication: 09.07.2018
UNITEST Marine Simulators Ltd. is a world-known supplier of sophisticated engine room simulators with high-quality 3D visualization.

The most realistic simulator in the UNITEST portfolio is a full hardware and full mission engine room simulator which consists of several actual hardware control consoles and a full-size electrical switchboard with real gauges, lamps, switches and buttons. Additionally, the engine room machinery space is visualized in 3D graphics on two big touchscreens. This engine room simulator can operate with two models of a propulsion plant: a medium speed (one four-stroke type main engine with a reduction gear and a controllable pitch propeller) and a low speed (one two-stroke type main engine with a fixed pitch propeller).

Recently, UNITEST has delivered a significant number of full mission simulators together with touchscreens with full 3D visualization of both engine room consoles, switchboards and machinery spaces. This new feature reduces the main disadvantage of a full mission engine room simulator in hardware version with realistic consoles and panels that were unable to adapt to various modern solutions applied in engine rooms unless expensive hardware changes were implemented. As a result of the introduction of a touchscreen monitor technique, the simulators are much more flexible which leads to their quicker and cheaper adaptation to the fast-changing reality of engine rooms.

As part of the cooperation with Winterthur Gas&Diesel and Alfa Laval, a modern marine engine simulator W-X92 has been developed. The simulator is based on the design of a modern container ship equipped with one of the largest low-speed marine engines from Win G&D W-X92.
W-X92 engine technical specification:

Cylinder bore: 920 mm
Piston stroke: 3468 mm
Number of cylinder: 10
Rated speed: 70-80 rpm
Stroke/bore: 3.77 Rated
Power: R1 - 64 500, R2 - 46 500 kW   (80 rpm)
Mean effective pressure: 21.0

The simulator uses a new 3D visualization technology with prerendered textures, which makes the simulator's operation even more realistic than before.

Moreover, W-X92 simulator uses a detailed thermodynamic model to calculate the combustion process in real time. It is also possible to observe the influence of many engine regulation parameters and offsets (exhaust valve, injection process) in form of indicator curves. The control and setting of engine control parameters are performed in the same way as in real engine by the FlexView interface, which is a copy of the original Winterthur Gas&Diesel engine control software.

The W-X92 simulator has also several unique futures like a graphic visualization of the dynamic engine working point within the engine limit curves and a compressor map characteristic, on which surging margin is presented. In combination with the possibility of turbocharging system faults' simulation it is an extremely valuable teaching tool.

One of the new solutions is the Alfa Laval 'PureBallast' water treatment system required by the new Convention for the Control and Management of Ships' Ballast Water and Sediments, commonly referred to as the BWM. The Convention requires ballast water to be treated to specific standards prior to discharge, and permits national, regional and local authorities to apply their own regulatory framework in their respective territorial waters. The system includes the implementation of all procedures such as ballasting, deballasting, stripping and clean in place.

The W-X92 simulator also includes two steam boilers from Alfa Laval: oil-fired Aalborg OS-TCi and exhaust gas economizer Aalborg XS. The Aalborg OS-TCi is a high-efficiency boiler with a user-friendly, integrated pressure atomizing burner controlled and monitored with Aalborg Laval Touch Control system. The Aalborg OS-TCi comes with the Aalborg KBM burner. The XS type economizer is a vertical smoke tube type designed for utilization of thermal energy coming from exhaust gases from diesel engines in ships to produce steam.