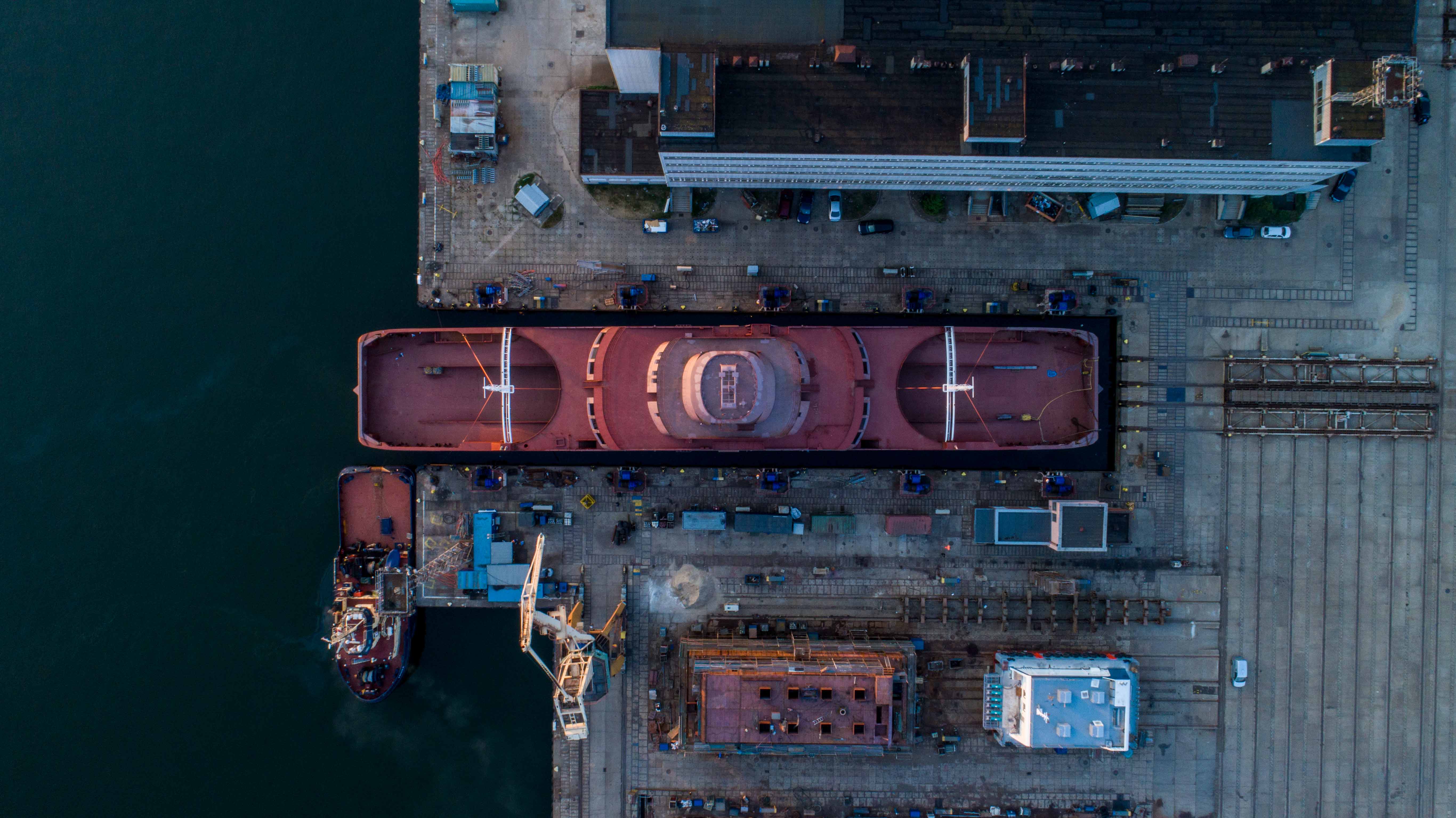 Date of publication: 02.06.2018
Munken is already on the water and on the way to Norway. On Sunday the Montex Shipyard launched a semi-equipped hull of a modern hybrid ferry built on the order of the carrier FosenNamsos Sjø. The unit will be completed at the Norwegian shipyard, and from January 1, 2019, it will enter the Flakk-Rørvik route.


The launching a partially equipped ferry with the construction number NB391 has been divided into several days. After completing work at Factory No. 2 Montex Shipyard in the Northern Port of Gdansk, last Friday the hull was pushed from the Nabrzeże Zachodnie to a special pontoon. Then approx. at 20:00 he was towed to the Naval Shipyard in Gdynia, where the launch took place on Sunday. Around 22:00 Munken towed by the tugboat Frigga set out on a trip to the Myklebust Verft shipyard, which will complete its construction in Gursken, Norway. The ferry is scheduled to arrive on the next Friday.

The ship is 107.70 m long, 16.8 m wide, has 5.50 m lateral height, 4 m draft and 3 850 GT. It will fit 130 cars and 399 passengers, for whom spacious interiors have been designed. The ferry is created under the supervision of the DNV GL classification society. Norwegian design office Multi Maritime is responsible for the MM 101 FE EL project.

MF Munken's diesel-electric drive will be powered by Siemens batteries. Charging time is just 5 minutes. Thanks to the specially developed hull structure, high-efficiency heating and ventilation systems and automatic mooring, the ferry will use over 70% less energy compared to similar units powered by traditional fuel. MF Munken will also be automated. The crew's role will be kept to a minimum, and the captain will take control of the ferry only during mooring and departure from the port. The Rolls-Royce Automatic Crossing System will be responsible for acceleration, route control and speed. If the captain was unable to supervise the ship, the automatic control system would stop him.

According to FosenNamsos Sjø, the name Munken refers to geographical regions, among which the ship will move. The modern ferry will be ready in the autumn of next year. FosenNamsos Sjø ordered a total of two such units for the Flakk-Rørvik route. The twin ship MF Lagatun was also handed over to the Montex Shipyard shipyard in March this year. Flakk-Rørvik is an important connection for Norwegians. Every year, over 15,000 round-trips are carried out on this route.

Montex Shipyard deals in the construction of vessels and marine construction elements, assembly and execution of steel structures, electro-assembly and hydrotechnical works, as well as the creation of offshore structures (elements of wind towers). Currently, it cooperates, among others with CRIST shipyards, Remontowa and with partners from Norway, Germany, Sweden and the Netherlands, such as: Kleven Maritime AS, Simek AS and Bodewes.