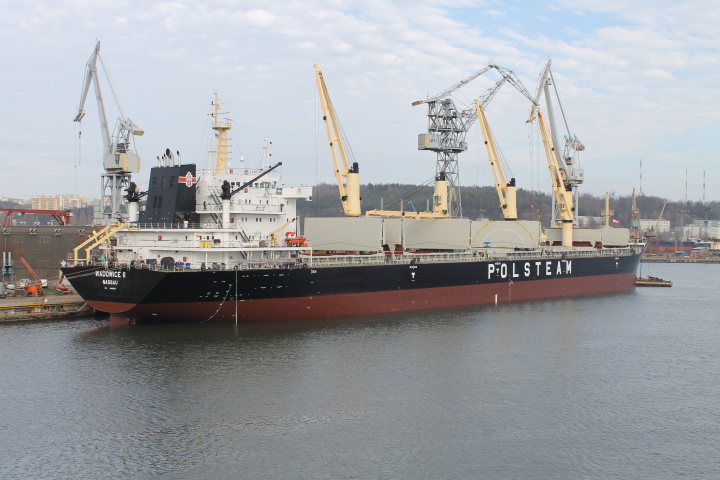 Date of publication: 23.02.2015
On 23th February bulk carrier vessel MS Szczecin entered dock no 4. Unit will undergoes intermediate repair.

MS Szczecin will stay in Gdynia for the next two weeks. At that time the ship will be carried out standard works on the renewal of the paint coating on the hull and aerial assembly will be held to receive internet in satellite communications.

MS Szczecin was built in 2012 in Chinese Shipyard Xingang. MS Szczecin is a classic bulk carrier, which is used to transport grain, fertilizer, coal and phosphates. It is equipped with five cargo holds and four deck cranes with a lifting capacity of 30 tons each.

Established in 1926, Nauta Ship Repair Yard is one of the leading Polish shipyards that specializes in building vessels and hulls, repairs and classification inspections of civilian crafts as well as repairs and rebuilding of military crafts. The shipyard is also getting increasingly involved in newbuilds and production of steel offshore structures.

Over 80 years of its activity, Nauta has performed numerous extensive repairs on various types of ships. It has also designed and built nearly 500 fishing and special purpose vessels. At the end of 2012 Nauta transferred most of its production facilities to the area which previously belonged to Gdynia Shipyard. The acquisition of new land and water area has created enormous growth opportunities for Nauta Shipyard.