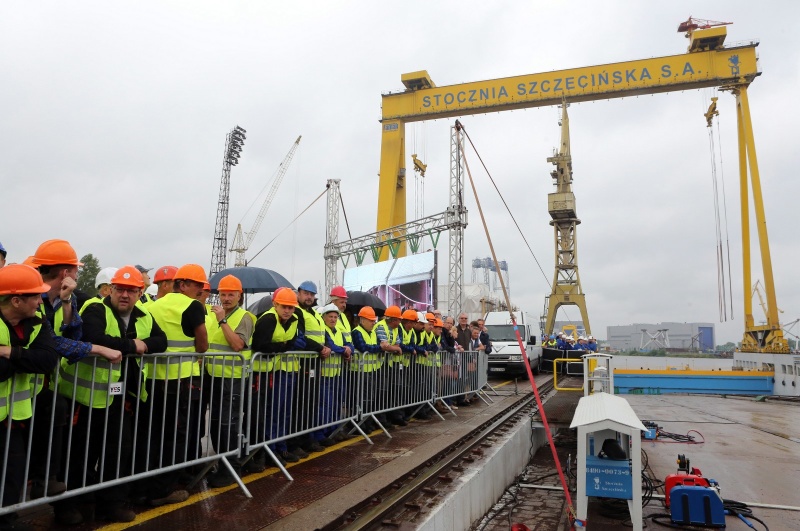 Date of publication: 23.06.2017
On 23rd June 2017 ceremony of keel laying for ro-pax ferry B 145-I/01 was held at "Wulkan Nowy" slipway in Szczecin Industrial Park. MSR Gryfia Yard will build the vessel for Polferries.
The construction of a ro-pax ferry for Polferries has been officially started since the keel ceremony. The vessel with number  B 145-I / 01 is being built by MSR Gryfia.

Today we can officially start the project, which will launch the shipbuilding recovery program in Szczecin. Back to the construction of such large units is a challenge for us, because for several years projects of such a large scale were not implemented in Szczecin. However, I am convinced that thanks to the determination and experience of the Management Boards of Szczecin Industrial Park, MSR Gryfia Shipyard, and other MARS Group companies, the investment will be successfully accomplished, "said Konrad Konefał, a member of the management board of MS TFI, which manages the MARS group.

The ferry will have 202.4 m length and 30.8 m wide. The unit will reach a speed of 18 knots. The new ferry will accommodate 70 crew and 400 passengers on board. The ro-pax ferry will be a modern unit that meets high ecological standards. The new ferry will use liquefied natural gas (LNG) as the main fuel. Ro-pax will be equipped with a diesel electric propulsion system with two main propulsions of the Azipod type, located in a stern part.  The ferry will be designed to bunker it using the LNG terminal in Świnoujście and the Ystad port.

Currently, the Westcon Design office is responsible for design works. Mr. Piotr Żelazek and Mr. Marek Nowak are main designers. Mr. Stanisław Domagałło form Ned-Project is a main consultant in the project. At more late stages of the project implementation, a participation of a few prestigious Polish design studios is predicted.

According to the schedule of the project, the Shipyard will begin works associated with the production of hull section the at turn 2017 and 2018. Then in June 2018, the Shipyard will start works on the slipway. In 2019 the ferry will be ready to launch, and at the beginning of 2020 for delivering to the shipowner.

Development of shipbuilding industry is one of the key elements of the Polish Government's Plan for Responsible Development, and its purpose is the offset of the Polish shipyards in the direction of the construction of larger, highly specialized units and increasing the competitiveness of domestic ferry operators.