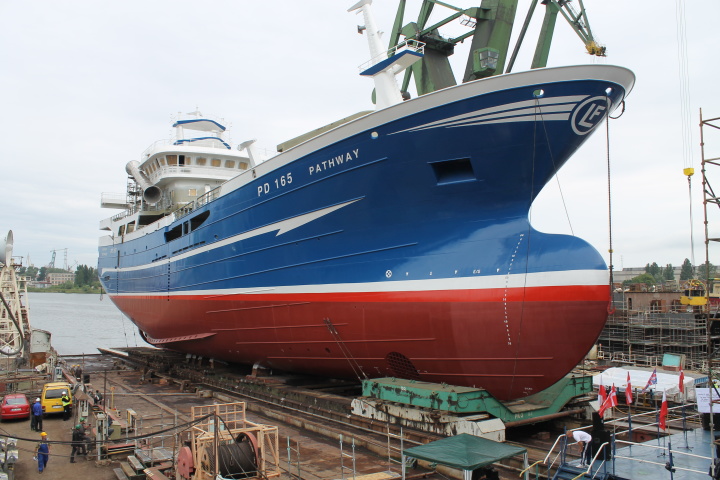 Date of publication: 02.09.2016
On 5th August launching ceremony of partly outfitted fishing vessel Pathway took place at Newbuilding Dvision of Nauta Yard in Gdańsk. Pathway is a sister ship of Kings Cross, which was launched at the end of April.
Pathway is the sixth vessel which was built by Nauta for the Dannish client – Karstensens Skibsvaerft AS. Vessel is 78 m long and 15 m wide, depth to the main deck is 6.5 m. Similar to the sister ship vessel will be fishing by pulling nets to the board. Electronic devices such as sonar will increase the efficiency by locating shoals, assessing their size and planning optimal route.

Presently seven vessels (including two fully-equipped) are under construction in Newbuilding Division  of Nauta. Shipyard specializes in building modern fishing vessels, research units and service offshore vessels. During the last two years nine vessels have been launched by Nauta Yard, mostly for the Dannish and Norwegian clients.

Nauta has signed this contract in October 2014. It is worth noting that the vessel was ordered as one of a series, which is not common situation in the shipbuilding market. Recently shipowners orders mostly single units. During recent three years Newbuilding Department of Nauta Shipyard has gained a strong position on the European market of the construction of fishing and research vessels. Excellent organization of the work and certainly high quality of services are a strongpoint of Newbuilding Department of Nauta Shipyard.