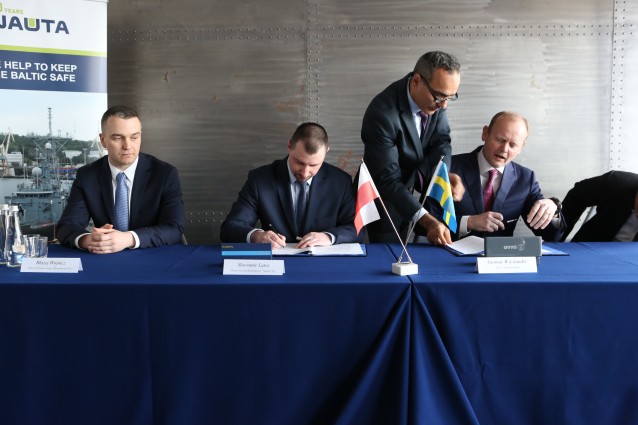 Date of publication: 28.04.2017
Defence and security company Saab has chosen Nauta Shiprepair Yard based in Gdynia, a part of MARS Shipyards & Offshore Group, to build the ship platform for the special purpose Signal Intelligence (SIGNIT) vessel for the Swedish Navy.

The ship platform will be constructed, launched and tested at the Nauta Shiprepair Yard in Gdynia. The ship will then sail to Saab's shipyard in Karlskrona, Sweden for fitting of the signal intelligence equipment and final Sea Acceptance Test (SAT). Nauta has a vast experience of ship building and represents a good location for Saab's business expansion in the naval domain.

For the Nauta Shiprepair Yard participation in construction of this ship will represent an opportunity for further dynamic growth by increasing our shipbuilding portfolio, not only on the domestic arena. As Nauta we have access to a skilled workforce, needed infrastructure and have accumulated long term experience in maritime projects. We are a company which is experiencing dynamic growth, places emphasis on innovation, and has forged ahead with adoption of new technology – we are very well prepared to participate in a project like the production of a special purpose vessel, explains Slawomir Latos, the chairman of the Nauta Shiprepair Yard.

The project will allow Nauta to upgrade its skills in the naval sector, both in terms of technical and procedural requirements. The contracted ship is a single-hull vessel powered by an diesel-electric engine and azimuthal power plant. The main purpose of the ship will be uto patrol the Baltic Sea area and to conduct rescue missions.

Since the dawn of its exsistence Nauta is active in the field of naval and defence production. Over the past couple of years, more than 50 vessels of the Polish Navy have been, or are currently being renovated at the Nauta shipyard. Apart from the co-operation with Polish Navy for many years, Nauta conducted repairs and conversions for foreign navies.