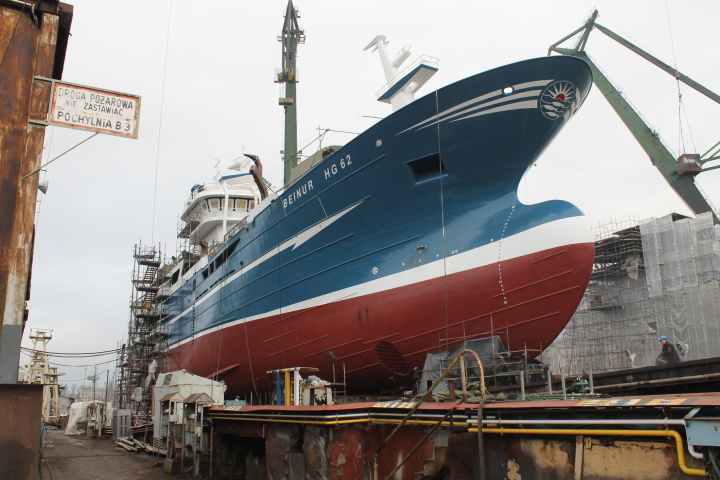 Date of publication: 11.04.2016
In the recent days Nauta Shiprepair Yard has signed two contracts for building partly outfitted fishing trawlers for its Danish Client – Karstensens Skibsvaerft AS.

Within the first order Nauta will produce a partly outfitted vessel with length 69.9 m and beam 14.2 m. The B – 436 unit will be ready to hand over in March, 2017. This vessel will be similar to the other seiners – Kvannoy and Beinur – which Nauta has built for Karstensens Skibsvaerft AS.

The second order is for building a little smaller vessel – with the length of 63 m and beam of 12.8 m. The launching ceremony is planned for July 2017.  

The contract with Karstensens Skibsvaert is the continuation of the existing cooperation between both companies. Since the opening of Newbuilding Department in Gdańsk, Nauta has already signed contracts for 14 fishing vessels, 11 of them being orders from Karstensens Skibsvaert.  The most recent launching ceremony for this customer took place in December 2015.

Established in 1926, Nauta Ship Repair Yard is one of the leading Polish shipyards that specializes in building vessels and hulls, repairs and classification inspections of civilian crafts as well as repairs and rebuilding of military crafts. The shipyard is also getting increasingly involved in newbuilds and production of steel offshore structures.

Over 90 years of its activity, Nauta has performed numerous extensive repairs on various types of ships. It has also designed and built nearly 500 fishing and special purpose vessels. At the end of 2012 Nauta transferred most of its production facilities to the area which previously belonged to Gdynia Shipyard. The acquisition of new land and water area has created enormous growth opportunities for Nauta Shipyard.