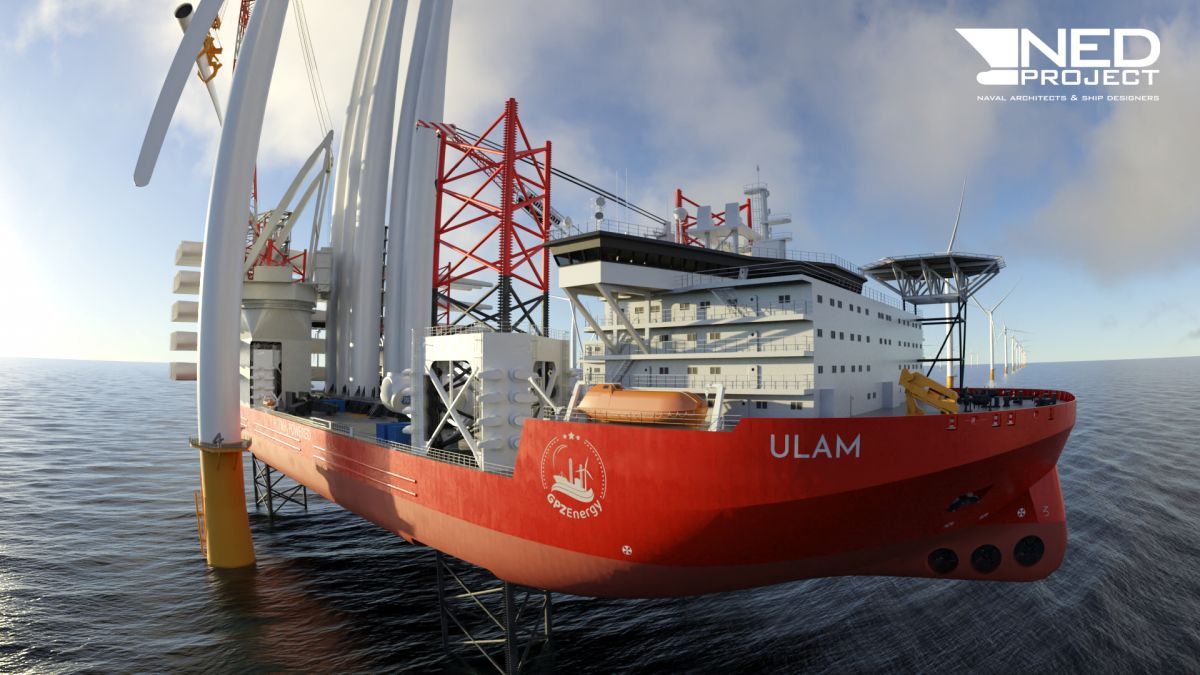 Date of publication: 18.10.2021
The NED-Project company from Gdańsk debuted the preview of the upcoming animation of ULAM NP20000X, a ship for the installation of wind turbines. The vessel's design was approved by the American Bureau of Shipping (ABS) classification society at the end of September.

NED-Project presented an excerpt from a larger animation about the ULAM installation vessel project, which will be built in the USA.

- The animations created by the cooperating marine technology office NED are able to simulate any engineering idea delivered in a high-class visual form - emphasizes Zbigniew Szyca, President of NED-Project.

- Our extensive work on animations and visualizations has allowed us to gain solid experience in this field - inform NED technology and digitization specialists.

Due to the fact that ULAM will be built in the USA, it will meet one of the most important requirements of compliance with the Jones Act. It is a law that requires goods transported between US ports to be transported by ships built, operated by US citizens or permanent residents, and owned by them.

NED-Project is not slowing down

So far, NED-Project has created many interesting projects. It is worth mentioning the implementation of projects for wind energy, such as: a jack-up vessel in a German shipyard, a cable-laying vessel currently in the Boskalis fleet or transport units for Seaway 7 / OHT from Norway.

- The current project carried out together with an American company is an opportunity for Polish content in the offshore wind sector - notes Zbigniew Szyca. - Few people know that our designers have implemented and built such large projects over the last 10 years.

The shipowner, GPZ Energy, will ultimately build 2 ships, one of which will be built in the US for the US market.

ULAM will be innovative and suitable for hydrogen fueling

The vessel will be packed with modern technologies. Its equipment includes a crane with a load capacity of over 3,500 tons, an advanced positioning system and innovative transport solutions that will be able to transport and install both foundations and turbine components.

The project should meet the future requirements of the offshore wind energy market, in particular operations related to the installation of wind turbines with a capacity of 15-20 MW. The ULAM vessel system can handle turbines with a rotor diameter of 240 meters and a tower height of 150 meters. Let us add that the unit will be adapted to be powered by hydrogen.

NED-Project is a design office with over 30 years of experience. Among the recent interesting activities of NED-Project, it is worth mentioning, among others an electric tug project based on previously built vessels or a cable laying unit for a German shipowner.