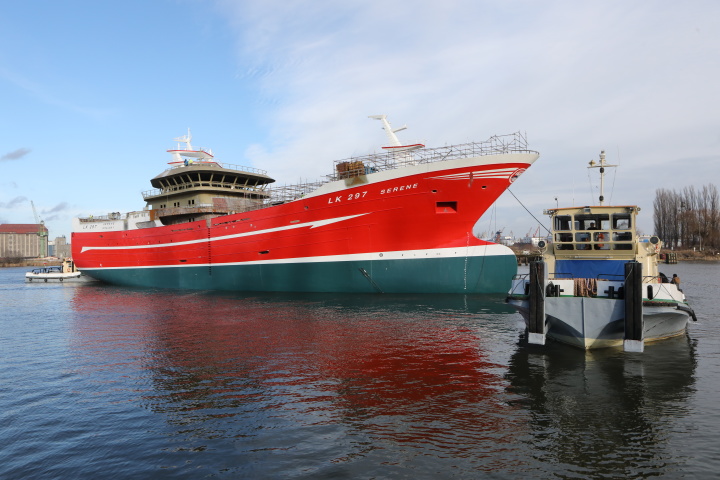 Date of publication: 01.02.2018
On February 1st, the launching ceremony of partly outfitted pelagic trawler took place at Newbuilding Division of Nauta Shiprepair Yard in Gdańsk. A shipowner from the Shetland Islands will be final owner of the fishing unit.
SERENE is a trawler designed to operate pelagic trawls.The vessel is one of the largest fishing trawlers currently being built in Nauta Shipyard. SERENE is 82 m long and over 17 m wide and the draft is 5,9 m.

The vessel has been built in Gdańsk for a Danish client – Karstensens Skibsvaerft AS. Serene Fishing Company Ltd. From the Shetland Islands will be the final owner of the ship. The unit will operate in the Atlantic Ocean.

Nauta specializes in building modern fishing vessels. In 2017 the shipyard launched five fishing vessels and seven new units of this type are planned to be delivered in 2018.

Another important area of the activity of shipyard's Newbuilding Division is construction of research units as well as service offshore vessels. What is more, Nauta has recently signed important contracts for building a ship platform for the special purpose Signal Intelligence vessel for the Swedish Navy and for building submarine supply/ rescue vessel (code name "Ratownik" for the Polish Navy.