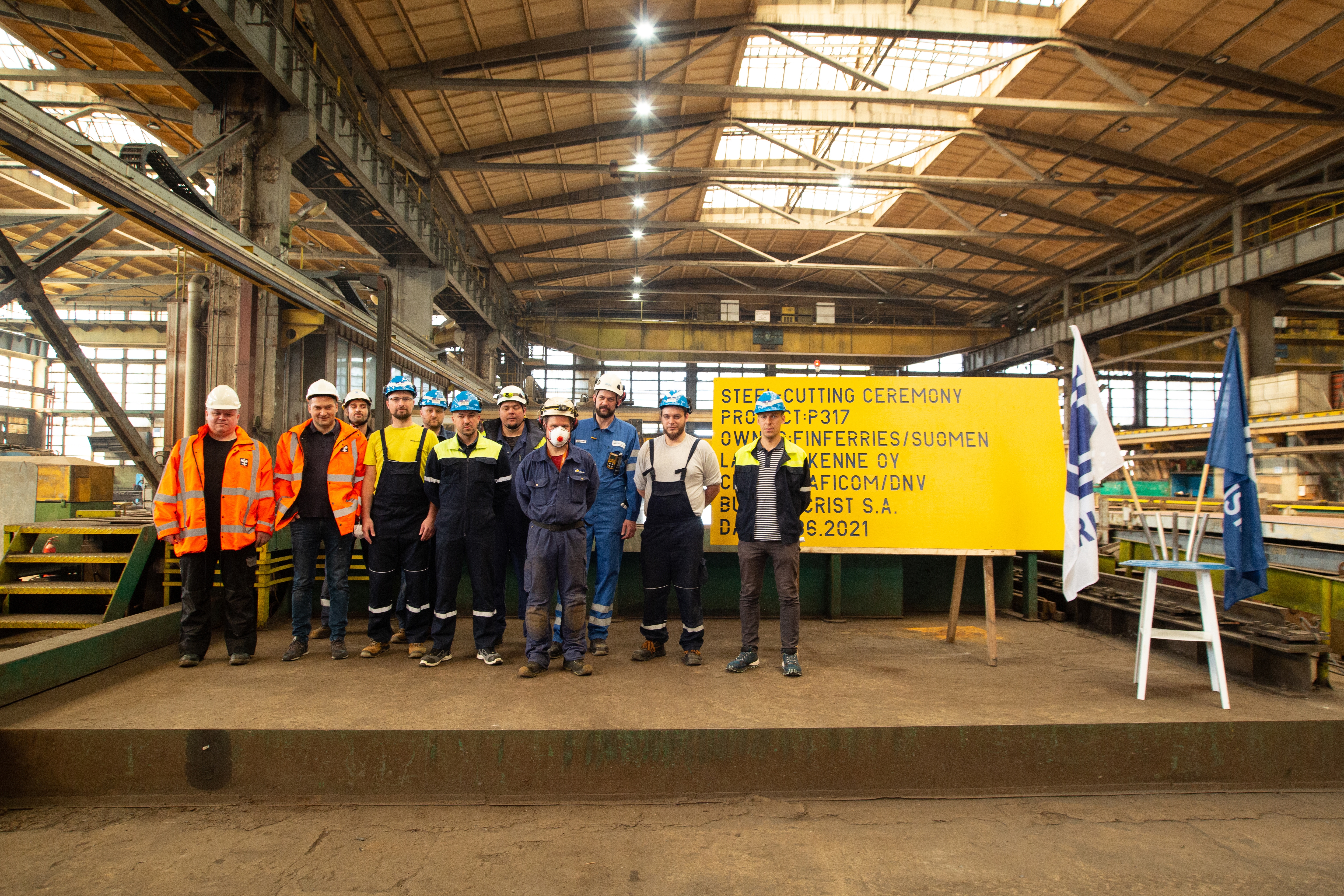 Date of publication: 14.06.2021
In June 2021, the first steel cutting of a modern, environmentally friendly, ecological hybrid ferry for the Finnish shipowner Finferries, with construction number P317, took place.

This is the third modern plug-in hybrid ferry of this type, fully equipped, built for the Finnish ferry operator Finferries by the CRIST shipyards.

The construction of another vessel is a continuation of the long-term, successful cooperation between CRIST and Finferries, as well as enhancement of the extensive experience that CRIST shipyard has acquired while implementing previous projects.

Vessel is designed by LMG Marin, one of Europe's leading naval architect and ship design houses.
The hybrid ferry will cover its route using only its own batteries charged directly from shore during loading and unloading, while the diesel generator sets will only serve as a backup source of power for the vessel in case of bad weather conditions on the route.

The 70m long vessel designed for operation in restricted waters, specially designed for the Nauvo-Korppoo connection in Finland, will be able to transport up to 52 cars or a combination of trailers, trucks, buses and cars, as well as transport up to 200 passengers on board.

It should be recalled that the first state-of-the-art, double-sided hybrid ferry built by CRIST for Finferries was the "Elektra".

Elektra is the first ferry of this type built in the European Union and the second in the world, which turned out to be a great success on an international scale. Its innovative charging system and hybrid solution were awarded, among others, by the international "Ship of the Year" award in the Marine Propulsion Awards 2018 competition and the CEMT 2018 award for outstanding contribution to the success of the European maritime industry, presented during the 2nd Vision for Development Forum in Gdynia.