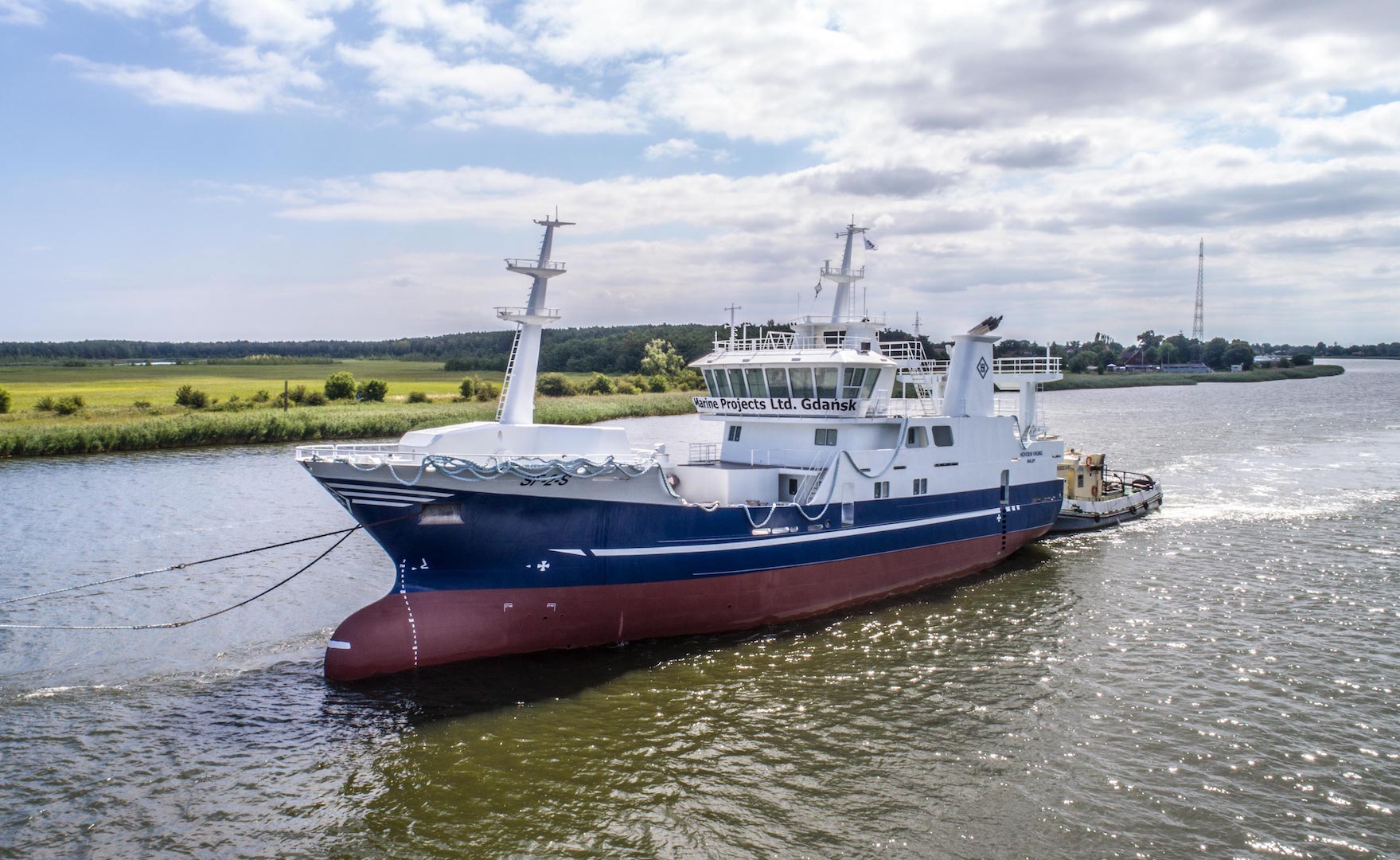 Date of publication: 17.07.2018
Gdansk shipyard Marine Projects Ltd. has delivered another vessel for their client. Partially equipped seiner called "Hovden Viking" was built for the Norwegian shipowner Hovden Senior AS.

The purse seiner / danish seiner is partly equipped and its construction will be completed at the Norwegian shipyard Larsnes Mek. Verksted. The vessel is 46 meters long, 12 wide and can accommodate a 12 person crew.

Sejner was built according to Det norske Veritas (DNV / GL) regulations for class 1A1 Fishing Vessel Rules and Norwegian Maritime Authority (NMA) for Fishing Vessel "Havfiske II".

This was the sixth ship built in the Marine Project in cooperation with the Larsnes Mek shipyard. Verksted. The next fishing vessel for this client is already under construction. In December last year, Marine Projects delivered a semi-equipped live fish carrier "Ro Fortune" to Larsnes shipyard. Vessel was ordered by shipowner Rostein AS.
The Marine Projects Ltd. shipyard was established in 1989. It is located on the banks of the Vistula, near the Stay Bridge in Gdańsk, on the site of the former Shipyard Joseph Conrad Korzeniowski.

Company specializes in constructing bulk carriers, container ships, ro-ro ships, tug boats and pontoons for transporting large-size loads. It also delivers partially equipped ship hulls, sections and blocks of hulls as well as complete superstructures.

Conrad Shipyard, Marine Projects sister company, specializes in construction of comfortable sailing and motor yachts with length from 15 to several dozen meters.

Ship parameters:

total length 46,0 m
length between pawns 39,6 m
width 12,0 m
lateral height 5,0 m
height to the protective deck 7,5 m
draft 6,0 m
RSW tanks (6 units) 486 m3
propulsion power 1920 kW
Staff cabins for 12 people (4 single cabins and 4 double cabins)