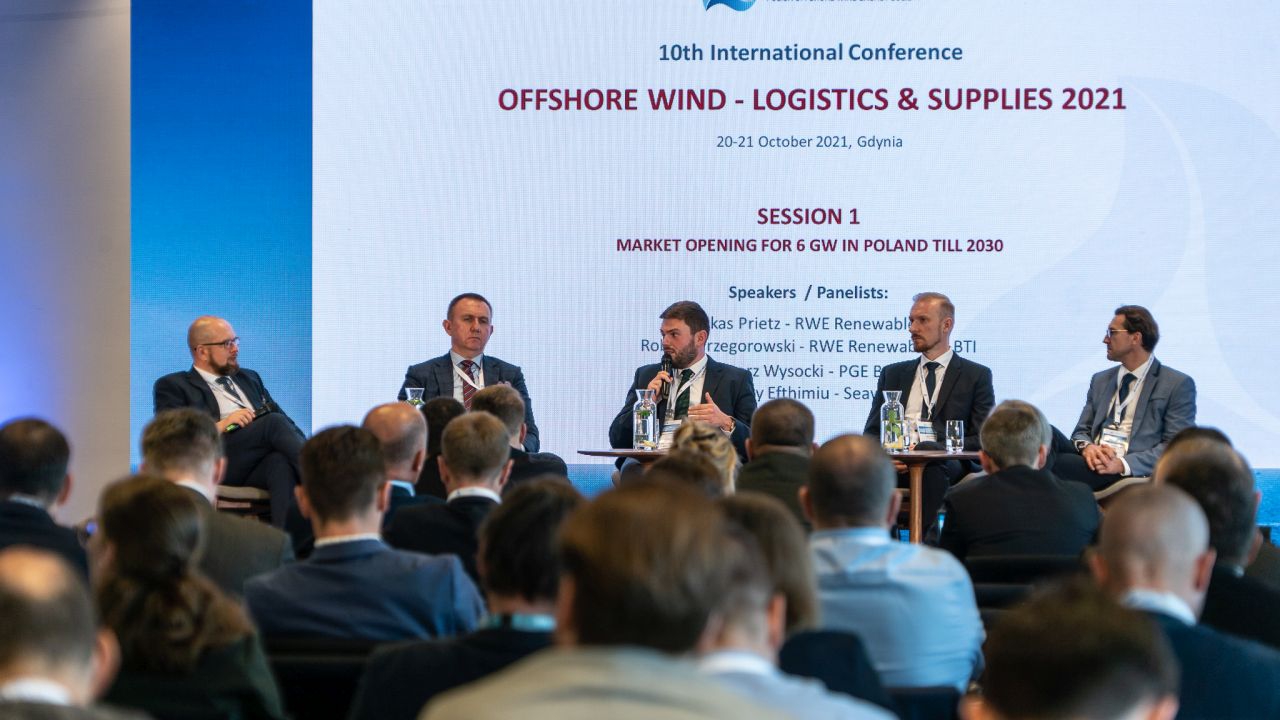 Date of publication: 22.10.2021
The Polish Maritime Wind Energy Society (PTMEW)once again organized the Offshore Wind Logistics & Supplies conference in Gdynia. Its aim is to encourage representatives of the Polish industry to enter the wind energy sector and exchange knowledge with more experienced companies.

This year's edition of Offshore Wind Logistics & Supplies was held on October 20 and 21 in Gdynia. The conference differs significantly from other events of this type - apart from the first discussion panel serving as a general introduction to the current state of the market and challenges it is facing, the remaining discussions concerned technical and logistic solutions, including types of turbines, substations, foundations and service fleet, as well as services and supplies necessary for the functioning of the market.

- Indeed, among many projects of this type in Poland, we would like to distinguish ourselves with a profile, under which we will provide entrepreneurs with access to the latest knowledge and experience regarding all key technical and logistic aspects related to the preparation, implementation and service of supplies for the offshore wind energy sector. Hence, we talk a bit less about politics, we talk a bit less about legal regulations, we focus more on technical parameters, industry guidelines and industry standards, as well as on technical innovations and everything that will determine what type of project and by what methods will be implemented on the Polish offshore - said Mariusz Witoński, president of PTMEW.

The conference was attended by many representatives of investors already involved in the construction of wind farms on the Polish coast, incl. RWE Renewables, PGE Baltica or GE Renewable Energy, as well as foreign companies observing the Polish market and planning to enter it, but also domestic enterprises that are looking for opportunities for themselves in a new branch of the economy. Although the event was held in a hybrid manner, the conference room of the Courtyard by Mariott hotel in Gdynia was full.

- After this troublesome last year, I am glad that we can all be here in person. For me it is important to meet face to face so that we can all understand our possibilities and opportunities, which often cannot be done via e-mail - said Gregory Efthimiu from Seaway 7, who during the conference told, inter alia, about the company's fleet intended for offshore investments.

One of the goals of the Offshore Wind Logistics & Supplies conference was to bring Polish business closer to foreign companies present on the offshore wind market for a long time. As the organizers say, it is not only about the future participation of local content in investments in the Polish zone in the Baltic Sea, which was emphasized during the speech by representatives of RWE, but also about looking for opportunities to enter external markets.

- During these meetings, we would also like to encourage Polish entrepreneurs to go beyond the Polish market, to the currently extremely prosperous European and world markets. This conference is a great opportunity to meet industry colleagues from other countries that are currently at an advanced stage in the offshore wind energy sector. This is a great opportunity to transfer knowledge and experience, establish business contacts and plan the place of your own enterprise in this currently emerging supply chain for offshore wind energy in Poland - said Mariusz Witoński.

The Offshore Wind Logistics & Supplies conference was held for the tenth time and, taking into account the dynamic development of the offshore wind energy sector in Poland, it has become a permanent fixture in the calendar of the most important events in the industry. Its organization is the responsibility of the Polish Maritime Wind Energy Society, which brings together mainly representatives of the supply chain. The organization aims to provide access to information on the market and to lobby for the interests of Polish industry in the emerging sector.

- Our goal is to provide Polish entrepreneurs with access to all information that will contribute significantly to their preparation and operation on the offshore market in Poland and abroad. We currently associate over 100 enterprises, both Polish and foreign entities, interested in developing their activities in Poland, locating their companies here and establishing partnerships with Polish companies - said the president of PTMEW, Mariusz Witoński. - We are taking part in all discussions concerning the shaping of legal regulations that determine what opportunities Polish entrepreneurs will find in the domestic market in this sector. Certainly, the voice of Polish entrepreneurs in this aspect should be heard and we are interested in building this representation with the widest possible participation of Polish enterprises.