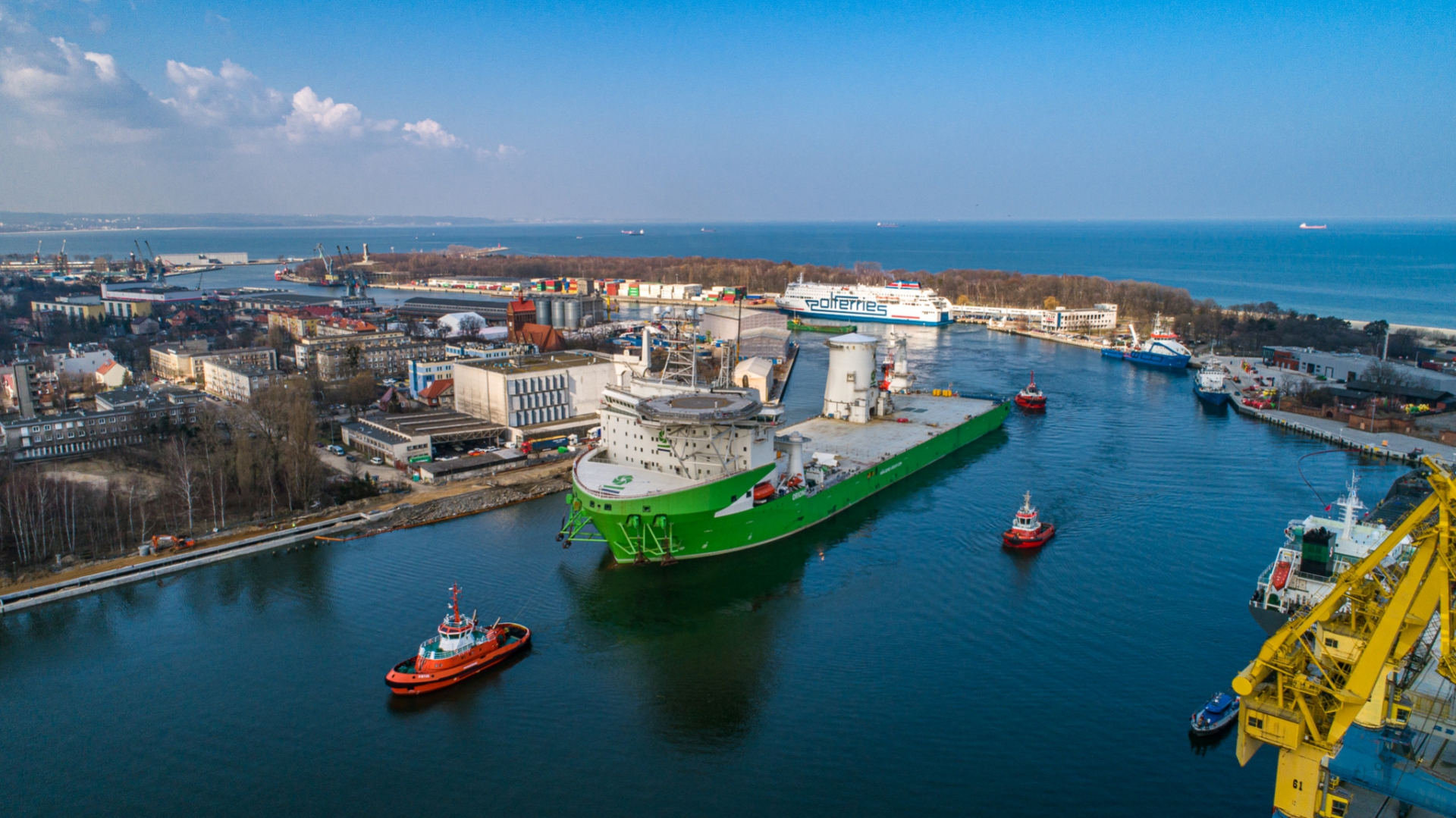 Date of publication: 02.04.2021
On Friday, one of the newest generation of offshore installation vessels, Orion I, owned by the Belgian Deme group, entered the Port of Gdansk. After last year's accident during the crane's overload test in Rostock, the ship initially has to undergo renovation of the plating and the foundation plate under the crane.

Construction of Orion for GeoSea (DEME subsidiary) by COSCO (QIDONG) OFFSHORE CO., LTD. - a modern offshore assembly unit, with 216.5 m length, 44,180 kW power and dynamic positioning, started in March 2018. The ship is powered by liquefied natural gas (LNG). Wärtsilä equipped the unit with four 9-cylinder dual-fuel (46 DF) and two 6-cylinder dual-fuel (20 DF) engines, as well as six specially designed rudder drives. In addition, it is equipped with innovative environmentally friendly solutions - a waste heat recovery system that converts heat from exhaust gases and cooling water into electricity.

The unit was equipped with a giant Liebherr crane. The 90 m high Liebherr HLC 295000 crane with a 160-meter jib is mounted on an 800-tonne plinth on board. It has a lifting capacity of 50 meters around 3,000 tons - roughly equivalent to nine A380s fully loaded. The giant's unrivaled ability is the possibility of lifting loads to a height of over 170 m.

The unit is used during the installation of offshore wind farm structures, but also elements of the offshore fuel sector infrastructure.

During the scheduled overload test for the Liebherr HLC 295000 crane in the port of Rostock - where the last construction and equipment phase was carried out, on May 2, 2020, a serious accident occurred during the standard test procedure .

The incident occurred while a barge was being lifted from the water. "The facts now known indicate that the incident took place with a load of approximately 2,600 tons and caused a chain reaction that led to the accident," said the crane manufacturer's official information. Several people were slightly injured during the accident.

The giant arrived at the Port of Gdansk around 12.30, and then will be docked at the Remontowa shipyard.

According to our information, a test mooring of the wind turbine installation unit took place in the area of the Wood Station in Gdańsk Port.