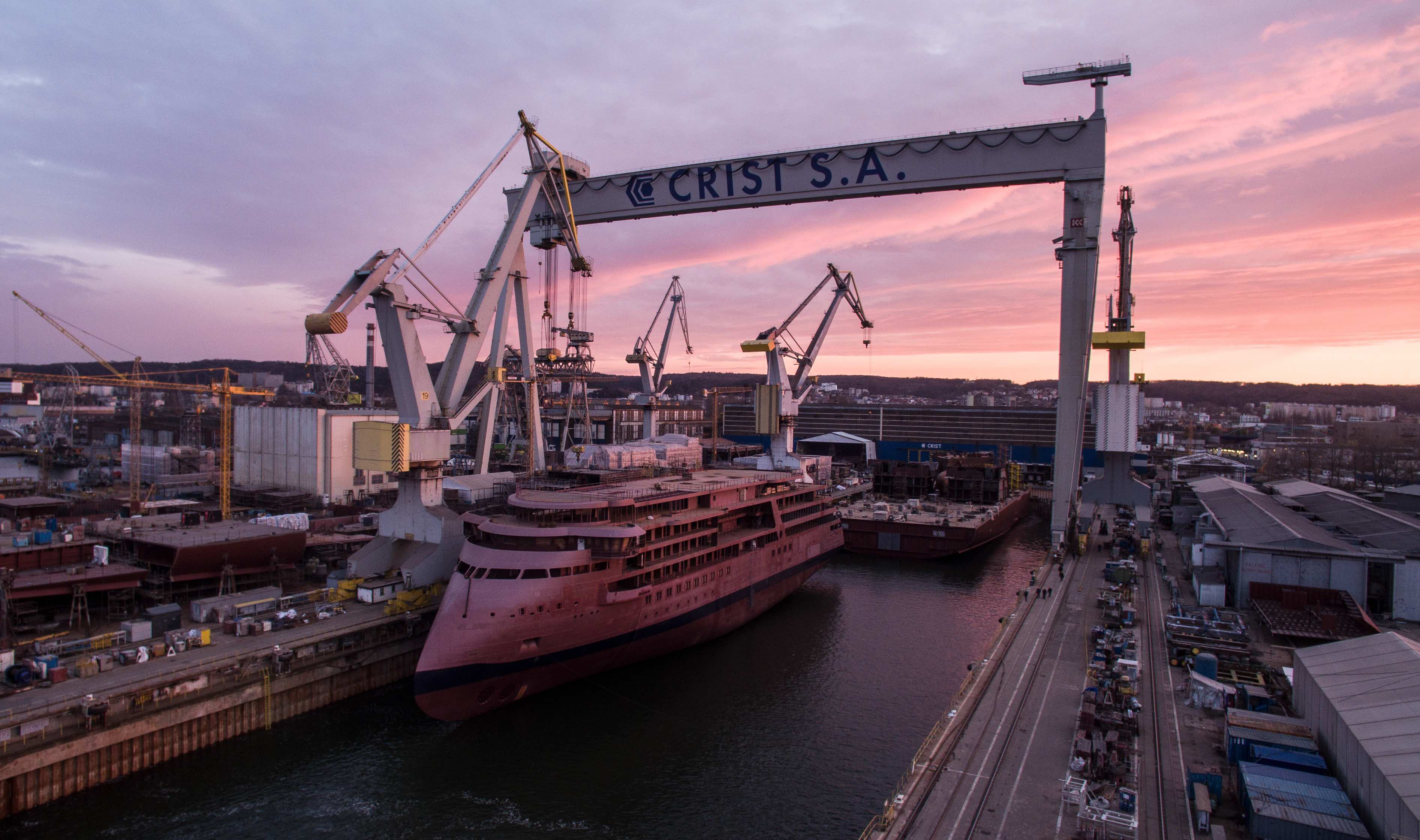 Date of publication: 21.05.2019
Despite the global crisis, Polish shipyards are finding their place on the market. High quality services, specialist products and cooperation with European leaders have become the recipe for success in these difficult times. Qualified staff, more and more access to new technologies, and excellent design facilities are the greatest attributes of Polish shipyards. The combination of many years of shipyard traditions and experience, with a focus on innovation, ecology and high specialization makes Poland a key supplier of fully-equipped units and ship elements.

Fully-equipped vessels, partially-equipped hulls and mega blocks of giant cruise ships from the Crist shipyard

Fully-equipped specialized ships

Aqua Tromøy live fish carrier for the Norwegian client Artic Shipping AS – a fully-equipped multipurpose live fish carrier, 76.90 m long, 15 m wide with a lateral height of 8 m. This modern, automated and multipurpose vessel designed by the Norwegian design office Seacon AS has been equipped with diesel and electric drives. There are two fish holds on the deck with a total capacity of 3,000 m3.

A passenger and car ferry for an Icelandic shipowner - the modern design allows operation in very difficult marine conditions. The ferry has a length of 69.38 m and a width of 15.10 m, and can hold 540 passengers + 10 crew members. The vessel will be deployed on route between Landeyjahöfn and Vestmannaeyjar - islands in the Westman Archipelago, located 9 kilometers from the south of Iceland.


Partially-equipped hulls for the 21st century

Color-Hybrid, the world's largest hybrid ferry - this partially-equipped passenger-car vessel was built at CRIST at the request of the Norwegian Ulstein shipyard. Color-Hybrid is one of the largest ships recently created in Polish shipyards. The ferry is 160 m long and 27.10 m wide. It will be equipped with a hybrid main propulsion system, which, combined with the relevant unit parameters, will ensure high maneuverability. The battery recharging process will always take place in the port by use of a power cable from special offshore facilities or on the vessel itself. The vessel will accommodate 2,000 passengers and 500 vehicles.

Polar passenger ship X-BOW hull - a modern, partially-equipped hull for the National Geographic Endurance vessel. The hull is about 125 m long and over 20 m wide. The ship will have the highest ice class and will be built in accordance with the patented design of X-BOW hulls. The use of this solution in a passenger ship will reduce the impact of waves on the hull, which will increase the comfort of travel and reduce noise and vibration. The vessel will accommodate 126 passengers in 69 spacious cabins and suites. The innovative "Zodiac" system will facilitate exploration and allow quick and safe descent to land, providing quick access to every destination.
The ship is being built for the owner of Lindblad Expeditions, an enterprise dealing with the organization of cruises in Arctic regions. It also promotes activities aimed at protecting the natural environment. The company works closely with National Geographic.

Acta Centaurus - this partially-equipped vessel for servicing offshore wind farms was created according to the SX195 project developed by the design office Ulstein Design & Solutions AS. The ship is 93 m long, 18 m wide, has a load capacity of 3 200 t and a draft of 6 meters. The deck is 500 m2. The SOV (service operation vessel) ship will work on the construction, assembly and maintenance of offshore wind farms.


Mega blocks for giant cruise ships

Mega blocks for the French Chantiers de l'Atlantique shipyard (formerly STX France) - these two 124.5 m-long, 43 m-wide and 8.5 m-high blocks are elements of the Meraviglia-Plus cruise ship, built for the operator MSC Cruises. The blocks weigh about 6 700 t plus equipment. The blocks' power plants are fully-equipped, with no need for cables or starting-up. During the implementation of each block, almost 30 km of pipelines and over 1,000 tonnes of equipment were installed. Two Meraviglia-Plus class cruise ships are being built for MSC Cruises, MSC Grandiosa and MSC Virtuosa. The ships will be 331 m long and 43 m wide, will have 181,000 GT, and will reach a speed of 23 knots. They will be able to accommodate a 1,700-person crew and 6,334 passengers, for whom 2,444 cabins will be built. These vessels will have 19 decks.

Ships and mega blocks from the Marine Projects shipyard

M/V Zephyr - a partially-equipped fishing vessel for the Larsnes Mek. Verksted AS shipyard. This pelagic trawler was ordered by the British shipowner Zephyr Fishing Company Ltd. from Lerwick on the Shetland Islands. The Zephyr trawler is 75.40 m long, 15 m wide and has a lateral height of 6.30 m. It is equipped with 12 RSW tanks with a capacity of 2 500 m3. The drive power is 6,960 kW (Wärsilä 12V33). A 14-man crew will work on board.

Hovden Viking - a partially-equipped seine vessel built for the Norwegian shipowner Hovden Senior AS. The purse seiner / Danish seiner unit is 46 m long, 12 m wide and can accommodate a 12-person crew. Its construction was completed at the Norwegian shipyard Larsnes Mek. Verksted.

Blocks for the construction of the new Brittany Ferries ship - two blocks made for the Flensburger Schiffbau Gesellschaft (FSG) shipyard. The six-story aft superstructure block is 48.7 m long, 31 m wide and weighs approximately 2,074 t. The bow part of the superstructure on the same ship is 47.95 m long, 31 m wide and weighs 1 967 tonnes. The navigational bridge is 39 m wide. Both blocks were delivered by the Marine Projects Ltd. shipyard with the interior equipment at an advanced state. They will be mounted on the Honfleur Ro-pax ferry, ordered by the shipowner Brittany Ferries. A modern unit powered by LNG (dual fuel) will be 187,40 m long, 31 m wide, with a draft of 6.35 m, a capacity of 4200 GT and a load line of 2 600 m. It will hold 1,670 passengers on board. The ferry will be deployed on the Caen-Portsmouth route.

Superstructure for a large passenger-car ferry for the owner of the Irish Continental Group (ICG) - a four-deck superstructure with a weight of about 5,500 tonnes, together with a decorative chimney, was built by Marine Projects Ltd., in three parts due to its considerable size (total length 158m). The superstructure was handed over to the German shipyard Flensburger Schiffbau in a partially-equipped and completely-painted state, which significantly accelerated the shipbuilding process. Each of the three superstructure blocks was transported to Flensburg on a separate marine pontoon. After arriving on site, with the help of cranes the individual blocks were put on the ferry hull built in Flensburg.

A luxury yacht from the Conrad Shipyard

Conrad C133 Viatoris - the largest fully-equipped superyacht ever built in Poland. This transoceanic vessel is 40 meters long and 8 meters wide. The yacht has a draft of 2.5 m, weighs 385 t, gross tonnage 388 GT, has a travel speed / maximum of 12/13 knots, and a range of 4000 MM at a speed of 10.5 knots. The yacht was among the finalists in the prestigious World Superyacht Awards 2019. Safety, comfort, luxury, top quality and the use of the latest advanced technologies were priorities both at the design stage and during the construction of this vessel. As a result, this unique model of the Conrad C133 motor yacht was created, which is a combination of world-class design and technology with excellent Polish craftsmanship.


Specialized vessels from the Safe Co. Ltd. shipyard


Multi-functional tugboat Isle of Jura - the second RSV 3315-type unit built by the Safe shipyard for Damen Shipyards Hardinxveld (the first was handed over in 2016). The tugboat was equipped at the Safe shipyard with complete propulsion systems and full pipe systems, and it was also painted. The working documentation and the model, after modifications taking into account the shipowner's comments, were entirely made by the so-called PR design office at the Safe shipyard. According to Damen, the tugs in this series are 33.18 m in length, 14.5 m in width and 3.85 m in draft, with 499 GT. Their bollard pull is 41.5 t and their maximum speed is 10 knots. The units are designed, among other functions, for towing and anchoring other vessels and for working on the assembly of marine structures.

Seihaust - a fish processing vessel. This prototype vessel is 49.7 m long and 11 m wide. The processing vessel, also used for transporting fresh fish over short distances, is equipped with six RSW tanks with a capacity of 600 m3, and other equipment. Safe constructed a steel hull and an aluminum wheelhouse and additionally fitted a complete drive system and piping systems, and painted the unit.

Multicat 3515 - a partially-equipped prototype tugboat. The ship was commissioned by the Dutch shipyard Damen Shipyards Hardinxveld. The unit was equipped at the Safe shipyard with complete propulsion systems and full pipe systems. Multicat 3515 was also painted. The working documentation and the model were entirely made by the design office of the Safe shipyard. The construction of the tugboat is supervised by the Bureau Veritas classification society.

TBN Trondskjær / TBN Støttfjord - seiners ordered by the Stadyard AS shipyard. These partially-equipped seiners are 39.70 m long and 9.80 m wide. The vessels are equipped with 6 tanks for cooled sea water (RSW) for transporting live fish. The total capacity of the tanks is approx. 425 m3. The ships are designed with three single and four double cabins for 10 crew members.


Fishing vessels from Nauta Remontowa shipyard

Ocean Star - the most effective unit in its class in the world. This fully-equipped trawler was ordered by the Scottish shipowner Mewstead (Fraserburgh) LLP. Ocean Star is 87 m long and 18 m wide. The trawler has been equipped with a 7,000 kW engine, which, in cooperation with two thrusters, provides it with very good maneuverability when casting and collecting nets. In addition, the most modern equipment has been installed for fishing and fish storage, as well as specialized equipment for locating fisheries and estimating their type and size. Ocean Star was built according to the design of Wärtsilä Ship Design, and its quality was supervised by the world's largest classification company DNV GL.

Hybrid ferries for Londoners from the Remontowa shipyard

Dame Vera Lynn / Ben Woollacott - two hybrid ferries ordered by the British shipowner Transport for London. The units are 62.30 m long and 18.80 m wide. They will hold 150 passengers and 45 passenger cars. The lower operating costs of the ferries will be ensured by an environmentally-friendly hybrid drive that has been equipped with two diesel generating sets. Under normal conditions, only one of them will work, and the peak demand for power will be filled by electricity from the battery. The generating sets have been equipped with exhaust after-treatment systems: SCR (Selective Catalytic Reduction) catalysts and DPF (Diesel Particulate Filter).



Hulls and blocks from the Montex shipyard

MF Munken - a partially-equipped hull of a modern hybrid ferry ordered by FosenNamsos Sjø. The ship is 107.70 m long, 16.8 m wide, has a lateral height of 5.50 m, a draft of 4 m, and 3 850 GT. 130 cars and 399 passengers will fit on board. MF Munken has a diesel-electric drive and will be powered by Siemens batteries. Charging time is just 5 minutes. Thanks to the specially developed hull structure, high-efficiency heating and ventilation systems and automatic mooring, the ferry will use over 70% less energy compared to similar units powered by traditional fuel.

Blocks for the arctic cruise ship Fridtjof Nansen - the construction of blocks with a total weight of 2 500 t was completed in 6 months on behalf of the Kleven Verft shipyard and included the bow, stern and superstructure elements. The passenger ship will be 140 m long, 23.6 m wide, 5.3 m deep and will have 20 889 GT. The vessel can hold 530 passengers on board.

Hulls from the Szczecin shipyard

Mega yacht hulls - the two hulls (79 and 70 meters long, respectively) are 12 meters wide and weigh over 500 tonnes. They were built at the Szczecin shipyard at G + K Steelcon and were commissioned by a German shipyard. The hull structures have been specially designed for this order and they are prototypes.

Eco-friendly ferry for Danes - the unit is 44 m long, 12 m wide and weighs 298 t. It will be equipped with an electric drive. The hull was made by the Spawrem company from Szczecin.

Oscar Sund - a partially-equipped fishing vessel built for a Norwegian shipowner by the Kedat company from Szczecin. MS Oscar Sund is a training unit built for a high school in Meløy, Norway. The ship is 24 m long, 8 m wide and 3 m deep. The hull was equipped with a rudder, screw, echo-sounder and pipe systems.