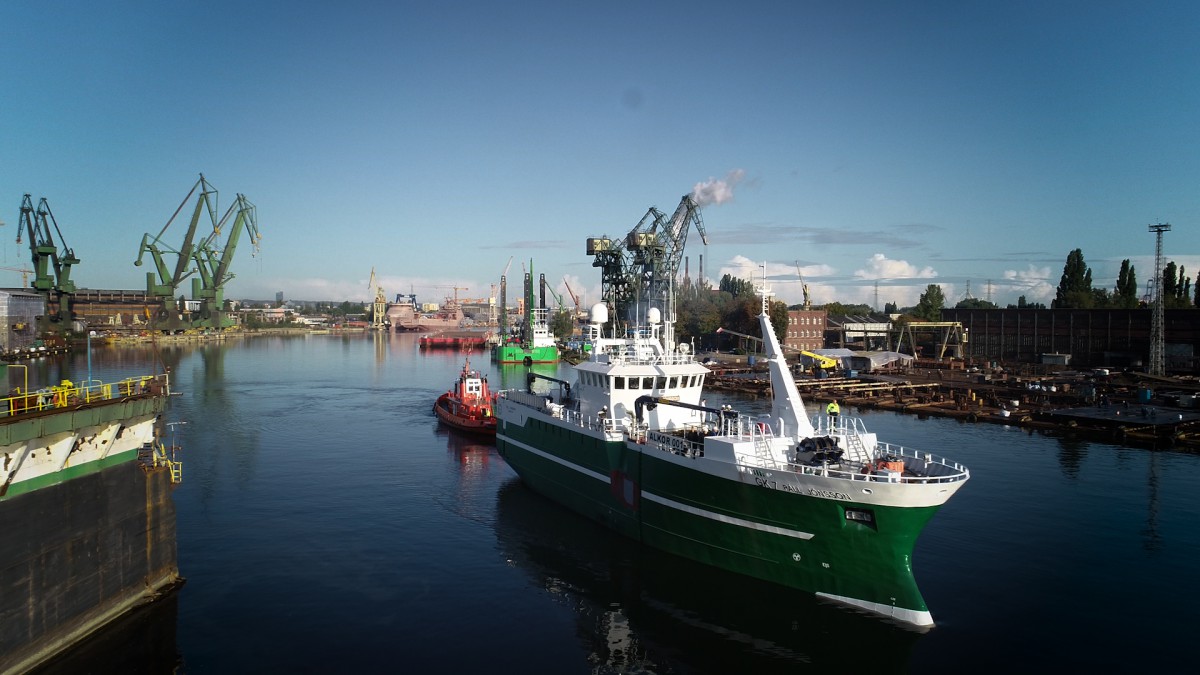 Date of publication: 02.12.2019
This afternoon a christening ceremony of longliner built from scratch at the Gdańsk shipyard ALKOR was held. The vessel ordered by the Icelandic shipowner VISIR Ehf received the name Páll Jónsson.

The fishing vessel was built for the shipowner VISIR Ehf. The unit is 45 m long and 10.4 m wide. It is equipped with a Caterpillar main engine with a gearbox, shaft and two power generators. ALKOR shipyard is responsible for deliveries.

As Pétur Hafsteinn Pálsson, general director of VISIR Ehf told us today: "Our cooperation with ALKOR began 5 years ago, when we placed an order there for renovating one of our vessels. The effect was excellent, so we decided to rebuild another vessel there and then order the construction of our first new ship, which was also the first fully equipped vessel built from scratch by the ALKOR shipyard. "

Longliner was designed by NAVÍS design office. The ship was built under the supervision of the Lloyd's Register classification society based on the documentation and supervision of the ALKOR shipyard. Keel laying ceremony was held on June 15, 2018.

"The shipowner has planned that the ship will be fully built there excluding processing plant equipment, which would be installed later in Iceland. However, he was so satisfied that he decided that the equipment would be assembled in Gdańsk. We signed so a new contract and within the next 1.5 months we will equip the processing plant,"said Andrzej Żółć, head of marketing at ALKOR.

The Icelandic shipowner is well known to the Gdansk shipyard because VISIR Ehf has already rebuilt its ships there. The renovation of the last one, called Sighvatur GK 57, ended in June 2018.

ALKOR performs all kinds of renovation works as well as rebuilds and extensions of ships. This is one of the few repair shipyards in Poland equipped with its own floating dock. It is 155 m long, 24.7 m wide and its lifting capacity is 8,000 t.

Since the establishment of the company in 1989, it has renovated and rebuilt almost 800 ships of various types and flags, including Polish, Norwegian, British, Dutch, German or Greek.