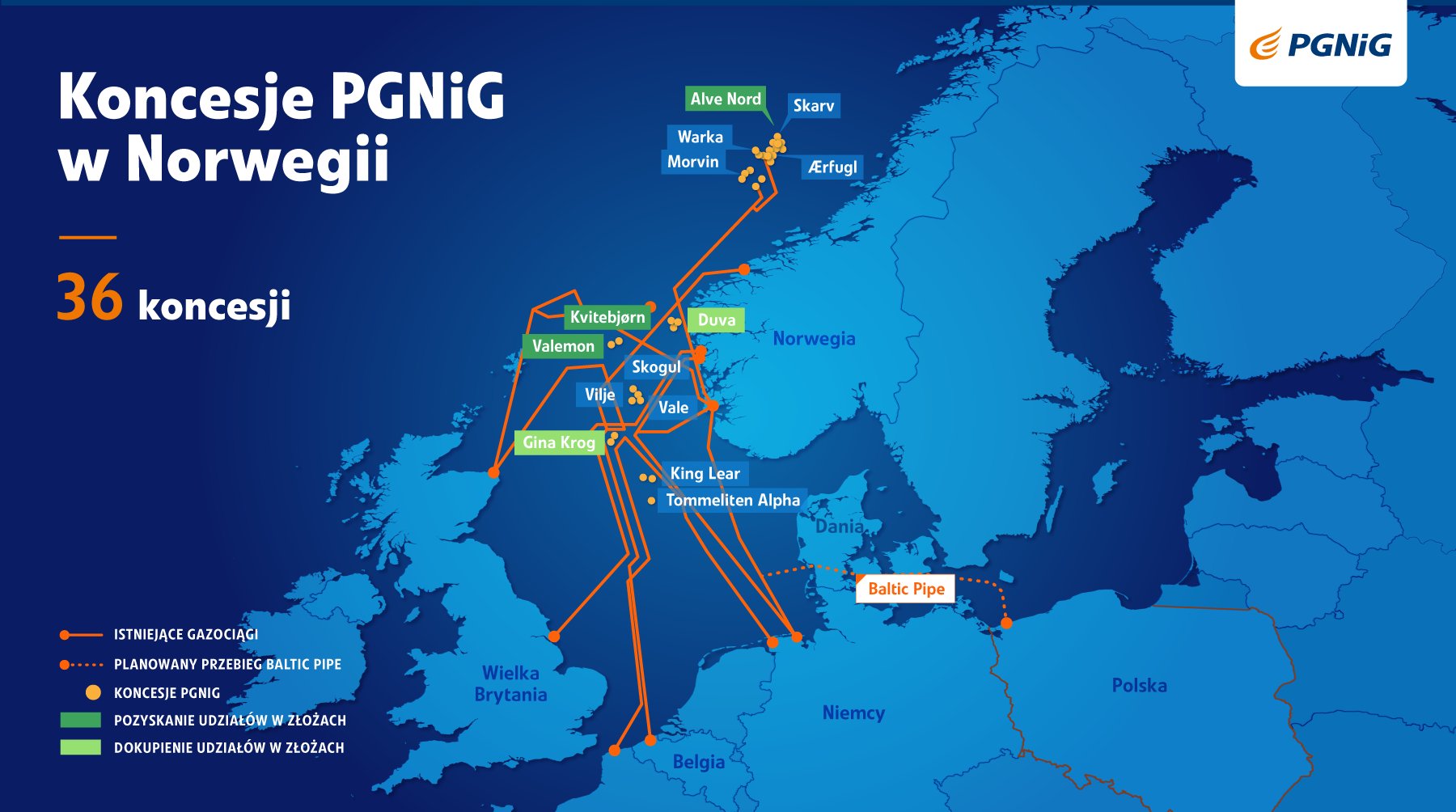 Date of publication: 26.03.2021
PGNiG Upstream Norway will buy all assets on the Norwegian Continental Shelf of the INEOS Group, which includes 22 production licences and an interest in the Nyhamna terminal. Following the transaction, the PGNiG Group's annual gas production in Norway is expected to reach 4 billion cubic metres in 2027.

PGNiG Upstream Norway has entered into an agreement to purchase all the assets of INEOS E&P Norge AS, which holds interests in 22 licences on the Norwegian Continental Shelf. The hydrocarbon resources to be acquired by the PGNiG Group amount to 117 million barrels of oil equivalent, and will increase PGNiG's Norwegian resources by approximately 55 per cent. Acquisition of the assets of INEOS E&P Norge AS will increase equity gas production of PGNiG in Norway by approximately 1,5 billion cubic metres per year. This means that in 2027 its total gas output from Norwegian licences may reach 4 billion cubic metres. The portfolio being acquired also includes an attractive exploration portfolio, including 6 operated licences, providing longer term growth optionality.

"The transaction is of particular importance to PGNiG. Acquisition of the INEOS E&P Norge AS assets means a sharp increase in our gas output in Norway, and will ensure considerable gas volumes for the Baltic Pipe. Therefore, it will contribute significantly to the implementation of the PGNiG Group's strategic objectives," said Paweł Majewski, President of the PGNiG Management Board. "Our activities in Norway are closely linked to Poland's energy security. Starting from 2022, gas from the Norwegian fields will be transported to Poland through the Baltic Pipe. This will result in a greater diversification of the sources of gas imports, which is a guarantee of uninterrupted supplies of the fuel whose role in Poland's economy is constantly growing. For PGNiG, diversification of the gas portfolio means more flexibility and the ability to offer attractive commercial terms to our customers," added the PGNiG CEO.

Paweł Majewski stressed that the characteristics of the new fields are well aligned with the PGNiG Group's Strategy as natural gas accounts for some 94 per cent of the resources to be acquired. The key asset in the portfolio is a 14 per cent stake in Ormen Lange, the second largest gas field on the Norwegian Continental Shelf with an expected production life beyond 2045. Other producing fields in the portfolio are Marulk (30 per cent) and Alve (15 per cent).

PGNiG Upstream Norway will also become a co-owner (with an 8.2 per cent interest) of the Nyhamna gas terminal, which serves, among others, the Ormen Lange and Aasta Hansteen fields. The Nyhamna terminal is a source of stable operating cash flow that does not depend on hydrocarbon price fluctuations.

The purchase price agreed between PGNiG Upstream Norway and INEOS is USD 615 million, with January 1st 2021 being the agreed effective date. The final purchase price will be reduced by the cash flow generated by INEOS E&P Norge AS in 2021 until the completion of the transaction. The transaction is subject to respective corporate and administrative approvals.

Currently, PGNiG Upstream Norway holds interests in 36 licences, produces oil and gas from 9 fields, and is involved in development of another 6 fields. Last year, PGNiG produced some 0.5 billion cubic metres of natural gas on the Norwegian Continental Shelf. The volumes forecast for this year, without accounting for the transaction with INEOS, are 0.9 billion cubic metres. Growth of the gas output will be made possible by the launch of production from the Ærfugl field and the additional acquisition of interests in producing fields already completed. In 2020, PGNiG Upstream Norway purchased new or additional interests in five fields: Alve Nord, Duva, Gina Krog, Kvitebjørn and Valemon.


About the PGNiG Group
The PGNiG Group is the leader in the Polish gas market with 25,000 employees globally. It operates in exploration and production of natural gas and crude oil, international gas trading, sale and distribution of gas and liquid fuels, as well as heat and electricity generation. The PGNiG Group consists of over 30 companies including providers of specialist geophysical, drilling and well services that are highly valued on international markets. The Group's parent company, PGNiG SA, is one of the largest companies listed at the Warsaw Stock Exchange.

About INEOS
INEOS is a global petrochemicals manufacturer, operating 194 sites across 29 countries. It generates USD 61 billion annually and employs over 26,000 people. Its businesses produce the raw materials that are essential in the manufacture of a wide variety of goods: from paints to plastics, textiles to technology, medicines to mobile phones - chemicals manufactured by INEOS enhance almost every aspect of modern life. INEOS oil & gas assets are incorporated in INEOS Energy which was announced in December 2020.