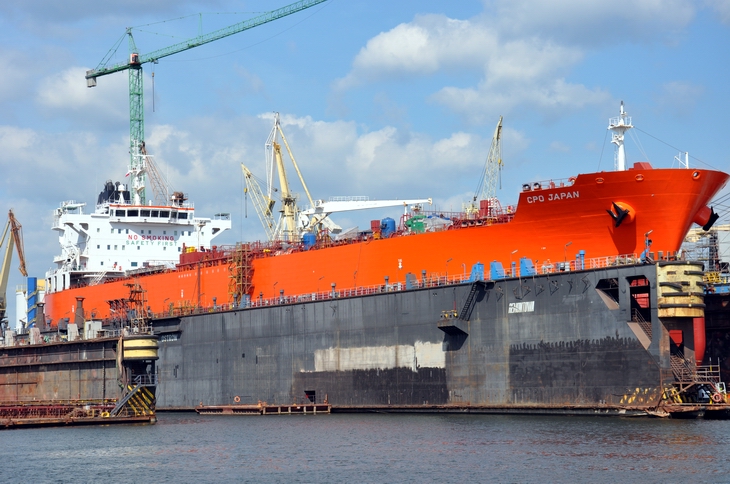 Date of publication: 03.09.2015
An interesting new procedure has been introduced on the occasion of the CPO Japan\'s stay. In a pioneering move in Polish shipyards, a flying robot or an Unmanned Aerial Vehicle, was introduced for internal spaces inspection of a ship for the first time at Remontowa.
The technology demonstrating tests of a drone have been carried out inside one of the ship\'s cargo tanks. The drone, equipped with high definition camera (with own lighting), capable of recording HD video and still pictures, was able to access all parts of the tank. It was even able to rest against the bulkhead, while hovering. The contact with the tank wall is possible due to propellers being protected by special frames. The drone demonstrated excellent stability in confined space allowing for good quality visual inspection material recording.
The vehicle is intended to be used for providing a surveyor with an overall impression of the state of the hull and bulkheads of a vessel under inspection. The technology may be also applied to inspection of external structures, such as masts or deck crane jibs.
The drone serves as means of visual inspection, mainly for surface (protective coating) condition assessment, i.e. corrosion and cracks detection. In many cases visual inspection results may rule out the necessity of conducting more detailed \"hands-on\" inspection such as ultrasound thickness measurements, etc., thus allowing to refrain from time-consuming setting up the scaffoldings, which in turn saves time.
The experiments performed provided promising outcome. Although the Owners have approached the yard with own inspection results and repairs specification, and the drone visual inspection was only the initial test of the technology, the feedback was positive. The Owners\' representatives expressed their overall positive impression on the technology demonstrated in tests. As their outcome is definitely promising, the yard is willing to proceed with introducing this technology in commercial operations in selected, appropriate applications.