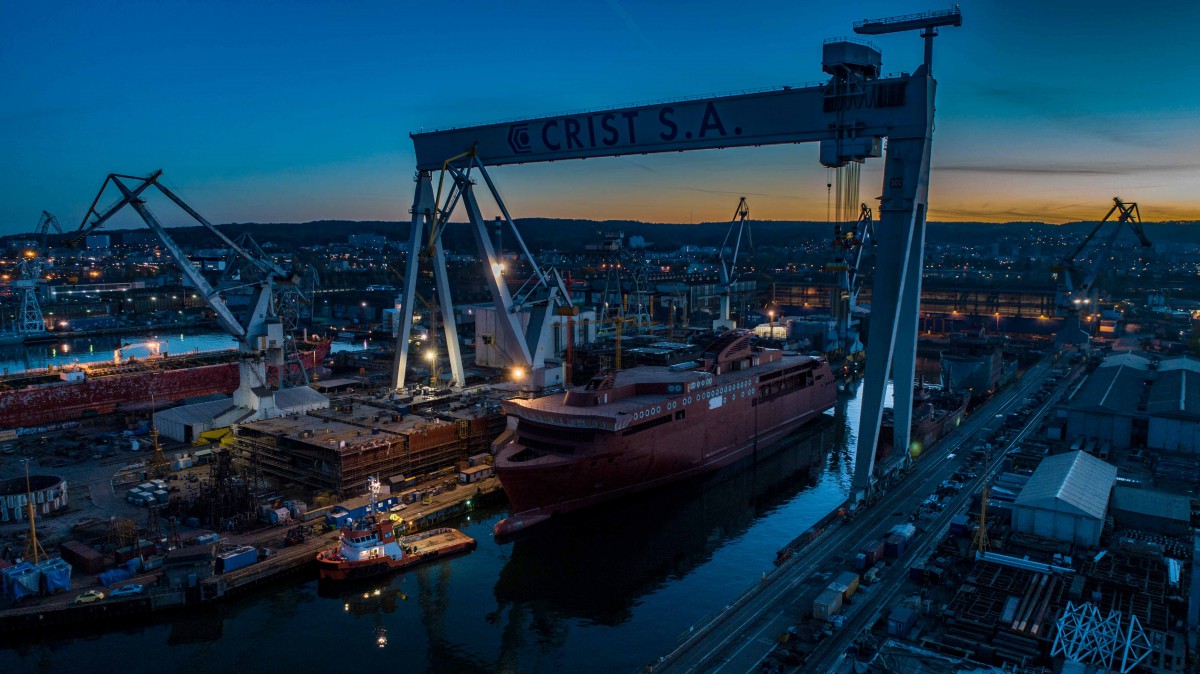 Date of publication: 03.11.2018
The CRIST shipyard delivered the world's largest hybrid ferry tot he Norwegian owner. A partially equipped passenger-car ferry left Gdynia on Wednesday evening. Color Hybrid will start cruising next summer. It is one of the largest ships that have been built in Polish shipyards in recent years.

The construction of the vessel with the construction number NB 311 will be completed by the Norwegian Ulstein shipyard. A tug boat Mustang towed it to Ulsteinvik. They will arrive there on the 9th of November.

The Color Hybrid ferry is 160 m long and 27.10 m wide. It will be equipped with a hybrid main propulsion system, which, combined with the unit parameters, will ensure its high maneuverability. The battery charging process will take place in the port each time using a power cable from special offshore facilities or on the vessel itself. The vessel will accommodate 2,000 passengers and 500 vehicles.

Color Hybrid will cruise on the Sandefjord-Strömstad route (Norway-Sweden). The trip will take 2 hours and 20 minutes. The new ferry will replace half smaller Bohus vessel (1,165 passengers, 240 passenger vehicles).

The final recipient of the newbuild is Color Line, one of the largest ferry operators in Norway. In addition to transporting people and goods, the company also runs shops and restaurants as well as hotel and entertainment services. Currently, it employs 3,500 people in four countries.

The CRIST shipyard started building this largest hybrid ferry in the world in July last year.

- This is another project that confirms the strong position of CRIST on the market of innovative passenger vessels - says Tomasz Wrzask, PR manager in CRIST.

Color Hybrid is the second such a large vessel built by CRIST. In 2014, the shipyard delivered one of the most modern multi-purpose offshore vessels - Multi-Lay Vessel called Ceona Amazon. The multi-purpose vessel for laying pipelines on the seabed and ocean floor was 199.4 m long and 32.2 m wide. The shipyard built a hull equipped with drives and main electrical and specialist equipment. The ship was delivered to the shipowner Ceona Ship 1 Limited from Great Britain.

CRIST is currently one of the largest Polish shipyards. During its twenty-eight years of activity, it has achieved the position of one of the leading manufacturers of specialized shipbuilding equipment and vessels for the largest global recipients. The shipyard concentrates its development around the construction of specialized ships and structures for the maritime industry.