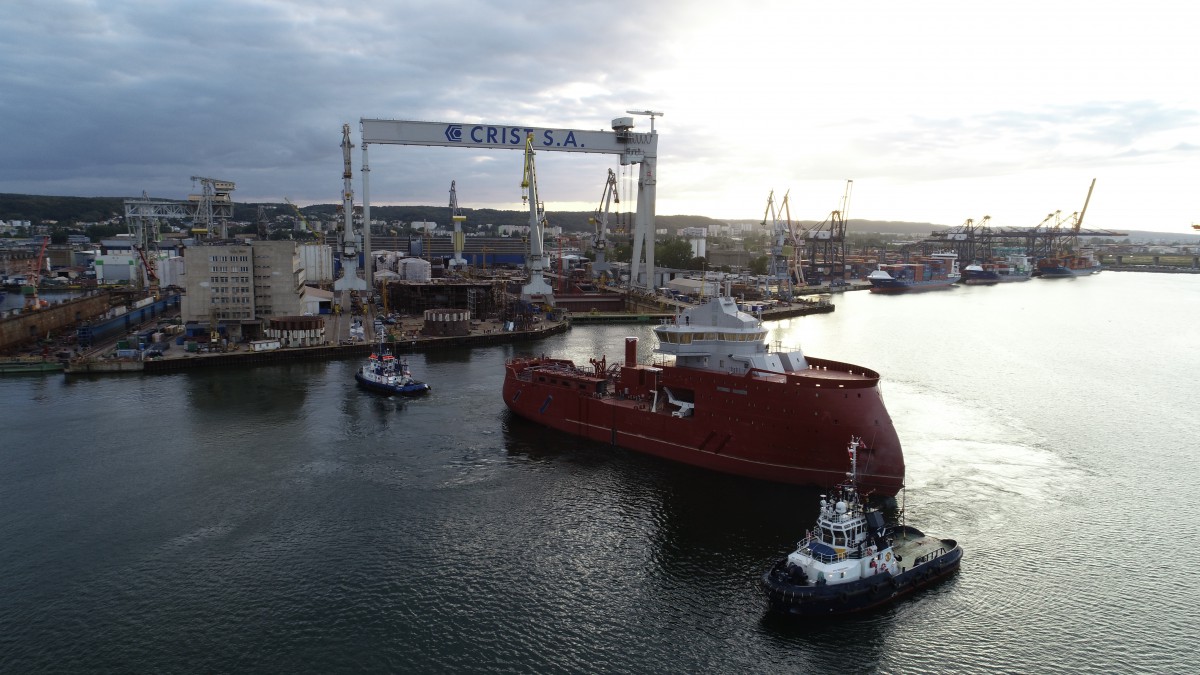 Date of publication: 16.09.2019
CRIST shipyard delivered a partially equipped ship for offshore wind energy sector. The vessel with construction number NB 315 was ordered by Ulstein Verft AS shipyard. It left for Norway on Thursday.

The partially equipped hull for the Norwegian shipyard Ulstein Verft is towed by the FFS Amaranth tug. It will arrive in Norway on September 20.

NB 315 is an Offshore Service Vessel ship that will be used during construction, assembly and maintenance work on offshore wind farms. It is a sister unit of the ship Acta Auriga, delivered by the Ulstein shipyard in March 2018. CRIST shipyard also took part in construction of this vessel.

The NB 315 is 93.50 m long, 18.00 m wide, has 7.60 m side height, 6 m draft, 6 050 GT and 3 175 t load capacity. It will be equipped with a lift, 3D-compensated crane and an energy-efficient propulsion drive, including the Ulstein battery system. Thanks to the X-STERN design solution, noise, impacts and vibrations caused by waves will be reduced, Ulstein shipyard said. The ship's design was adapted to the tender requirements of GE Renewable Energy and the vessel's owner.

The vessel has no name yet. It is known that its name will start with the word "Windea".

The new ship is to be handed over by the Ulstein shipyard in January 2020. It will eventually reach the owner, Schulte Group, with WINDEA Offshore GmbH & Co KG as its operator and managing owner. According to the Norwegian shipyard, the unit will support the maintenance work of GE Renewable Energy at the German offshore wind farm Merkur Offshore. The ship's design was developed in cooperation with WINDEA Offshore, which is a branch of the Schulte Group in the field of offshore wind projects. This is the third ship built by Ulstein shipyard for Bernhard Schulte Offshore. The first two units are Windea La Cour and Windea Leibniz.

CRIST is currently one of the largest Polish shipyards. During twenty-nine years of activity, it has achieved the position of one of the leading manufacturers of specialized shipbuilding equipment and vessels for the largest global customers. The shipyard focuses its development around the construction of specialized ships and structures for the maritime industry.