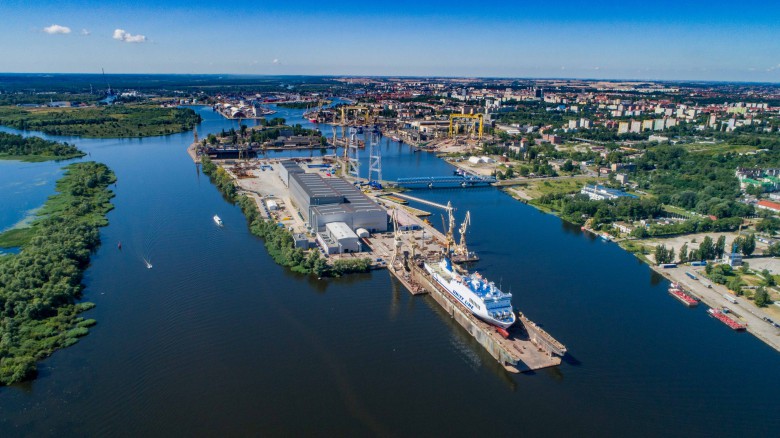 Date of publication: 23.07.2019
MSR Gryfia is making full use of the summer period during which shipowners are willing to carry out repairs and maintenance work on their vessels. In recent days m/f Galileusz, belonging to EuroAfrica Shipping Lines, left the shipyard. Renovation works are also underway on the German bulk carrier - Spiekeroog.

A number of renovation works were carried out on the m / f Galileusz ferry, as part of the dock survey. The works included: hull maintenance, mechanical inspections of installations and ship equipment, including drive shafts, rudder blades and thrusters. A review of piping installations was also carried out as well as steel structure repairs in tanks and hull plating - Andrzej Tusiński, Supervision Manager at MSR Gryfia, said.

From the beginning of the year, other vessels was modernized in this Polish shipyard. It includes other passenger and car transport ships: m / f Mazovia belonging to the Polish Baltic Shipping S.A. and M / f Gryf owned by Polska Żegluga Morska. In the coming days, the M/f Wolin ferry will dock at the shipyard.

On the another dock, MSR Gryfia is renovating a 108-meter bulk carrier belonging to the German shipowner. The repair includes disassembly of the propellers shaft, tooling of the propeller shaft, replacement and tooling of the propeller shaft bearings, inspection of the adjustable propeller head and assembly of the shaft sheath on a new plastic spout - Andrzej Tusiński, added.

------------------------------------------------------------------------------------------------

m / f Galileusz is a ferry intended for the transport of trucks and motorized passengers. It has been sailing for the Unity Line since the end of 2006. Three decks of the ferry can accommodate 90 trucks, with the possibility of free and safe maneuvering on two cargo decks. The vessel has 128 seats in 51 cabins. It also offers places for rest and entertainment: a bar, a cafeteria and a shop.