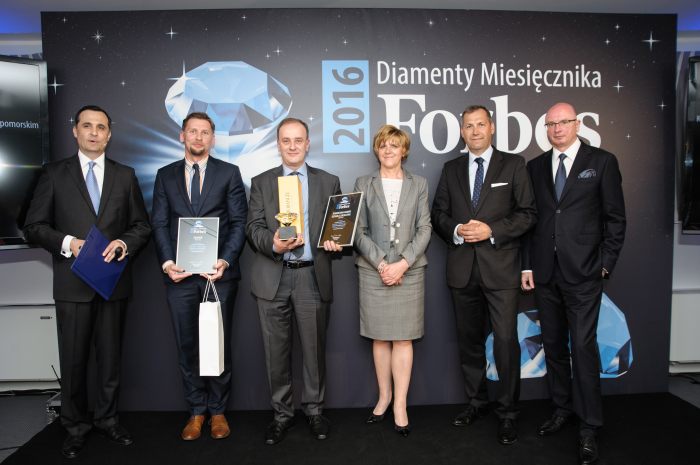 Date of publication: 17.06.2016
On Tuesday, 7th of June 2016, during an official ceremony held in Dwór Oliwski Hotel of Gdansk, the most dynamically developing enterprises in Pomeranian Province were awarded with Forbes Diamonds. Remontowa Marine Design & Consulting won the category of medium-sized companies with revenues ranging from 50 to 250 million PLN, company took 3rd position on national competition.

Analysts and experts have valued the companies using the so-called Swiss method, which combines the method of assets and revenue. On the basis of criteria such as sales revenue in year 2014 (PLN), net profit in year 2014 (PLN) and the average increase in value in the year 2012-2014 (percent) selected companies, whose value grew the fastest during this period

In recent years the company has established itself as the undisputed leader in the design of gas-powered (LNG) ships. Innovative concepts developed in this office convinced the largest Canadian owner and operator of passenger ferries - British Columbia Ferries Inc., who has ordered in Remontowa Shipbuilding SA three ferries designed according to the concept and design developed in RMDC, and commissioned Remontowa Shiprepair Yard SA for conversion of two existing ferries SPIRIT OF BRITISH COLUMBIA and SPIRIT OF VANCOUVER ISLAND into LNG powered, also according to the concept created by RMDC.