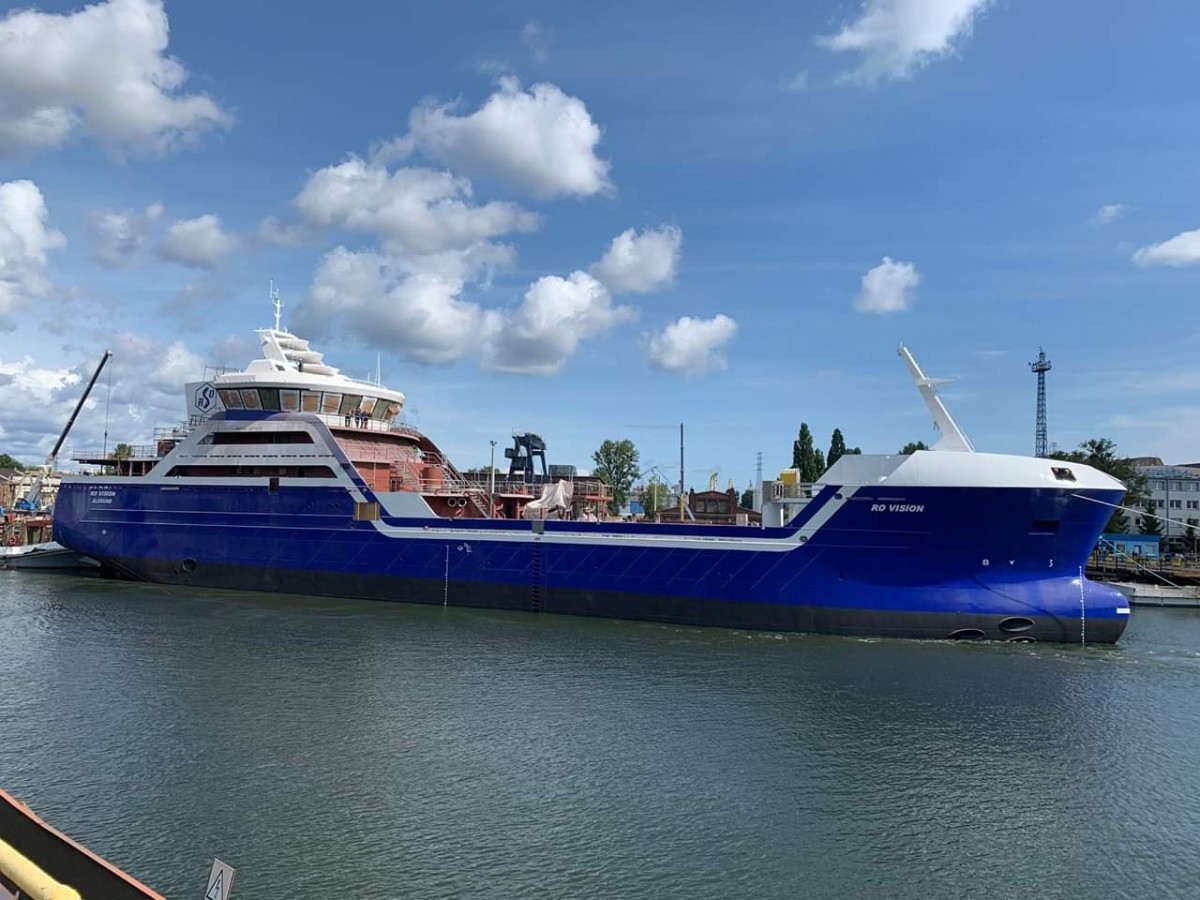 Date of publication: 12.09.2019
Polish shipyard Marine Projects Ltd. Sp. z o.o. Built a partially equipped live fish transporter "Ro Vision" for the Norwegian shipowner Rostein AS from Harøy. After towing to Norway, the LFC or Live Fish Carrier will eventually be equipped at Larsnes Mek shipyard. Verksted AS and transferred to the shipowner in the summer of 2019.

On August 12 the ship was placed on the pontoon "Conrad 2" and left the shipyard Marine Projects Ltd. Then after entering the floating dock it was launched on August 14.

M / V "Ro Vision" finally left the Marine Projects Ltd. shipyard on September 6 tugged by the vessel "Serval".

A vessel with a length of 84.2 meters, a width of 15.5 meters and a load capacity of 5500 tons can transport 900 tons of live fish. The unit is completely self-sufficient. It has great maneuverability thanks to bow and stern thrusters and does not need the help of tugs to perform its tasks.

The ultra modern hold with a capacity of 3500 m3 is equipped with giant pumps that constantly exchange water, thus purifying the live load. During circulation, the water in the hold is also cooled, so that the transported fish is less active. The hold is also equipped with movable bulkheads, an advanced live meter with an accuracy of 1%, cameras and UV lamps that clean the fish from marine parasites.

The diesel-electric drive vessels is equipped with 4 generating sets with a total power of 5000 kW. Modern YANMAR aggregates, each weighing 21 tons, power 2 main propulsion electric motors as well as all devices on board. Thanks to the central energy system, the unit is very economical and ecological.

The unit was built according to DNV / GL regulations for class + 1A DPS (1) EO.

Ship details:

total length - 84.20 m
width - 15.50 m
main deck height - 8.00 m
fish tanks - 3500 m3
crew rooms for 12 people (10 cabins),
diesel-electric drive, 1 adjustable screw in the nozzle, 2 thrusters.

It is the eighth ship built in cooperation with the Larsnes Mek shipyard. Marine Projects Shipyard was founded in 1989. It is located on the banks of the Vistula, at the Wantowy Bridge in Gdańsk, on the premises of the former Shipyard Joseph Conrad Korzeniowski.

It specializes in building ready-made units (bulk carriers, container ships, ro-ro), port tugs and pontoons for transporting bulky goods. It is also a shipyard cooperator providing partially equipped ship hulls, hull sections and blocks as well as complete superstructures.