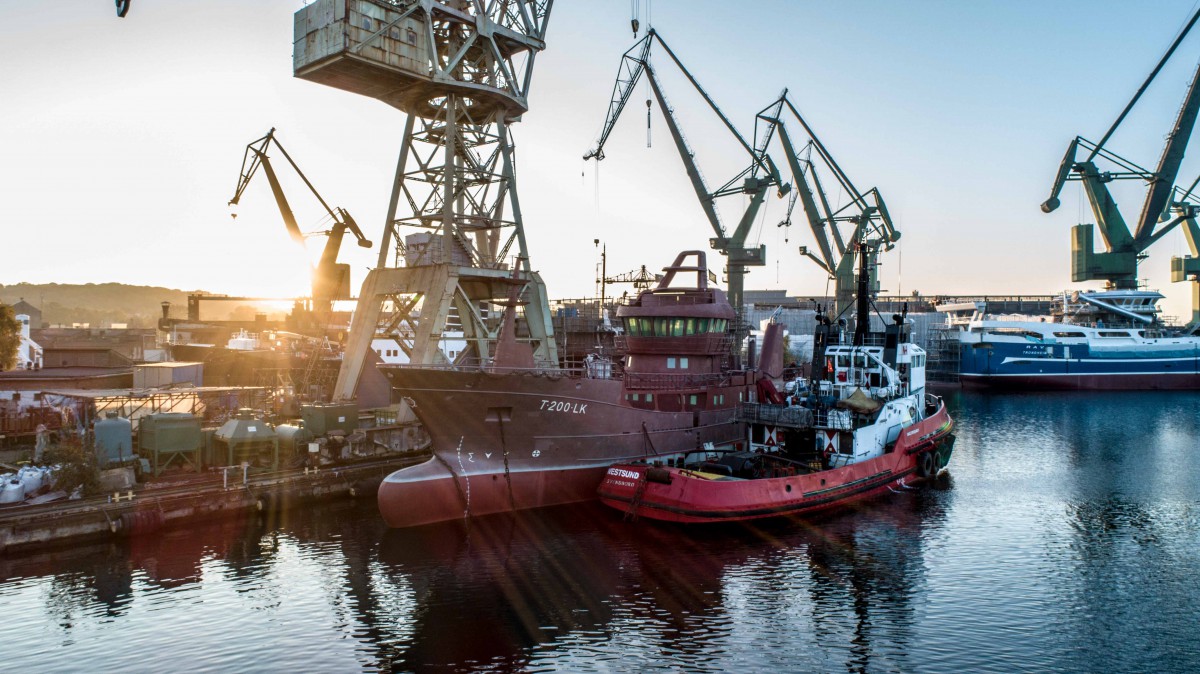 Date of publication: 21.10.2018
The Safe Shipyard from Gdańsk delivered another fishing vessel to the Norwegian shipowner. Partially equipped seiner TBN Trondskjær have been ordered by shipyard Stadyard AS, which will complete its construction. The vessel will be delivered to the owner in March next year.

Seiner departed from Gdańsk on Saturday. It was towed to Måløy in Norway by a Westsund tug. It will arrive there next Wednesday.

TBN Trondskjær is 39.70 m long and 9.80 m wide. The vessel will be equipped with 6 tanks for cooled sea water (RSW), used to transport live fish. Their total capacity is approx. 425 cubic meters. Three single and four double cabins for 10 crew members will be also installed on the ship.

The fishing vessel is built according to the design of the Skipskompetanse AS office and the regulations of the Norwegian Maritime Authority (NMA). The owner will be Oddvar Nes AS.

In July this year, the Stadyard AS shipyard received the sister vessel of the Trondskjær seiner - TBN Støttfjord. He will be delivered to the owner of Brødrene Bakken AS.

Safe Shipayrd's new orders

Five ships are currently being built at the Safe shipyard in Gdańsk, including two tugboats ordered by Damen Shipyards Hardinxveld, a multi-purpose fishing vessel for Norwegians and two fishing trawlers for the Damen Maaskant Shipyards Stellendam.

The last two vessels are twin-rigger trawlers ordered by the Dutch fishing company Ekofish Group. Representatives of this fishing company claim that thanks to the 32-meter-long and 9,6-meter beam, the design of these ships reflects a multidisciplinary approach to building the vessel. The design and equipment on board will be in line with Ekofish's commitment to sustainable fishing methods, and the use of the diesel-electric breakthrough power system for the fishing industry.

Safe Co LTD was founded in 1995. The company operates in native Poland and abroad, mainly in France and Germany. He deals with construction of ships, steel bridge structures as well as structures for the offshore, chemical and petrochemical industries.