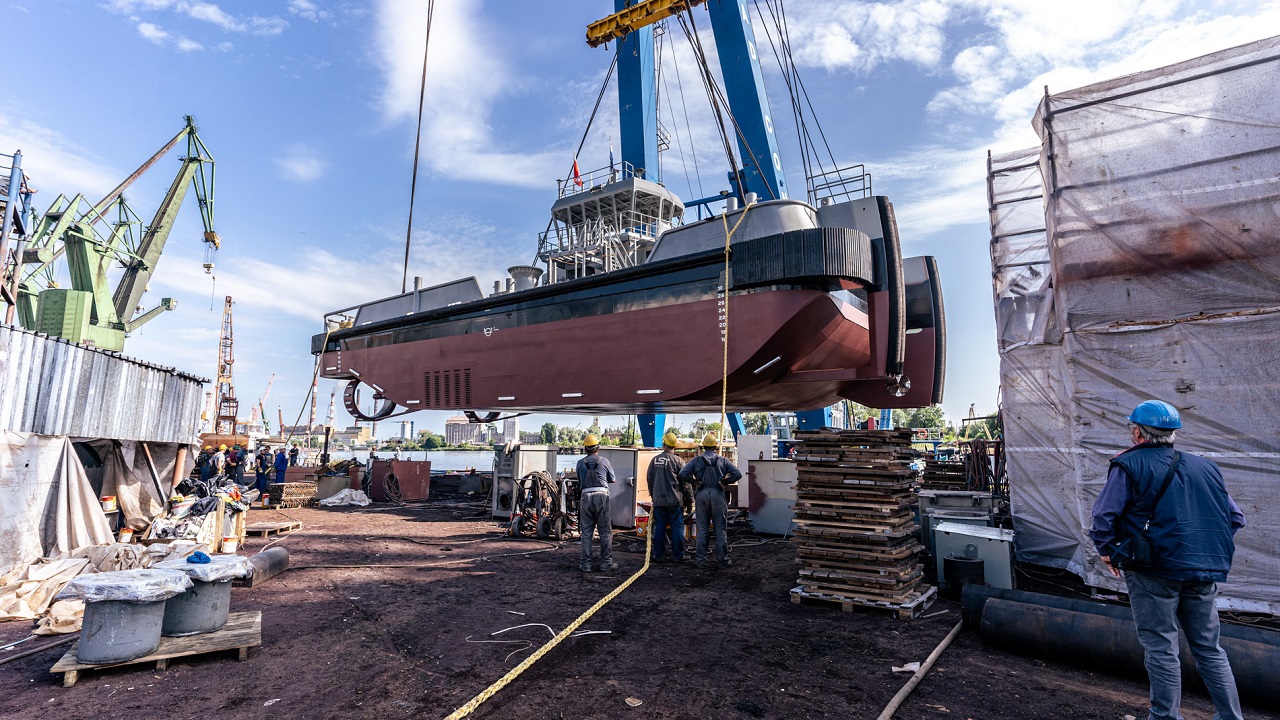 Date of publication: 23.06.2021
The vessel with construction number YN571824, launched on Wednesday (23 June), is the first in a series of two tugs built at Safe. The unit was built for a Dutch client - Damen Hardinxveld Shipyard.

- This is a Multicat 2712 tug, its construction number is 571824 - informs Andrzej Łuczak from the Safe shipyard.

He added that the technical documentation was made and provided by Damen.

- The model and working documentation were created by the Safe design office - says Łuczak. - The ship's hull is partially equipped with piping systems, complete propulsion system and fully painted shell plating and tanks.

Multicat multi-functional and efficient

The advantage of the tug is multifunctionality. It is designed for many roles performing various tasks in various working environments. Multicat has an optimal on-board space in relation to the on-board equipment. This means maximum efficiency with the minimum crew. The shipyard also emphasizes that the wheelhouse has 360-degree visibility, which ensures the highest safety standards on board.

The vessel will be handed over to the customer for final equiping at the end of June 2021. The ship was built under the supervision of the BV classification society.

- The keel was laid on December 15, 2020 and despite the Covid-19 pandemic, the work went according to the schedule and the delivery will be on time. What's more, we are building one more sister hull, the delivery of which is scheduled for the end of July this year - sums up Andrzej Łuczak from the Safe shipyard.

Vessels details:

> length - 27.27 m
> width - 11.5 m
> draft - 3.9 m

Safe Co LTD shipyard was established in 1995. Since then, it has been active in the country and abroad, cooperating with contractors from France, Germany, the Netherlands, Norway, Denmark and Iceland. It deals in construction of fully equipped ships, hulls, steel bridge structures, as well as structures for the offshore, chemical and petrochemical industries.