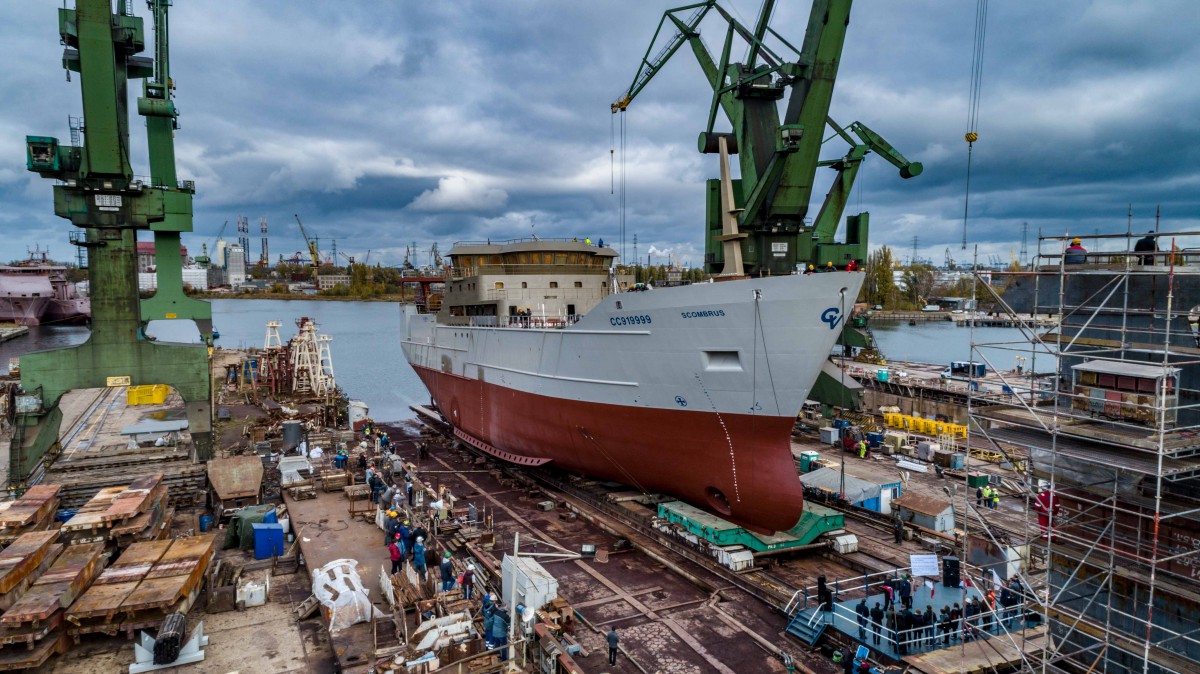 Date of publication: 28.10.2018
Zakład Nowych Budów Stoczni Remontowej Nauta launch sixth ship this year. Semi-equipped trawler Scombrus was launched on Friday, 27 October. It will be delivered to a French company dealing in fishing.

Scombrus (construction number B-131) is 81.4 m long and 17.50 m wide. A partially equipped vessel was created at the request of a contractor from Norway - Havyard Ship Technology AS. Several innovative solutions are provided on the ship, guaranteeing, among others, safe crew working conditions, energy efficiency and enabling sustainable fishing. Trawler is built based on the design of the Dutch design office ASD Ship Design B.V.

- Thanks to this new fishing vessel, we will strengthen our efforts for sustainable fishing, with the emphasis on maintaining healthy fish stocks and reducing the negative impact on the environment - said Antoine Dhellemmes, CEO of France Pelagique SAS, who will be the final recipient of the vessel.

The trawler will be transferred in December this year and will replace two over 30-year ships in the company's fleet. The contract concluded with Havyard Ship Technology AS include possibility of building yet another ship of this type.

The Nauta new construction plant is planning to launch two more ships this year.

The construction of fishing vessels is one of the specialties of the Nauta shipyard. Nauta's portfolio contains also scientific and research vessels and service vessels for the offshore sector. In recent times, the shipyard has also acquired important contracts for the construction of a fully equipped ship for the Swedish Navy and for the construction of a rescue ship for the Polish Navy.

Nauta Remontowa Shipyard, belonging to the MARS Shipyards & Offshore group, combines many years of shipbuilding with modern technologies. It offers a very wide range of services. In addition to standard refurbishments, it also performs complicated conversions and equips ships serving the offshore sector. The increased docking and production potential allows Nauka to renovate even the largest units sailing on the Baltic Sea. Four years ago, Nauta returned to the market of new construction shipyards, opening the Zakład Nowych Budów on the premises of Gdańsk, where over 500 people found employment and their number is increasing at a rapid pace. Nauta is also very active in the area of innovation. Together with universities and research centers, the shipyard participates in several research and development projects aimed at developing and implementing innovative products that can be used, among others, in environmental protection, energy and in various branches of industry, including the military industry.