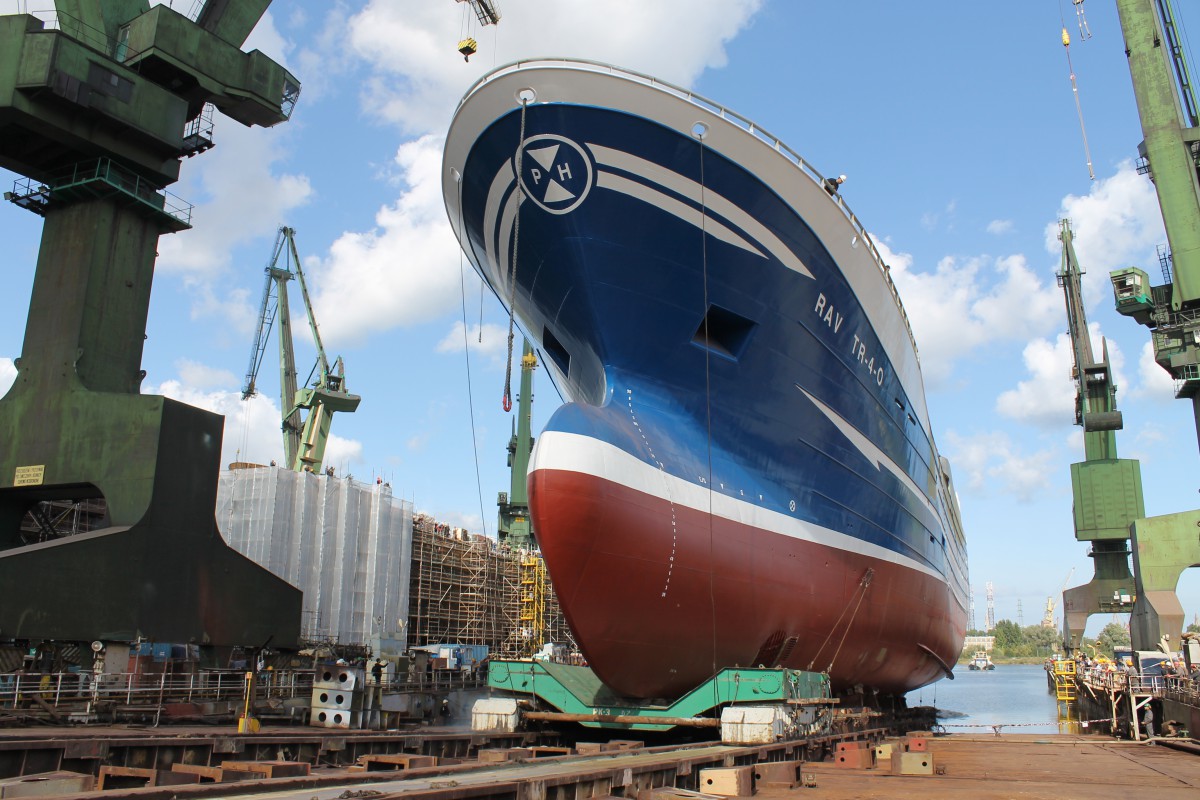 Date of publication: 18.09.2018
Zakład Nowych Budów Stoczni Remontowej Nauta became the place of another launch this year. On Friday, partly outfitted fishing trawler "RAV" was launched. The name in Norwegian means amber. The ship was built for the Norwegian shipowner - Peter Hepso Rederi.

- This is our fifth launch of the ship this year. We are happy that it is difficult launching, because launching from a high place on the slipway was accomplished flawlessly thanks to the professionalism of the shipyard workers from Gdańsk - says Mateusz Filipp, director of the Zakład Nowych Budów Stoczni Remontowej Nauta.

The partially equipped trawler is made at the request of a Danish customer - Karstensens Skibsvaerft AS, with whom Nauta has been cooperating since the launch of Zakład Nowych Budów. This is the sixteenth ship that will be handed over to this shipyard. In two weeks, the "RAV" will be towed to Denmark, where it will be completed Knud Degn Karstensen, Managing Director of Karstenesen Shipyard, said he can not wait for that moment.

- I like this ship very much. It will operate in Northern Europe, mainly off the coast of Norway, Ireland and Denmark - says Knud Degn Karstensen, Managing Director of Karstenesen Shipyard.

RAV is 78 m long and 15 m wide. It will have a DnV + 1A1 Fishing Vessel Ice E0 TMON class. From 12 to 16 people will find accommodation on board. The trawler's home port is Trondheim.

The Nauta New Construction Plant is planning to three more launches this year.

The construction of fishing vessels is one of the specialties of the Zakład Nowych Budów Stoczni Remontowej Nauta. Apart from them, in the Nauta portfolio there are also scientific and research vesselss and service vessels for the offshore sector. In recent times, the shipyard has also acquired important contracts for the construction of a fully equipped ship for the Swedish Navy and for the construction of a rescue ship for the Polish Navy.

Nauta Remontowa Shipyard, belonging to the MARS Shipyards & Offshore group, combines many years of shipbuilding with modern technologies. It offers a very wide range of services. In addition to standard refurbishments, it also performs complicated conversions and equips ships serving the offshore sector. The increased docking and production potential allows Nauka to renovate even the largest units sailing on the Baltic Sea. Four years ago, Nauta returned to the market of new construction shipyards, opening the Zakład Nowych Budów on the premises of Gdańsk, where over 500 people found employment and their number is increasing at a rapid pace. Nauta is also very active in the area of innovation. Together with universities and research centers, the shipyard participates in several research and development projects aimed at developing and implementing innovative products that can be used, among others, in environmental protection, energy and in various branches of industry, including the military industry.