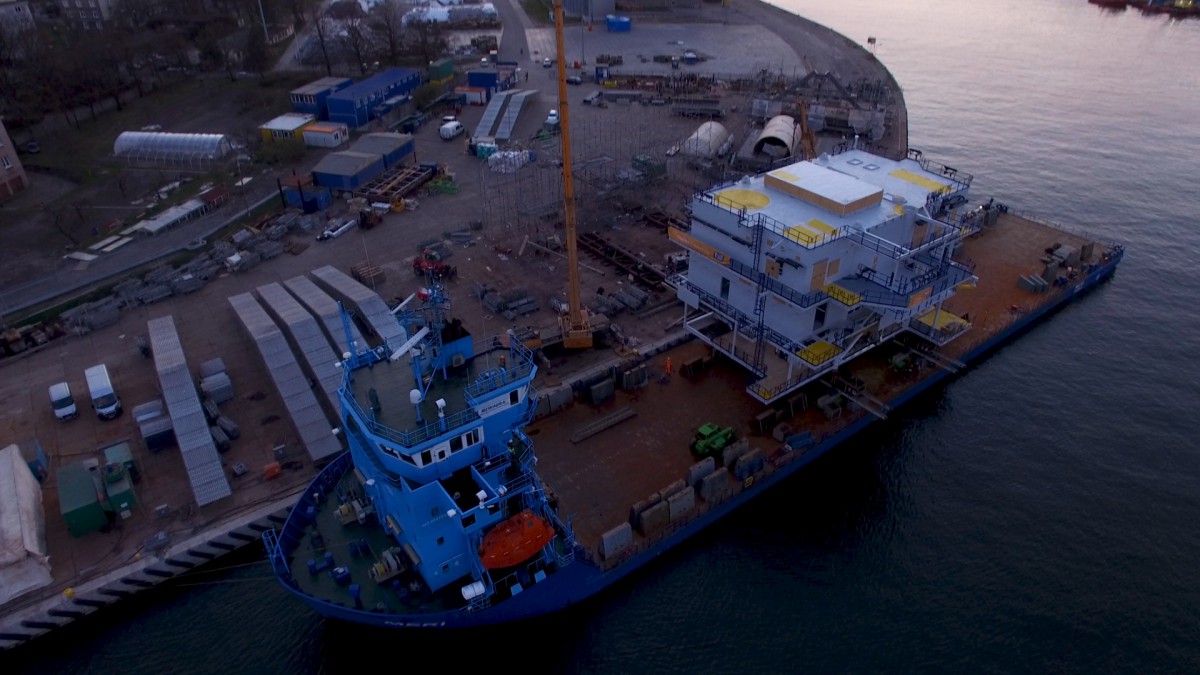 Date of publication: 15.04.2019
Mostostal Pomorze has completed another project This time, we are talking about 380-ton transformer substation for offshore wind farm. The loading of the platform finished on Sunday at the Nabrzeżu Pięciu Gwizdków wharf in Gdańsk.

- This wharf is one of the assembly wharfs at Mostostal Pomorze. The construction of the transformer station for the Danish investor lasted about eight months - says Robert Kłosowski, project manager for Mostostal Pomorze.

Transformer station is 28 m long, 18 m wide and 14 m high. She is transported to Denmark on board of heavy-lift ship Meri. Built in 2012, the vessel is 105.4 m long, 18.8 m wide and  has 4.9 m maximum draft. Meri, thanks to innovative technologies used for its construction, is environmentally friendly.

After it left Gdansk Meri is currently sailing to Aalborg in Denmark, where it is expected to arrive on Tuesday morning.

- At this place the transformer station will be further equipped and its "heart", transformer, will be mounted to it. After completion of works in August, it will be transported to the wind farm in the North Sea, off the coast of Belgium, where it will transform the voltage from lower to higher and send it ashore - explains Kłosowski.

The 380-ton transformer station is the eighth this type of construction made by Mostostal Pomorze. But these are not the only projects that company makes. Earlier, Mostostal constructed "Templates" for the Norwegian client Aker Solutions AS and 1 344-ton structure designed for the construction of a 300-meter bridge connecting the Norwegian islands of Grytøya and Sandsøya.

In March this year, the company signed two contracts with the Norwegian company Aker Solutions AS, related to the prefabrication of steel structures for the expansion of two different Norwegian installations: oil platform on the gas field (named Troll) and refinery in Mongstad.

Mostostal Pomorze (Capital Group PolAqua) commenced operations on January 1, 1999 as an independent business entity, separated from the organizational structures of Mostostal Gdańsk S.A. At that time, it operated under the name MG Pomorze SA and mainly executed contracts for the petrochemical industry, including: PERN Przyjaźń in Płock, Refinery in Gdańsk, Petrochemia in Płock and Norwegian contractors, among whom Kvaerner Oil & Gas was found. The orders concerned mainly the construction and assembly of pipelines and the prefabrication of large-size elements for drilling platforms.

In 2005, the company changed its name to Mostostal Pomorze SA. Currently, its activity focuses mainly on the offshore market, also undertaking the constructions of machine structures requiring specialist mechanical processing, as well as construction of RTG cranes designed to move containers in all kinds of container bases - we read on the company's website.