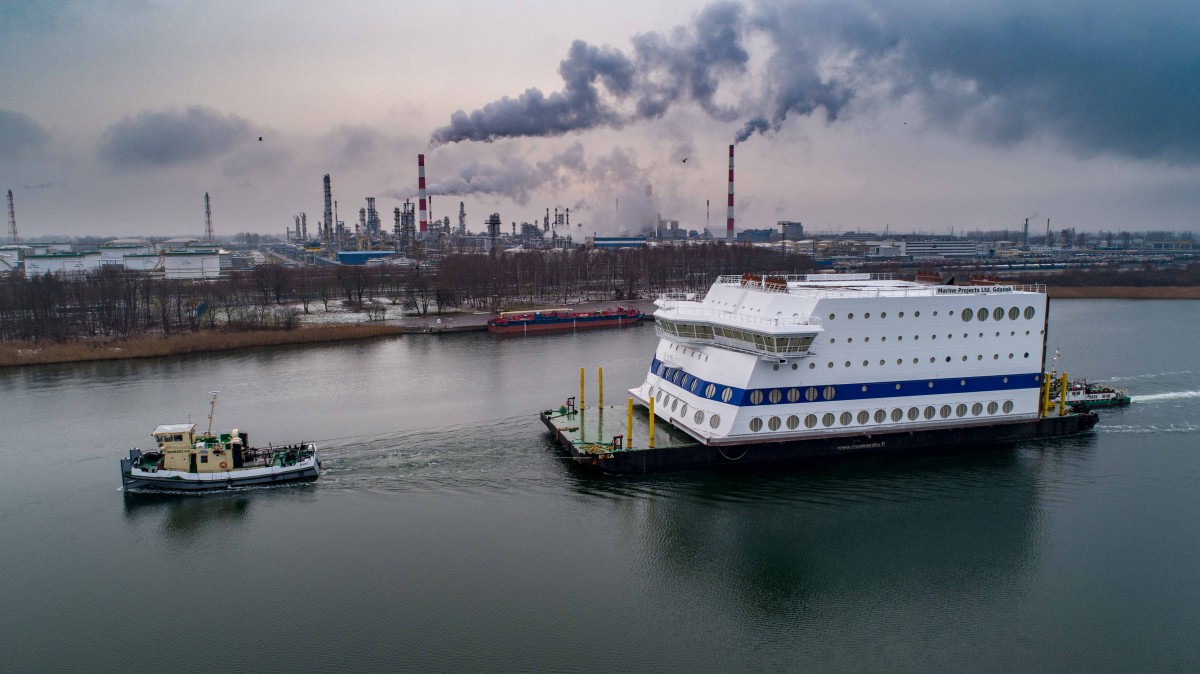 Date of publication: 17.12.2018
This will be a unique ferry with a Polish accent. The Marine Projects Ltd. shipyard completed the construction of the bow section of the superstructure in Gdańsk for the new Brittany Ferries ferry. The block sailed from Gdańsk to Germany on Saturday, 15 December . This is yet another shipment for the same ferry. Last Monday, the stern part of the superstructure sailed to the Flensburger Schiffbau Gsellschaft (FSG).

The bow part of the superstructure is 47.95 m long, 31 m wide and weighs 1 967 tons. The navigational bridge is 39 m wide. Block sailed to the shipyard Flensburger Schiffbau Gsellschaft (FSG) on the Kikka sea pontoon.

The six-level stern part of the superstructure, which has already reached Germany, is 48.7 m long, 31 m wide and weighs approx. 2,074 t. The block was built by the subcontractor Holm Construction on behalf of Marine Projects Ltd.

Both blocks supplied by Marine Projects Ltd shipyard are in advanced state of interior equipment. They will be isntalled on the hull of the Ro-pax ferry named Honfleur, ordered by the shipowner Brittany Ferries. A modern vessel powered by LNG (dual fuel) will be 187,40 m long, 31 m wide and will have 6.35 m draft, 4200 GT and 2 600 m load line. It will take 1,670 passengers on board. The ferry will be deployed on the Caen-Portsmouth route. The vessel is scheduled for entering service in June next year.

Honfleur will be the most environmentally friendly ferry in the UK. Two cinemas, shops and restaurants and more – all of this will be find on board of this vessel. As the first of its kind in the world, the ferry will be equipped with its own crane. It will also emit a limited level of vibration, which will ensure passenger comfort.

The Marine Projects Ltd. shipyard was established in 1989. It specializes in building finished vessels (bulk carriers, container ships, ro-ro ships), tug boats and pontoons for transporting large-size loads. It also often cooperates with other shipyards providing for them partially equipped ship hulls, sections and blocks of hulls as well as complete superstructures.

Marine Projests Ltd. is located on the bank of the Vistula river in Gdańsk, on the site of the former Shipyard Joseph Conrad Korzeniowski.