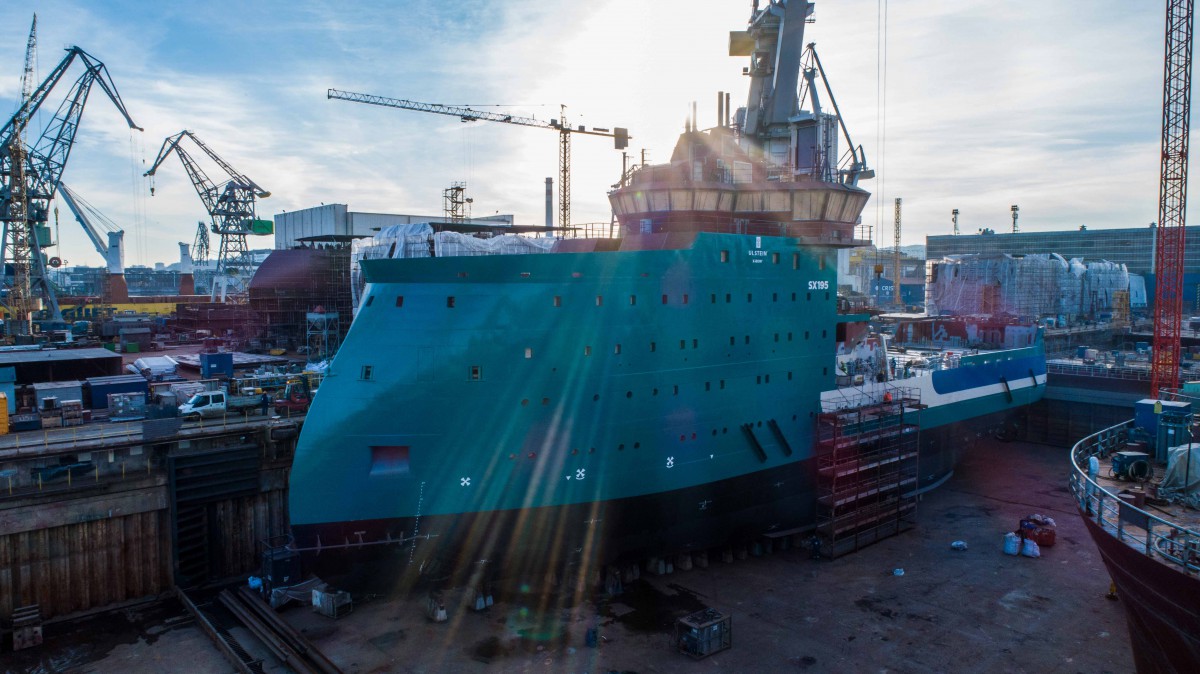 Date of publication: 03.12.2018
Acta Centaurus is almost ready. The CRIST shipyard completed the construction of a modern partly equipped vessel for servicing offshore wind farms. The hull left the shipyard in Gdynia on Saturday. The Norwegian shipyard Ulstein Verft AS will now complete the work.

The partially equipped hull with the construction number NB 313 is being towed to Norway on the FFS Atlas tug. They will arrive in Ulsteinvik this Saturday.

Acta Centaurus is created according to the SX195 project developed by the design office Ulstein Design & Solutions AS. The ship is 93 m long, 18 m wide, have 3 200 t load capacity and 6 meter draft. The SOV (service operation vessel)  will work on the construction, assembly and maintenance of offshore wind farms. The ship will be equipped with a hybrid battery pack, a helicopter landing pad and a telescopic traffic compensation system mounted on an integrated tower with height adjustment and a load or crew lift. Additionally, X-BOW and X-STERN solutions as well as a special 3D crane (6 t lifting capacity), SMST trap and elevators will ensure vessel lower energy consumption. Acta Centaurus will be efficient and safe even with 3-meter waves. The ship will develop the speed of the 13 knots, and 120 people will be able to work on it. Vessel will have another task - transfer of personnel and cargo to the workplace (Walk-to-Work), as well as will be used to service other offshore areas, such as oil and gas.

The ship's name comes from the constellation Centaur, one of the largest constellations in the sky. It also refers to the mythological centaur who in ancient Greece was depicted as a half man, half horse.

Acta Centaurus is made for the Dutch shipowner Acta Marine. It is a sister ship of the Acta Auriga, which construction was also carried in part by CRIST shipyard. Both vessels together with the third ship, the Acta Orion, form the Acta Marine fleet for servicing offshore wind farms. The partially equipped Acta Orion hull was also built in Poland - it was built by Stocznia Partner from Police.

A modern Acta Centaurus was ordered on February 6 this year, sheet metal cutting took place on February 15. The ship is to be ready in the second quarter of next year.

CRIST is currently one of the largest Polish shipyards. During its twenty-eight years of activity, it has achieved the position of one of the leading manufacturers of specialized shipbuilding equipment and vessels for the largest global recipients. The shipyard concentrates its development around the construction of specialized ships and structures for the maritime industry.