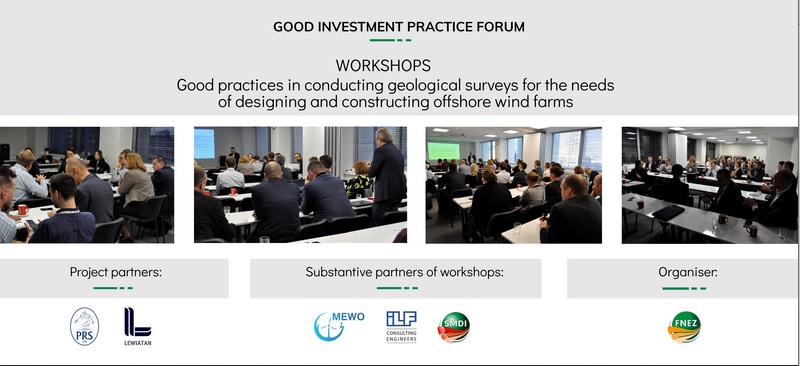 Date of publication: 02.12.2019
The project partners are the Polish Register of Shipping S.A. (PRS S.A.) and the Polish Confederation Lewiatan.
The idea of FDPI is to assist in the development and implementation of offshore wind farm projects by transferring and adapting best practices and foreign experiences to the national market as well as preparing domestic stakeholders to effectively carry out the investment process.
The first workshop entitled Good practices in conducting geological surveys for the needs of designing and constructing offshore wind farms took place on 19 November 2019 in Warsaw. The workshop's substantive partners were MEWO S.A., ILF Consulting Engineers Polska Sp. z o.o. and SMDI Doradztwo Inwestycyjne Sp. z o.o.
The main goal of the workshop was to develop among the stakeholders an approach to conduct geological and geotechnical research for the design and construction of offshore wind farms and connection infrastructure considering the applicable legal regulations.
Among developers, investors, experts and administration representatives have been identified potential problems resulting from the interpretation of the regulations. As a result of the discussion, a postulate for legislative changes in relation to investments in maritime areas in the EEZ was formulated.
The discussion will be continued during the 6th edition of the Baltic Energy Industry Forum, as well as in the following months in expert groups and will end with the publication and promotion of good practices for the development of offshore wind farm projects in Poland.
More information is available at: www.fnez.pl and www.beif.pl/en