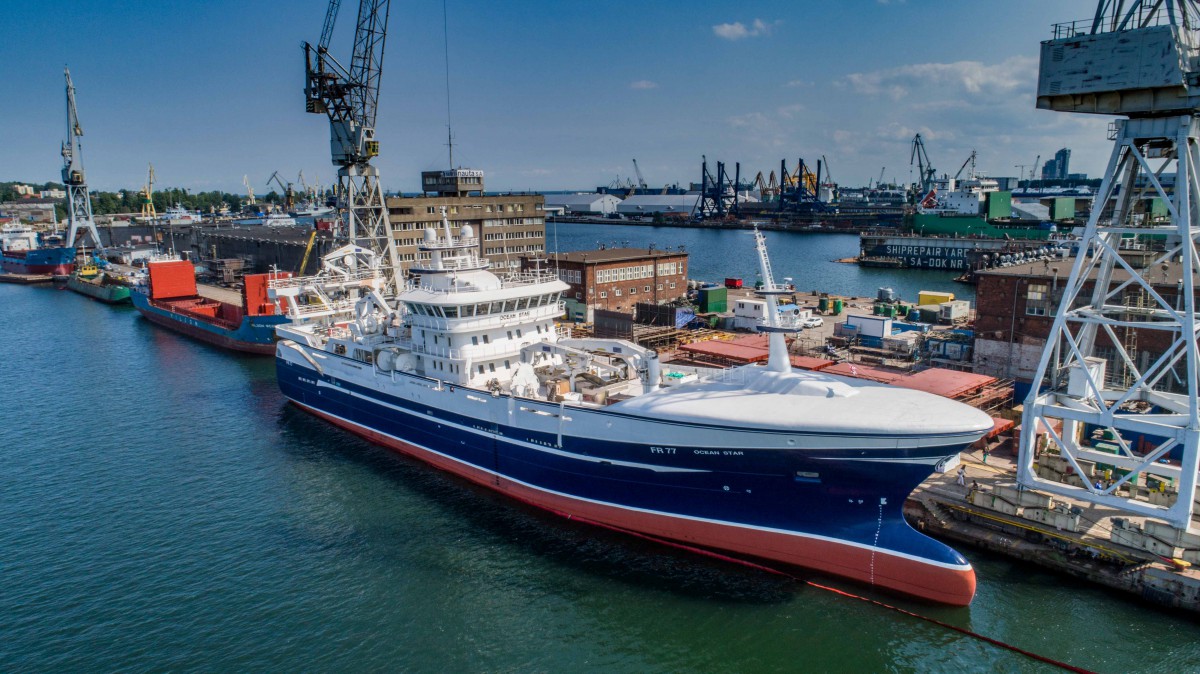 Date of publication: 17.08.2018
Ocean Star was christened. The ceremony of naming the new unit built at Nauta Remontowa Shipyard took place on Friday in Gdynia. The fully equipped trawler was build for the Scottish shipowner Mewstead (Fraserburgh) LLP. It is the most effective unit in its class in the world.

- It is undoubtedly the successes of the entire shipyard and all employees and subcontractors - says Marcin Dąbrowski, the CEO of SR Nauta.

Chloe Tait and Rebecca West, the daughters of the owners, were chosen for ship godparents. Ocean Star was handed over to the shipowner last Monday. It was first unit of this type built in SR Nauta.

- It is a pelagic trawler. In ships 13 loads, a total of 2.5 thousand fish can be transported - says Krzysztof Kisiel, project manager.

The construction of Ocean Star began at the Zakładzie Nowych Budów SR Nauta in Gdańsk. Launching took place in July last year,. Then the ship was equipped, underwent marine tests and went to SR Nauta in Gdynia for finishing works.

- It is a source of pride and joy that such a modern ship was created in Gdynia's Naucie. And, on the other hand, there is hope that there will be more contracts like this, that this is another impulse for the potential of Polish shipyards to develop. This is proof that Polish shipyards can build good ships, that there is a market interest in such a product. We just have to think about what to do to make the change process so anticipated by the employees faster, more dynamically, that the Polish shipyards will really regain the wind in their sails - says Wojciech Szczurek, the president of Gdynia city.

Ocean Star (construction number B-698) is 87 m long and 18 m wide. The trawler is equipped with a 7,000 kW engine, which, in cooperation with two thrusters, will give ship very good maneuverability when casting and collecting the net. In addition, the most modern devices for catching and storing fish were installed on it, as well as specialized equipment for locating fisheries and estimating their type and size. Ocean Star was built according to the design of Wärtsilä Ship Design, and the quality of its implementation was supervised by the world's largest classification company DNV GL.

According to the president of SR Nauta, in the shipyard "production continues".

- We are currently building a ship for the Swedish Navy. It is a contract for Saab company. In addition, we have several hulls that are also being finished - says Dabrowski.

Since the launch of the Zakładu Nowych Budów in Gdansk, SR Nauta has contracted a total of over 20 fishing vessels. In addition to fishing vessels, its portfolio also includes research and service units for the offshore sector.

Nauta Remontowa Shipyard, belonging to the MARS Shipyards & Offshore group, combines many years of shipbuilding with modern technologies. It offers a very wide range of services. In addition to standard refurbishments, it also performs complicated conversions and equips ships serving the offshore sector. The increased docking and production potential allows Nauka to renovate even the largest units sailing on the Baltic Sea. Four years ago, Nauta returned to the market of new construction shipyards, opening the Zakład Nowych Budów on the premises of Gdańsk, where over 500 people found employment and their number is increasing at a rapid pace. Nauta is also very active in the area of innovation. Together with universities and research centers, the shipyard participates in several research and development projects aimed at developing and implementing innovative products that can be used, among others, in environmental protection, energy and in various branches of industry, including the military industry.