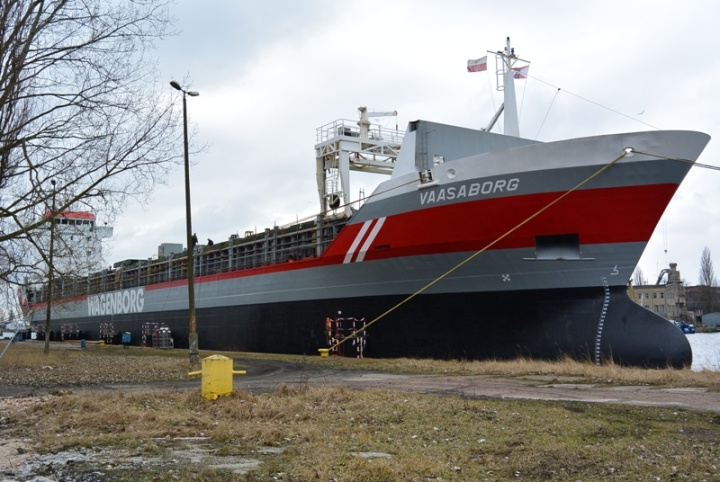 Date of publication: 17.03.2015
Two sister cargo ships - Vaasaborg & Vancouverborg - belonging to  Royal Wagenborg entered MSR Gryfia.
Two sister cargo ships - Vaasaborg & Vancouverborg - belonging to  Royal Wagenborg entered MSR Gryfia.

Vaasaborg will undergoes dock repair. The scope of work includes: docking, maintenance and painting works on the hull and cargo holds, repair of hatch covers and  repair of equipment systems. The second unit – Vancouverborg will be overhauled on water, without the need for the docking. This vessel will undergoes emergency repair and its scope includes:  works in the area of the fuel container and the inspection of the engine.

Both ships units have more than 132 m in length and over 15 meters wide and have a high ice class IA.

This is another case where the IAS Gryfia while renovating twin units belonging to one owner. In August 2014 docks of MSR Gryfia in Szczecin were occupied by car carriers belonging to K Line - SCHELDE HIGHWAY ISAR HIGHWAY HIGHWAY and EMS.

Wagenborg is an international shipping company that operates a modern fleet of 180 vessels to offer logistic solutions to international, exporting industries. The fleet largely consists of box shaped, ice-strengthened dry-cargo vessels. Wagenborg is active in the dry-cargo segment with ice-strengthened bulk carriers and multi-purpose vessels.

**************************************************************************

With over 60 years of experience in the ship industry, MSR Gryfia is one of the best recognized brands in the Polish maritime industry. MSR Gryfia specialises in ship repairs and rebuildings. The shipyard also carries out such repair works as reconstructions of ERs, repairs of main engines, repairs of shaft lines and screw propellers, hull and welding work, cleaning, painting and surface protection work, steel work and machining, joinery and upholstery, repair of deck equipment or installation and repair of radio and navigation equipment. For over 15 years now, MSR Gryfia has also specialized in production of steel structures for the offshore sector. Its favourable location in Szczecin and Świnoujscie (next to the German border) guarantees short transport to the target markets in the North and Baltic Sea.

The shipyard is completly equipped plant that offers a full range of services for ships of all types and sizes including Panamax. Apart from robust docks, the shipyard boasts well equipped construction plants  and assembly yards suited for offshore component prefabrication.