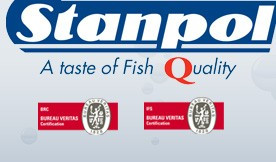 Stanpol Sp. z o.o.
Description
The limited liability company STANPOL with registered office in Słupsk is a Polish firm about the family-structure of the property dealing with the proccesing and the export of fishes from 1990. The production takes place in accordance with qualitative and technological standards of the European Union, and ours three plants possess export-certificates:

•PL 32011803 WE
•PL 32011804 WE
•PL 32131812 WE
We apply modern production technologies enjoying with a status of the friendly company for environment. We have the introduced the quality management system and the safety of foods HACCP. In March 2009 we passed successfully IFS / BRC certification audit done by BUREAU VERITAS
Our products we sell mainly on the European Union markets (we locate there 95% our production). We guarantee the highest quality. We lender services in the range of filletting and freezing of Fish-products. We have at disposal our own cooling transport.

Offer
Our sales offer includes:

•fresh and frozen fillets from the Baltic cod (Gadus Morhua),
•fresh and frozen fillets from the Norwegian salmon farm (Salmo Salar) from the A trim to E trim,
•fresh, frozen and smoked portions from Norwegian salmon farm (Salmo Salar),
•fresh and frozen saltwater fishes, so as flounder, pike-perch, herring, sprat.

CONTACT WITH US