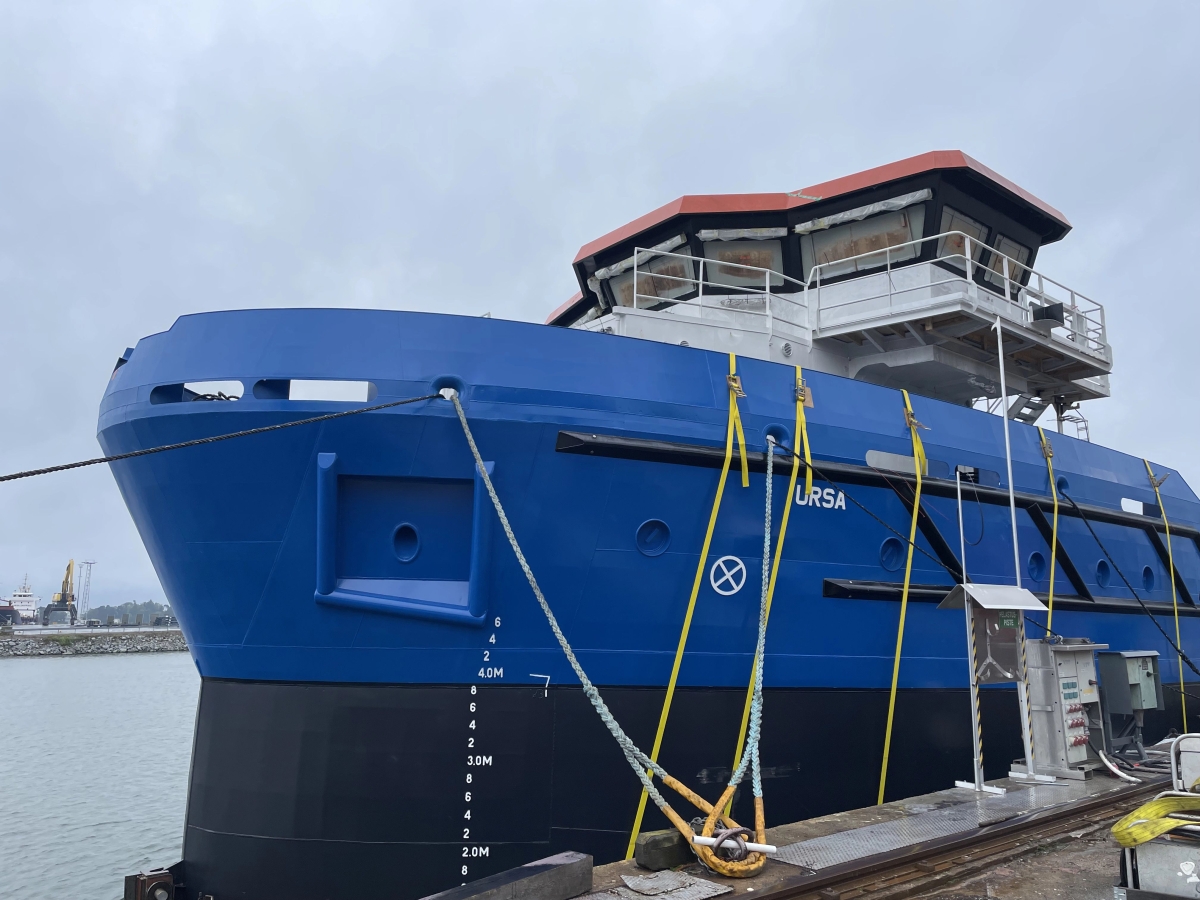 Date of publication: 22.09.2023
On Tuesday, September 19, another specialized ship was launched to join the fleet of the Maritime Office in Gdynia. The dredger named Ursa is dedicated to the new, over twenty-kilometer waterway connecting the Vistula Lagoon with the Bay of Gdańsk and is being built as part of a multi-year program. It will also be used to operate and maintain approach tracks to seaports up to 18 m deep.

– The maritime administration will soon gain a modern, specialized vessel that will significantly facilitate maintaining the assumed parameters of waterways leading to ports. Putting our own dredger into operation will allow for savings in dredging work and will also speed up their execution, especially where urgent pre-cleaning will be required – said Marek Gróbarczyk, Deputy Minister of Infrastructure.

A very important stage of this project has ended, the construction can now float independently on water and from now on we can call it a ship. The contract was signed in March 2022. It assumes the design, construction, equipment and delivery of a dredger. The value of the contract is PLN 116.5 million.

– At the end of October 2022, the keel laying ceremony took place, and less than a year later, the dredger, for which we chose the name Ursa, was launched. The progress of work is currently over 70%. The operational vessel should join our fleet by the end of the first quarter of 2024 – said Wiesław Piotrzkowski, Director of the Maritime Office in Gdynia.

The ship is being built by the Finnish shipyard Tyovene Oy, which also cooperates with companies from the Netherlands on this project.

The contract also includes the delivery of a drainage pipeline system. This equipment will be delivered with shipping containers and a tip anchoring system for connection to the dredge's unloading system.

– A dredger like Ursa cannot be ordered as a finished product from an online catalog. It is a vessel designed and built for a specific customer, according to specific specifications, very personalized, one of a kind, meeting the high requirements of the customer and all applicable regulations. Ursa is unique! – said Juha Granqvist, managing director of Tyovene OY.
Most recent