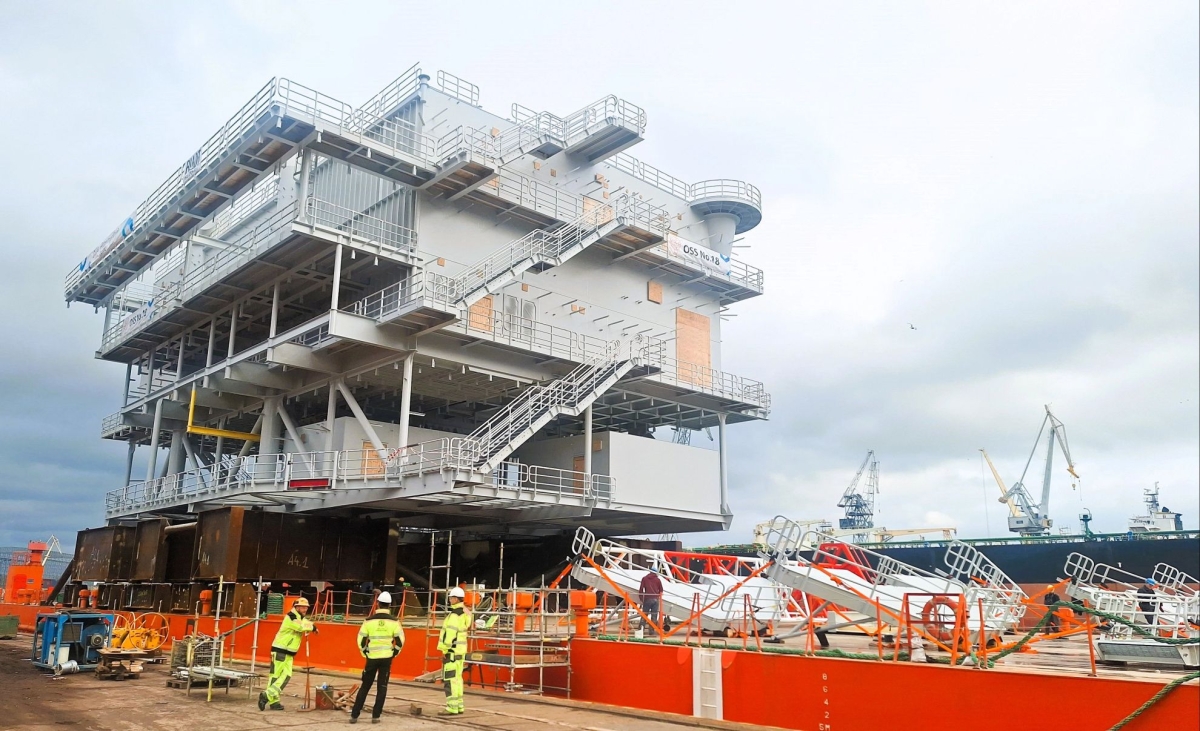 Date of publication: 09.11.2023
On November 8, Baltic Operator completed the project, which included the construction of two offshore substations (OSS) for our Danish partner. In the afternoon, the construction intended for the American market, emerged from the production area in Gdynia. Work on them lasted for several months.

As part of the completed structures for Offshore Wind Energy (OWF), this is the eighteenth structure of this type. So far, offshore substations have been constructed for projects including: such as: Borkum Riffgrund OWF, Rødsand OWF, Walney OWF, Kaskasi OWF, Vineyad OWF. The newest one was the second and last from the two that was being built for the US market, with the previous one being ready at the end of October. Both structures produced by the group have a total weight of over 3,000 tons and will be delivered by sea to a wind farm off the coast of the USA. Each station is 42 m long, 34 m wide and 22.5 m high. Over 300 people were involved in the implementation of the project. Both stations will first sail to Denmark, where they will be retrofitted.

The Baltic Industrial Group is currently the largest Polish manufacturer of offshore substations and onshore wind towers. It offers its clients comprehensive implementation of entrusted contracts, including prefabrication to full assembly of the steel structure. It was established in 2020 on the basis of the production plants of the Gdańsk Shipyard. It is a holding company belonging to the Industrial Development Agency (ARP) operating mainly on the renewable energy market, i.e. offshore (transport stations), onshore (wind towers) and shipbuilding. Holding allows for synergies and more harmonized activities in terms of innovation, operational efficiency and building new capabilities. The entities jointly forming the GP Baltic are Baltic Operator, Gdańsk Shipyard, Energomontaż-Północ Gdynia in restructuring and Gdynia Maritime Construction.
Most recent