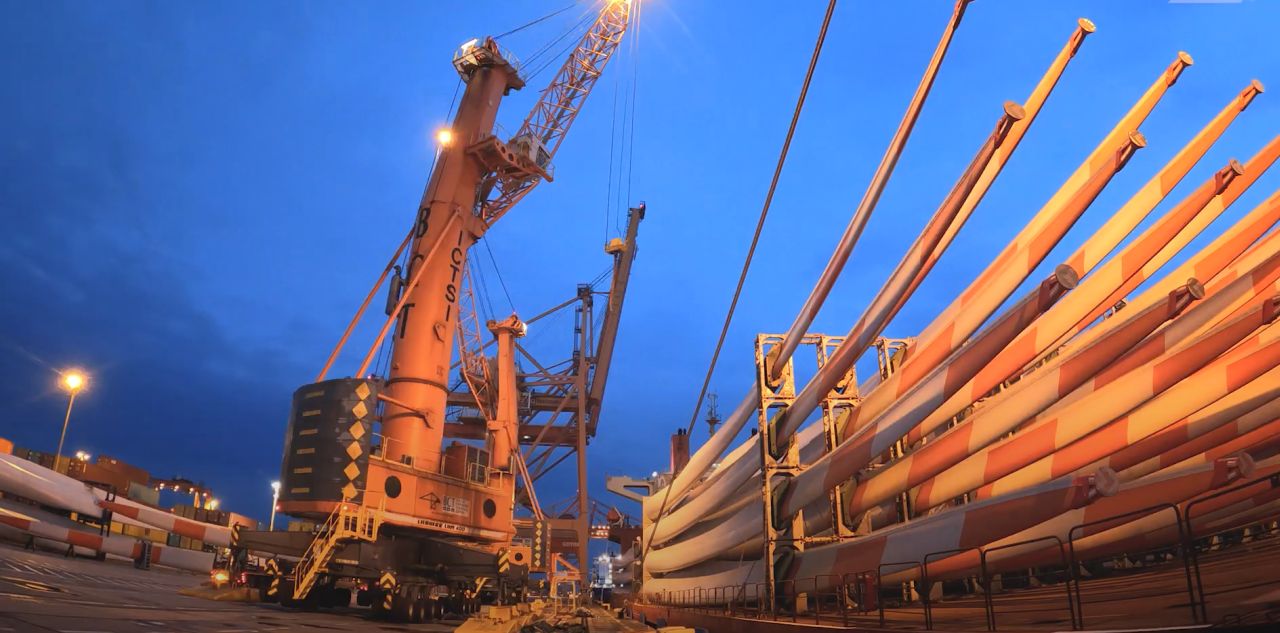 This year's largest supply of blades for wind farms in Gdynia under the supervision of MAG [VIDEO]
Date of publication: 28.10.2021
The atypical FLO-FLO ship with blades for wind farms on board, called last weekend at the port of Gdynia. The landing from the Sun Rise vessel took approximately two days.

111 propellers for wind farms were unloaded at the Gdynia port.

- The Sun Rise vessel that delivered this cargo to us is a ship whose construction allows the main deck to be submerged up to 10 meters below the water surface - says Michał Śmigielski, president of the board of Morska Agencja Gdynia, which provided agency services for the ship and was responsible for unloading the blades.

As we have found out, this type of vessel is most often used for the transport of self-buoyant cargo or cargo requiring a really large area.

- We can reveal that it was the largest delivery of blades for wind farms in Poland this year, as well as the second largest delivery of this type in the history of our country. There were 114 such propellers during the first one - says the president of MAG.

He adds that a successful delivery and its efficient logistics are another success of the company. - MAG remains a leader in the wind energy service industry in Poland - emphasizes Michał Śmigielski.

About MAG

Morska Agencja in Gdynia was established in 1951 and represented foreign shipping lines, shipowners and insurance clubs (P&I), as well as providing agency services for ships, with time expanding its specialization with forwarding services and work placement for Polish seamen. The 90's saw the development of rail and air freight forwarding, storage, distribution and customs services, which resulted in the possibility of comprehensive cargo handling in international transport.

MAG is a leader in the logistics of wind turbine components.

Since 2007, MAG have actively participated in the transformation of the energy sector in Poland, offering reloading services for wind farm components in the ports of Gdynia, Gdańsk, Szczecin and Świnoujście. Agency cooperates with the largest producers of wind turbines in Poland and Europe. It has created two modern port hubs for transhipment of onshore wind farms.