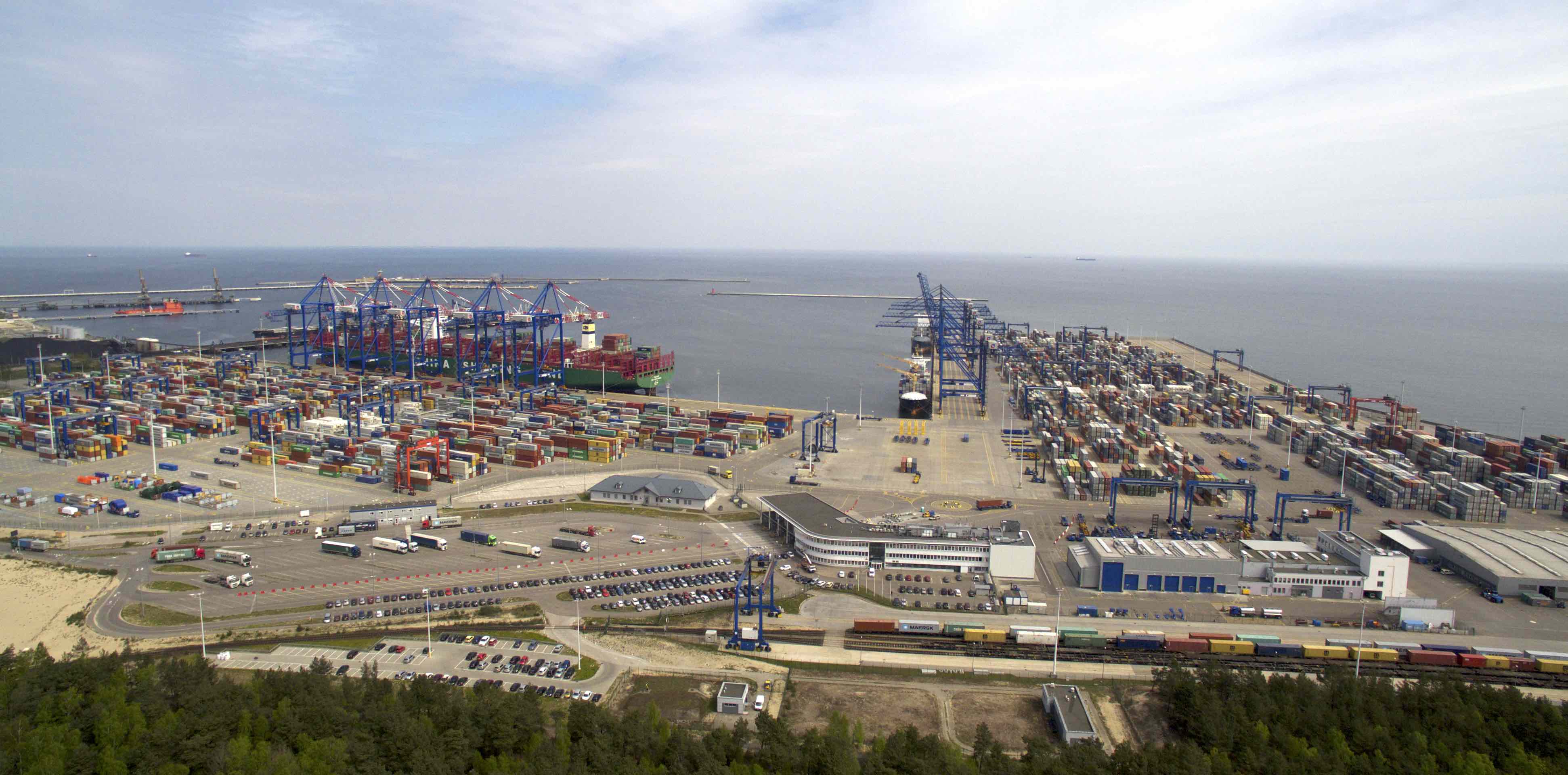 Three transshipment records. The largest Polish ports are still on top
Date of publication: 25.05.2018
In 2017, the leading Polish ports noted record-breaking transshipments. A combined result of over 87 million tons is a historic result. However, everything indicates that 2018 will be even better and in the perspective of a few years Polish ports will exceed 100 million tons.


Sea of containers in Gdansk


Last year, the Port of Gdansk could be proud of a very high increase in transshipments, amounting to as much as 9 percent. In total, a new record of approximately 40.6 million tons of cargo were transshipped in what is the largest Polish port.

Łukasz Greinke, President of the Board of the Port of Gdansk, emphasizes that this historic result strengthened Gdańsk's position as the 6th largest port on the Baltic Sea. At the same time, 2018 holds a real chance for promotion to the top five.

According to forecasts by ZMPG, 2017 was to end with a total of 38.9 million tons of overloaded goods. However, the result turned out to be 4.3 percent higher. The largest reloaded amount during this period consisted of break bulk goods, which accounted for 44.5% of total transshipments. The next group was fuels - 32.4 percent, and the next - coal (12.5 percent of total transshipments).
Break bulk totalled 18 million t, which is 24 percent more than in 2016. This effect resulted in both a larger volume of containerized bulk and a larger number of ro-ro cargoes. In the DCT container terminal, the total amount reloaded was 1 580 505 TEU (16 413 971 t), which is 22 percent more than in 2016. Regarding ro-ro loads, the increase in transshipments of passenger cars is significant. Last year, 73 207 cars were transported through the Gdansk port, which is 412 percent more than 2 years ago.

A 2.7 percent increase compared to the previous year was also recorded in liquid fuels. 13 157 582 tons were reloaded. Coal transshipments also increased. Last year, 5 083 349 tons of this resource were handled at the Port of Gdansk (an increase of 0.05 percent).

2017 proved to be record-breaking for the Gdansk port also in terms of the calls of cruise ships. A total of 64 passenger ships entered the Gdansk terminals, more than twice as many as in previous years.

2018 will be a year of further increase in cargo handling and investment for the Port of Gdansk. The largest are those co-financed (in 85 percent) by the European Union under the CEF instrument ("Connecting Europe Facility"). Thanks to EU funds, huge changes await, among other areas, in the Inner Port. The fairway will be deepened and the following berths will be expanded: Obrońców Poczta Polskiej and Mew, Nabrzeże Oliwskie, Zbożowe, Wisłoujście and Dworzec Drzewny. The estimated value of the project is approximately 120 million EUR. In the Outer Port ZMPG will expand and modernize the road and rail network for approx. 45 million EUR. All CEF projects will be completed by 2020.

Under the EU subsidies, a new North Quay will also be built, thanks to which the Port of Gdansk will gain, among other improvements, a Ro-Ro cargo terminal. The total amount of EU funds for ZMPG is about 150 million EUR. We are happy that we can implement the largest investment program in the history of the Port of Gdansk. Thanks to this, on the one hand, the attractiveness of the Port for contractors will increase dramatically, and on the other, we will acquire additional competences that will allow us to build a flagship investment, namely, the Central Port. Contrary to some opinions, the Management Board's plans are not an expression of megalomania, but an obvious answer to the development plans of other world ports - says Marcin Osowski, vice-president of the ZMPG on Infrastructure.

An increase in transshipments and great prospects in the Port of Gdynia


The Port of Gdynia had a record-breaking year-end, with 21 225 million tons of reloaded cargo, which is almost 9 percent more than in 2016. In terms of cargo growth dynamics, in the period from January to December 2017, the Port of Gdynia was one of the leaders among Polish ports of the Baltic Sea region. This was accompanied by excellent financial results of the Maritime Port of Gdynia S.A. in the form of a net profit exceeding 18 million EUR, as much as 28% more than in 2016.

Among cargo volumes handled in the Gdynia port, it is worth mentioning that there was 40 percent more coal and coke, as well as almost 40 percent more oil and petroleum products compared to 2016. In 2017, also more containers (710 698 TEU), ore, wood and general cargo were transshipped at the port.

2017 was also marked by a greater number of ship calls (3540 in 2017 against 3501 in 2016), of which the largest increase concerned ferries and container ships. The average tonnage of bulk carriers calling at the port in Gdynia also increased. The calling of great cruise ships has been a showcase of the Port of Gdynia for many years. From May to September 2017, 41 vessels with almost 90,000 passengers on board moored at the French Quay. The great event of last year's passenger service season in Gdynia was the June visit of one of the world's largest cruise ships - m / v "Norwegian Getaway", 325 m long (GT 145655), which arrived with almost four thousand passengers.

- The excellent handling results that we achieved in 2017 are the best proof of the excellent condition of the Port of Gdynia - stresses Adam Meller, President of the Port of Gdynia S.A. - The achieved transshipment record is the result of providing a good service to ships calling at Gdynia port terminals, rational actions of managers and efficient work of Gdynia dockers. I hope that 2018 will be equally successful.

- By 2020, the Port of Gdynia will spend around 250 million EUR on investments, out of which more than 80 million EUR still this year. We have started the construction of a new port turntable that will facilitate the admission of large oceanic vessels. Another investment that will contribute to an even better position of the Port of Gdynia among Polish seaports is the construction of a new public ferry terminal, which is already underway - informs President Adam Meller.

Among investments implemented in Gdynia, there will also be an extension of the internal entrance to the port from 100 to 140 m, reconstruction of quays, modernization of the liquid fuel handling station, construction of an intermodal terminal and deepening of the inner waters up to 16 m. Works on these projects are to be completed by the end of 2020.

Investments will certainly contribute to even further meeting customers' expectations, and as a result, will strengthen the competitive position of the Port of Gdynia among the ports of the Baltic Sea Region. At the same time, the continuous growth of cargo handling allows us to look with more optimism at plans to expand the Gdynia port with the so-called Outer Port.

Continuous development in Szczecin and Świnoujście


The ports in Szczecin and Świnoujście can also boast a record of reloading, which in 2017 reached 25.4 million tons of goods, over 5 percent more than in 2016.

- This is a historic, record-breaking result that was never before achieved in the ports of Szczecin nor Świnoujście - said the President of Szczecin and Świnoujście Seaports Authority, Dariusz Słaboszewski. - We are a universal port. Most commodity groups recorded an increase in transshipment - added Słaboszewski.

In particular, ore and fuel transshipments as well as general cargo handling increased. In the case of ore, the increase was over 59%. This is the result of the growing demand for this resource of Polish, Slovak and Czech steel mills. In 2017, nearly 3.4 million tons of fuels were also transshipped. This is an increase of almost 47 percent compared to last year. Reloading of general cargo at the end of 2017 reached the level of nearly 12.9 million tons, which means that since 2016 they have increased by over 4%. The port also recorded an increase in container reloading by 3 percent.

Commodity groups in which a lower result was recorded are coal and grain. Coal transshipment decreased by 27%, while grain transshipment was almost 29% less. In the coming years, both West Pomeranian ports are waiting for many investments. This includes the construction of new quays, a container terminal, better connections with inland waterways or the next stage of a key investment for the Szczecin port, that is, deepening the approach track to 12.5 meters. At present, ships with a maximum length of about 200 m can enter Szczecin. After deepening, it will be 220 m for bulk carriers, 240 m for container ships and 260 m for cruise ships. The value of this investment is approx. EUR 330 million. 85 percent of the money is to come from EU funds, and 15 percent from the state budget. The investment is to end by 2022.

- The strength of each port is determined by its availability, hence we are constantly working to improve it with regard to the sea, inland, land and rail roads. The 12.5 m depth, which we will gain in several years in Szczecin, and the deep-water quays will already indicate that we are a seaport. An opportunity for the development of the port is also its location and the possibility of connecting it with inland roads, which can be achieved thanks to the fourth class navigability of rivers - says Dariusz Słaboszewski, the President of the ZMPSiŚ. According to forecasts of the Szczecin and Świnoujście Seaports Authority, the increase is expected to continue in 2018 and reach 26 million tons of goods handled.