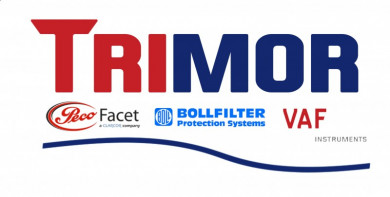 TRIMOR Sp. z o.o.
Description
Trimor Enterprise was established in 1991, as a service station for BOLL & KIRCH company- well known German manufacturer of fuel, oil and water filters. In parallel sales of complete filtering systems were also performed. During next few years, thanks to cooperation with PERRY EQUIPMENT COORPORATION-USA Trimor extended its areas of interests for gas filtering solutions.
In the middle 90's an agential agreement with VAF- Instruments from Netherlands has been signed. It is one of leading manufacturers of flow meters and viscosity meters in Europe.

We have been long-term representatives of such corporations as:
• BAC Denmark- anti corrosion protection: anodes, shaft groundings; Pin Brazing
• BOPP- filter mesh manufacturer
• Leistritz- screw pumps

For requirements of naval industry, Trimor began cooperation with spare parts manufacturers from China, Japan, Korea and Europe. In portfolio can be found spares for Daihatsu, Yanmar, Mitsubishi centrifuges, Tenabe compressor and many others.


Products offered by Trimor are produced by renowned companies and fulfill highest standards. Our company gives wide range of available parts and solutions, that is why in order to match exact requirement please contact us by e-mail trimor@trimor.com.pl or telephone
+48 (58) 551 29 99.

Offer
Trimor has been cooperating with renowned companies for a long time now:

• BOLL & KIRCH FILTERBAU GMBH,
• PecoFacet
• VAF Instruments
• Kral
• BAC
• Altair
• MMC

For more detailed information please contact us.

CONTACT WITH US